*I'll be constantly updating this blog throughout the day, so check back periodically for the latest goods and bads of 
Natural Products Expo West Day 1:
4:15 p.m.
Hooray! Some integrity!
Before I get into that can I just say how nice it is to be sitting down in the press room after walking the madness of the main floor for a couple of hours? It's unreal how many products and people there are—talk about overstimulation!
We ran into one of our favorite elephant contributors, health food guru Mark Hyman, before heading into the chaos and were able to get a great interview. (All of our videos/interviews from expo are being live updated and are available here!)
After our Reservoir Dogs-esque entrance we were overcome by the buzz and bustle of Expo West. I kid you not when I say that the drone of the crowd sounded like the heavy rush of rapids cascading over rocks. iiiiit's go time!
We basically spent the first two hours within the same 20 meters—swooning over what I think might end up being the most integrity-filled, truly eco companies at the expo.
Top two so far? Numi Organic Tea (whom I highly suspect will make it into the Ten Best Indie category) blew me away. Their tea is super yummy and 100 percent organic with zero natural flavoring/additives.
Waylon nailed an awesome interview with co-founder, Ahmed Rahim (who's partner is his sister, Reem). In his words:
"Numi is more than just a tea company. We are an organization that delivers goodness through the intentions of our work and the collaborations with our community."
Here are a few reasons to love them, beyond the fact that they're a family business that hasn't sold out to The Man (though I'll go into more detail later):
> Work directly with farmers
> Their program, Together for H2Ope, is an inspiring foundation that works towards bringing potable water to communities in need
> fully compostable packaging
After being wowed by Numi, we got to climb up Nature's Path's gorgeous, recycled-wood treehouse of a booth space to get a birds-eye of the expo.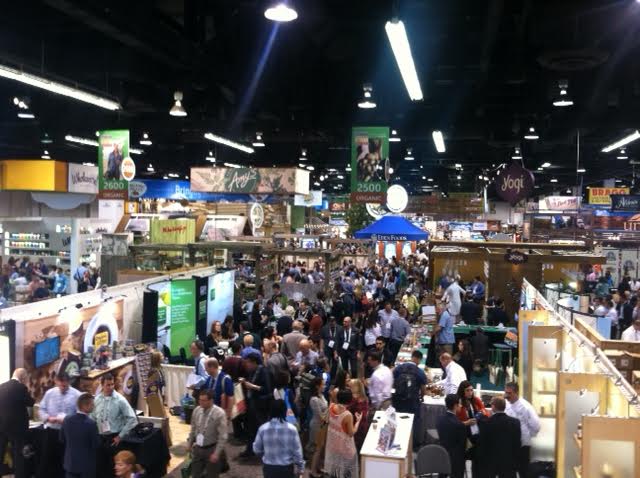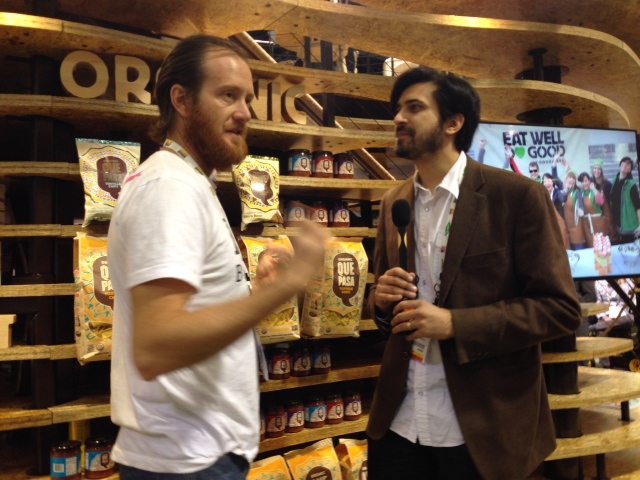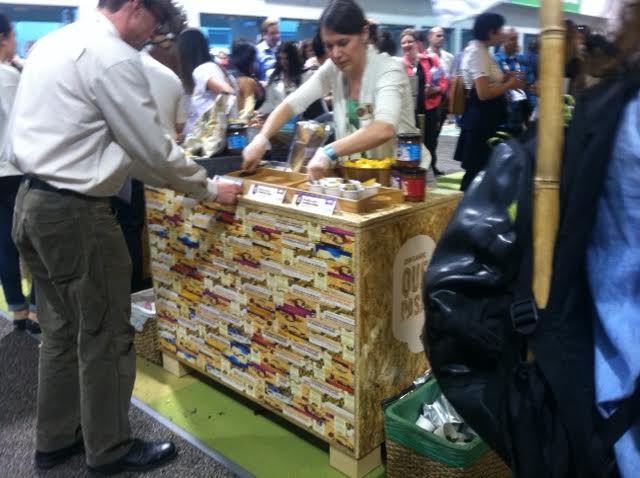 Talk about an amazing booth design!—it absolutely blew me away. Constructed out of 25 separate pieces, it was truly a work of art that was both functional (second story meeting place) and eco-chic (incorporated their recycled cereal boxes and recycled wood and cardboard). I'll update once I get some good photos.
We met with super-kind family man, Arjan Stephens, to talk about GMO labeling, hopes for the future and the importance of knowing your growers. When asked, "What do you think you can do better?" He responded with a simple, "increase organic acreage and increase connection between the average consumer to the land." Good answer.
I was impressed when Arjun recalled, off the top of his head, the average age of farmers in British Colombia (where their company is based): 67. Scary. Where's the next generation of farmers?
One thing I'd like to see from them: better eco packaging.
Their new Que Pasa chip bag design uses metallic lining instead of the classic waxed paper packaging they used previously. To their defense, the packaging on their cereals is good: recyclable and "committed to being as sustainable as possible," which means the least amount of packaging possible, "with the same amount of cereal."
All said, the company was inspiring—they clearly care more than just profit, and they are creative and family owned. Their ingredients are sourced as equitably as possible, though I didn't get full information on sourcing, and there's no "natural flavors" involved.
I'm excited to put them on our Ten Best Indie list.
After being wowed by two Expo West superstars, we set off to do a time lapse of the expo as well as scope the scene. We sampled selectively (I refused all but one plastic sample cup, strategically taken to use at all other booths! For more Natural Products Expo eco pro tips, check here.) to ensure we weren't supporting the plastic disaster of Expo West.
Probably two thirds of the products being hawked come wrapped in plastic, and then served in plastic. It breaks my heart.
We stopped by the B-corps table to check out their certification. Loved the concept—a mark of sustainability and equitability—that will help support companies that care more than just their bottom line. In fact, elephant journal is hoping to get certified soon.
Had fun connecting with Reyna Bryan of recyclingis.sexy who is bent on encouraging cradle-to-cradle packaging practices to help decrease our landfill footprints.
Heading to a Best of West: Press Showcase in 10, so hopefully will connect with some interesting people and brands there.
xo,
Emma
p.s. Had to show off my super cute videographer co-workers, Meredith and Rachel. Enjoy 🙂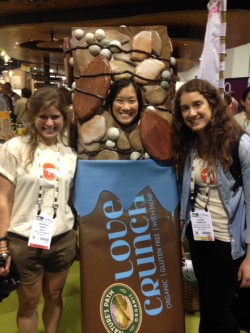 12:30 p.m.
For anyone unfamiliar, Natural Products Expo is basically where natural products companies come to make their fortune (an average booth costs $6,000, this is not amateur hour). Expo West is hosted in Anaheim, California, the is the size of a smallish city with 61+ thousand participants.
Though this isn't elephant's first expo (see our old blogs), it's my first time, and I'm both super excited and bracing myself for the horror. You see, I'm a born and raised eco mama to my core, and Expo West is notorious for being wildly un-green.
I'm keeping my fingers crossed that this year will see a shift in true stewardship, though so far I'm not impressed.
Let's dive in, shall we?
Anaheim consists of two different groups of people: 1) Disneylanders and 2) Expo West attendees, an eclectic mix to say the least. The walk from our wifi-free hotel (nightmare! Thank goodness for Expo West's surprisingly fast wifi, very nice!) was refreshing, though along busy SoCal streets.
As we approached the Marriott, we were bombarded by booty-short wearing, bombshell blondes: "Try this!" "Taste that!" (all wrapped in plastic)—smart marketing, sex sells.
Breakfast was underwhelming, beyond the live sitar music in the background (which I loved). There was lots of processed food—that will likely be hawked on the expo floor later today—and lots of plastic (cups for water, food packaging in general—no bueno. There's other reusable dish-ware, why no water glasses?). I enjoyed the bustle of people meet-and-greeting and making promises to meet up later, "what's your booth number again?" The mood was hopeful, eager.
We're all tired from too few hours of sleep and after yesterday's day spent in the surf and sun (though, don't get me wrong—no complaints there!) and enjoying Vitamin Angels' VIP party at Angels Stadium.
Vitamin Angels is an awesome company, truly bent on making the world a better place, and Waylon was able to get a great, short video interview with Founder, Howard Schiffer.
After breakfast, Waylon talked with Whole Kids foundation of Whole Foods and Boulder Brands about their partnership helping schools plant gardens and enjoy fresh food in school salad bars for those in need.
He also interviewed 1% for the Planet, a branding team founded by Yvon Chouinard, that puts their 1% logo on consumer goods (think Klean Kanteen and New Belgium Brewing) as a mark of environmental and social stewardship.
So far my two biggest frustrations are:
1) the fact that the actual expo is indoors. It's a gorgeous weekend here in SoCal, and I would give anything to be enjoying the au natural sun and shade instead of AC and fluorescents. and
2) the packaging! Grr, it's killing me. I saw a coconut water company [ONE coconut water] pouring coconut water out of their tetra-pak (impossible to separate the plastic, cardboard and metal in order to recycle) into plastic cups.
Going to head out and hopefully find some companies that have some serious integrity and a drive to be worthy of a spot on our Top Ten lists (Vegan, Rookie, Indie) and Best in Show lists (Eco Packaging and Organic ((not just natural)) Bodycare) that I'll be putting out Saturday night.
Yours,
Emma
If you missed anything: