*I'll be constantly updating this blog throughout the day, so check back periodically for the latest goods and bads of Natural Products Expo West 2015.
6:08 p.m.
Happy hour!..and more plastic.
Ah, feels amazing to be off my feet! I've probably walked 10-15 miles in the past two days.
Hopped from the B-Corps happy hour to the Klean Kanteen/5 Gyres fundraiser where we donated five dollars to get this awesome Klean Kanteen steel cup that comes equipped with a carabiner and glass straw—perfect for hooking to a backpack for on-the-go eco drinking.
Quick pitch for 5 Gyres: they are awesome.
Unfortunately they aren't selling products so I can't put them on any lists, but they are working to end plastic pollution through social and political action and hands-on research. Check 'em out and support the cause.
Better yet, read up on our plastic addiction and some of the people creating tangible change.
Dr. Bronner's is still going strong—100 percent organic and rocking the equitable company sector. I just wish they had glass packaging, ugh.
Loved #MPWR brand wholly Organic spot treatment for teens that comes in glass. Totally domestic, all ingredients are sourced within the US of A. I want to see their other products put in glass, however—so close!
Enjoyed some deeelicious apricot oat Organic and vegan, gluten and soy free Raw Balls which are wrapped in 100 percent compostable packaging, and printed in a zero waste facility with vegetable inks—**swoon**.
My skin is also feeling yummy after some Organic argan and baobab oil from MyChelle Dermaceuticals.
Ookay, last cool product for now: lunchskins by 3greenmoms are a dishwasher-safe sandwich/snack bag. One lunch skin is projected to replace 500+ plastic bags (and overall they have saved more than 900 million plastic bags from landfills).
They're BPA-free (thought that might not mean too terribly much) and 10 percent of their proceeds go to the oceans (partnering with 5 Gyres!). My one critique is the fact that they're lined with plastic—why not take the eco-packaging one step further and go plastic-free?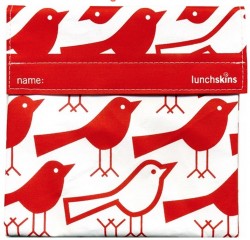 Okay—time to come up with Ten Best of Expo West… May the best brand win!
Cheers,
Emma
P.s. we might just have a best in show: Alter Eco completely wowed out team today, blowing us away with their commitment to the environment, as well as being socially responsible.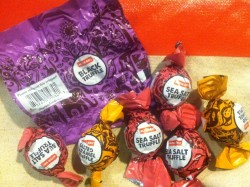 Their truffle packaging is also 100 percent compostable. Videos to come!
P.p.s. I might never buy a different brand of chocolate… Five words: Organic Dark Salted Burnt Caramel. Yes, please.
~
3:22 p.m.
A lesson in discerning the bulls#it from the real.
Sooo, our food system is in a state of utter chaos. Green-washed terms like "all-natural," "sustainably grown," and "free-range" are confusing consumers and stripping the meaning from farmers and companies who truly do abide by those implied definitions.
To put it into perspective, according to Jonathan Safron Foer, author of Eating Animals, these terms should provide no more peace of mind than if the product were to be branded "magical."
Walking the floor today was both great—seeing companies with integrity who are walking their talk made me happy. Unfortunately more often than not it was painfully disappointing how many people are claiming to be green and conscious.
I would venture a guess that of all the booths I saw, less than 25 percent were truly environmentally or socially conscious.
I was glad to see a big push for non-GMO products on the market, but unfortunately there is a lot of misunderstanding about what that claim exactly means.
I want to make it clear that non-GMO does not, in any way, imply Organic. Non-GMO products are cultivated more or less identically as conventional crops when it comes to being doused in pesticides, fungicides and herbicides—non-GMO crops still get the works.
The certification doesn't promise any improvement in farmer/field worker equity either, and it doesn't promote environmental stewardship like Organic does. Soils are still decimated, water is degraded and surrounding wildlife implicated.
Take-away? Don't get lazy! GMOs are controversial and largely untested (as well as largely monopolized) so being GMO-free is responsible in that vein, however from environmental and social perspectives, GMO-free is a lot of talk but not a lot of substance.
Look for the certified Organic stamp of approval (which also guarantees the product to be GMO-free), or know your grower (oftentimes smaller farmers aren't able to afford the expensive USDA Organic certification, although their practices might in fact be beyond organic qualifications).
Phew, long winded, but I had to make the difference clear!
Trend of the moment? Coconut chips! They're everywhere, and so good. My personal favorite brand was Made in Nature's because they were certified Organic, unlike most other companies who are hawking the crisped, coconutty-goodness (err, less-than-goodness—Organic or bust, baby!).
I think that Waylon will do a video on discerning the BS from the real later today, so I'll be sure to add that in here.
Best/most interesting products I talked with today were method, Temple Turmeric, Soapbox and Bhakti Chai.
SoapBox was cool because they're seeking to "make a difference with every purchase" through their hope donations model. For every bar of soap purchased they are donating a bar of soap to those in need, for every bottle of soap they're partnering with Splash to donating a month of clean drinking water to communities in need, and for every bottle of body wash they are donating a years supply of vitamins. Not only that, but they're also donating locally—so if I were to buy my bar of sulfate and paraben free soap at my local Whole Foods in Boulder, CO the soap would be donated to a colorado homeless shelter, or somewhere else in need. More on them later.
Method is doing a really cool "ocean plastic" bottle design that is made out of plastic harvested from beach litter. Their belief is that there is already so much plastic littering the world, that all companies should be required to use 100 percent post-consumer recycled products, rather than create new plastic. To read more about our plastic problem, read this.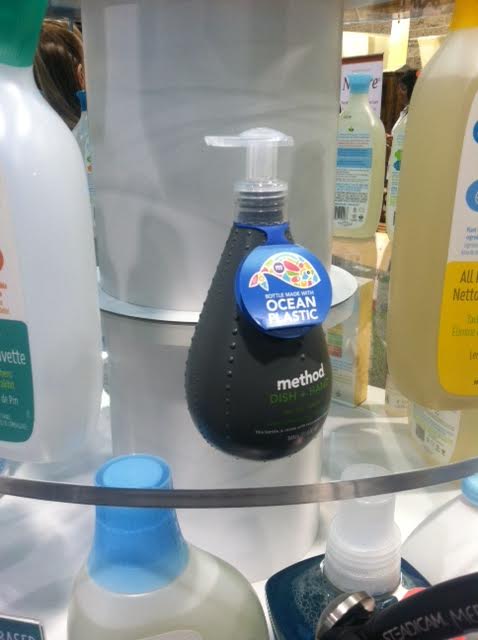 Temple Turmeric totally wowed me with their beautiful display and de-licious cold-pressed, Organic and vegan turmeric drinks. Founder, Daniel Sullivan, fell in love with the root while staying on a turmeric farm in Hawaii. Love the fact that he began promoting his product from the seat of a bicycle, peddling around NYC. What's even cooler is the fact that he ended up partnering with the farm he stayed on and they have actually grown together—the farm's about 10 acres now.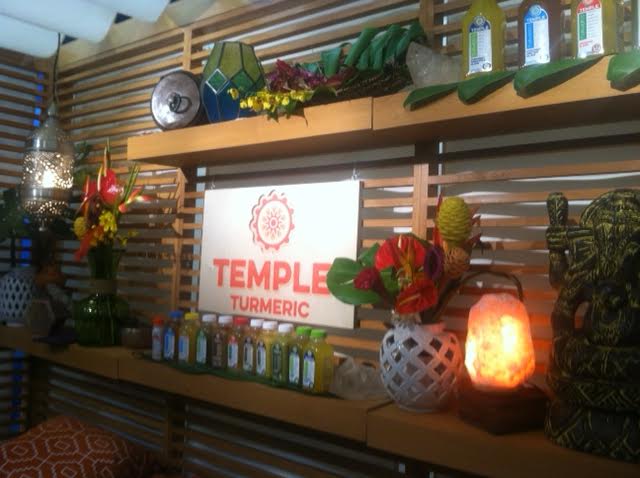 They have a 100 percent transparency and traceability promise where consumers can follow their product all the way back to the soil that it was grown on.
They were concerned with the fact that their product isn't able to be served in glass bottles (it's because they use a method called High Pressure Processing that would otherwise shatter the glass) so they use the highest quality plastic that is easily recyclable—still makes me sad! Perhaps some research and development is in order?
Would love to see a B-Corp certification in the future.
Speaking of which, I'm out—heading to the B-Corp happy hour event to meet some seriously awesome brands.
Cheers!
Emma
~
11:55 a.m. 
Faith in humanity: restored.
This morning Waylon, Lindsey and I got off the beaten expo path to attend an amazing, intimate gathering of the true heroes of the expo: OSC2, One Step Closer to an Organic Sustainable Community, a nonprofit coalition of brands that are working towards creating a new generation of truly green, eco-packaging.
Some of the companies involved are: Numi Organic Tea (Founder, Ahmed Rahim met with Waylon yesterday for an interview—see it here), Alter Eco, Big Tree Farms, Guyakí Organic Yerba Mate, Nutiva, Mary's Gone Crackers, California Olive Ranch and more.
Needless to say, the morning was a godsend in terms of filling elephant journal's Ten Best Eco Packaging list—before this morning I hadn't encountered even two brands who were committed to even making an effort re: packaging, let alone seeking to use 100% compostable. I've now got a list of companies to follow-up with, and am eager to get down to the expo floor to get my reviews nailed down!
Honestly, the morning was so inspiring that I'm going to actually do a separate blog covering the issues (read packaging, apathy) and what the coalition is doing to mitigate and improve the situation. So refreshing.
Chris Mann, CEO of Guayakí Organic Yerba Mate, made the genius recommendation that the Natural Products Expo committee should collect all of the waste each day, and use it to create a sculpture to really showcase the amount of waste that this weekend produces, and to show how really un-natural these companies actually are.
Heading out to make some connections and do some reviews!
Yours,
Emma
If you missed anything: