"Any one who doesn't have a great time in San Francisco is pretty much dead to me." ~ Anthony Boudain
About a month ago I touched down in my home country, Australia, after eight months of extravagant travel.
In hopes of finding even just a little of the love I found every day through my overseas experience, I set out on what took me a month to find a place to quiet my mind and restore my health (as well as my credit card). A place to call home, if only for half a year, mas o menas (more or less).
Because let's be honest—we all know I will be taking off again as soon as I have the funds.
A little more lost than usual I set to the open road of Australia, exploring areas I had in the past explored, and in the past already imprinted my feet in. I couldn't find my groove. I couldn't find that cosmic sensation I feel when I find myself in San Francisco, when I find myself on the road with my thumb sticking out, ready for the next stretch of adventure.
But then an old friend who I lived with in San Francisco called me, and told me of a place she had been living on the other side of the country. Margaret River, WA.
"Gather your things, no, you don't even need things, just gather yourself and get your butt over here!" she told me.
With little to no direction and an almost empty backpack I did what I always do in times when I am unsure of where life is taking me. I got on a plane and 5 hours later I was on the other side of the country. I hitched from Perth down south to Margaret River, and I found myself in a town that quite frankly, had been waiting for me.
The other day when I went into a café to hand in my resume and plead for a job, the lady behind the counter started asking me some questions. She looked down at my resume and then back up at me, obviously seeing that my resume stated I had worked in San Francisco for a long period of time.
She asked me, "So you're from California then?" and without even thinking a "Yep!" escaped my mouth.
Whilst I corrected myself out loud, whispers in my head spoke to me and said, "If you are labelled as a part of any area in this world, it is Northern California".
That introduction leads me to the quote you first read at the top of this post. When I meet someone new and they tell me they are from San Francisco, have lived in San Francisco, or visited or are going to visit San Francisco, every atom in my body shines and my body jolts up, my eyes gleam and if I wasn't fully engaged in the conversation beforehand, I am now.
I have only ever met one person who disliked San Francisco.
My initial reaction was a slap (only a light, how-could-you?! kind of slap) on the shoulder and a yelp followed by multiple "How could you NOT love San Francisco?!" questions.
That person, besides using him as a reference to this blog post, I would say is now dead to me.
San Francisco is the most eccentric, magically diverse, and majestically charismatic city I have ever laid my eyes on. It is my one and for now, only true love. It is the place where I fell in love with life, the place where I discovered myself and the place that led me to believe that absolutely anything is possible. I might be being biased, but speak to any other person who has spent time in the city of fog, and I bet you will get a similar response.
Some say San Francisco is a vortex, a place where all people from around the globe come to be in unison. It is so much more than what I portray it to be, San Francisco is a beacon of what the rest of the world strives to be. It is magic.
If you're still not sold on San Francisco, these seven points may change your mind:
1. Acceptance. 
NoCals most intoxicatingly beautiful city owes its rep not only to the rolling hills, golden sunrises/sunsets and intensifying surrounding forests, but also to the people, from all walks of life, who have made San Francisco.. Well San Francisco.
The bikers, the hippies, the gypsy's, the hipsters (oh so many hipsters), the tech nerds, the health gurus, the working class man, walking around the streets of San Francisco is similar to looking around the cafeteria at lunch time and categorizing each table, Mean Girls style.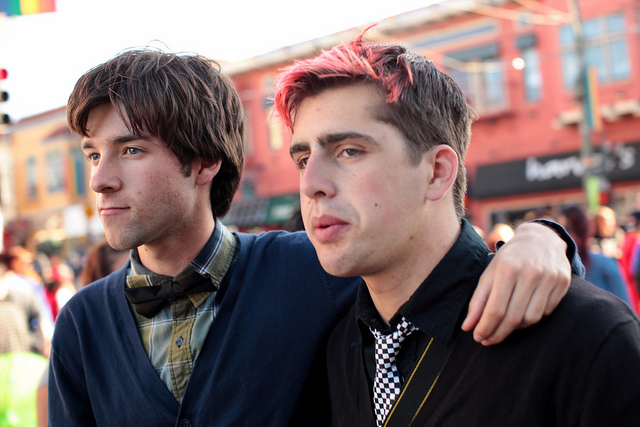 In San Francisco, there's a 'Come as you are' policy, which brightens the city and leaves it blossoming and growing to the full extent of what it is; a communal area where you can be whoever you want to be.
2. The weather.
The only city in the world that has its own name for the fog that engulfs it. Karl the fog even has his own twitter account that states, "All that is sunny does not glitter, not all those in the fog are lost." How could you not love Karl?!
The ever changing weather leaves you stripping down half naked in the day, and bundling up layer upon layer at night. It's a fashion forward city that allows you to wear the best of your wardrobe, all seasons, no matter what time of year it is. It is the one place, where the fog, the cold, the wind, doesn't bother people, because the differentiating weather is purely what makes the city what it is.
3. The Bike Epidemic. 
If ever you wanted to live in a city where riding a bike is way more acceptable than driving a car to work, SF is the place for you. Despite it's ridiculous rolling hills that connect the city, San Francisco is known for the accumulating people that ride their bikes around the city with smiles on their faces and muscles in their legs glistening.
The city even has its very own bicycle coalition that continues to improve the roads for San Franciscans. Green paths mark the roads with cross-town bike paths guiding locals to and from their destinations.
4. Mexican food. 
Need I say more? NoCals Mexican food really is a thing of beauty. Living in Australia my whole life, I was unaware of what real Mexican food really is. I am aware, of course (especially after experiencing Mexico myself) that even California's Mexican is westernized, but damn, who even cares? Moving to San Francisco allows you a cheap diet of dirty burritos and nachos as big as your head to share (if you dare) with a mate.
Late nights in the mission result in cheap, disgustingly large proportioned feeds at taquerias, and corn chips will never taste the same after leaving the state.
5. Nature.
Redwoods, mountains and beaches oh my! The best of both worlds, with the redwood forest right over the Golden Gate Bridge and hiking trails every which way. Stinson beach for a day trip, or perhaps some rock climbing around the area of Marin. And forget Central Park in NYC, the Golden Gate park, as well as Dolores park is where it is at. Get exploring!
6. Dolores park.
I cannot put the pleasure of this park into words. Just go. Maybe you will find yourself in a cardboard robot war fight, or sliding down an improvised water slide naked. You might even pick up a new hobby whilst you're eating 'infused' delicious chocolate brownies. Hula hoops, slack lines and boom boxes can be found at this park, daily.
7. The open sense of community.
Above all, San Francisco is one for all, all for one. With the hippie movement from the summer of '67 still lingering in the city of love, it is accepted that you are all in this together. The community in San Francisco is one that seems to be lost in a lot of other parts of the world. My first point of San Francisco allowing you to be whoever you want to be resonates with the community, and the open aspect of everyone opening their eccentric selves up to everyone else around them no matter how different they all are.
I can still feel the sun on my back, whilst I fight with the wind in its attempt to blow up my skirt as I walk hand in hand with my loves of San Francisco, up to Dolores Park for a Sunday Fun-day. The afternoon ends with a beer or two in one of the missions filthy bars, I am surrounded by dirty mission boys, tattoo's and all, as well as foreigners and locals alike, that came to be my bread and butter whilst I was living there.
Walking up Haight street to go to my favorite Whole foods markets to get my dried mango and coconut water, to then go laze in the sun on Hippie Hill was a favorite past time.
Ah San Francisco, I left my heart, my soul, my wholesome self with you. You encapsulated me at a young age and you will forever be a part of me.
I'll always find myself crawling back to you for more.
Until next time…
"If you're alive, you can't be bored in San Francisco. If you're not alive, San Francisco will bring you to life." ~ William Saroyan
Relephant:
Author: Natalie Frizza
Editor: Renée Picard
Photos: Swaminathan at Flickr  / Roger at Flickr / torbakhopper at flickr / sean hobson at Flickr