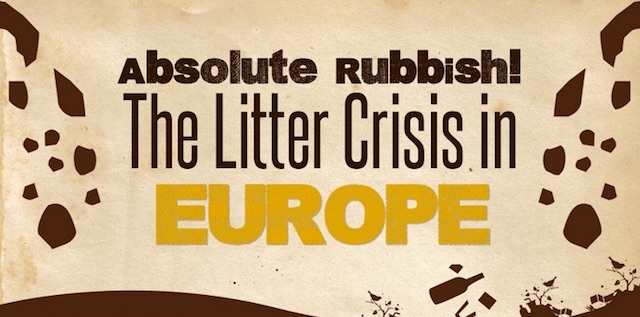 The total cost of cleaning up litter throughout Europe is estimated to be anywhere from €10 to €13 billion per year?
By comparison and to put this in context, it costs approximately $11.5 billion per year in the United States. Cleaning up Europe's towns and countryside costs an average of €25 per person, per year.
€975 million is spent on litter management every year in England. 250 million pieces of litter are cleaned every year in Scotland. The average cost per person per year for litter management in France is as high as €40. The worst part of the crisis is that half a tonne of land litter ends up on every one kilometre of road in Europe.
What does it cost European taxpayers to clean up European roads? €1 billion annually.
It is not just land litter on roads that is the problem.
Four of every five pieces of marine litter in Europe comes from land. Litter does not just affect consumers, it also hugely influences businesses. For example, litter can be a direct source of lost revenue, as statistics show that consumers are willing to spend two to four percent less on brands that they identify with litter.
What can be done about this crisis? Have a look at some of the statistics and initiatives in the below infographic provided by Dustbox to tackle this litter crisis.
Relephant:
~
Author: Rich Palmer

Editor: Ashleigh Hitchcock