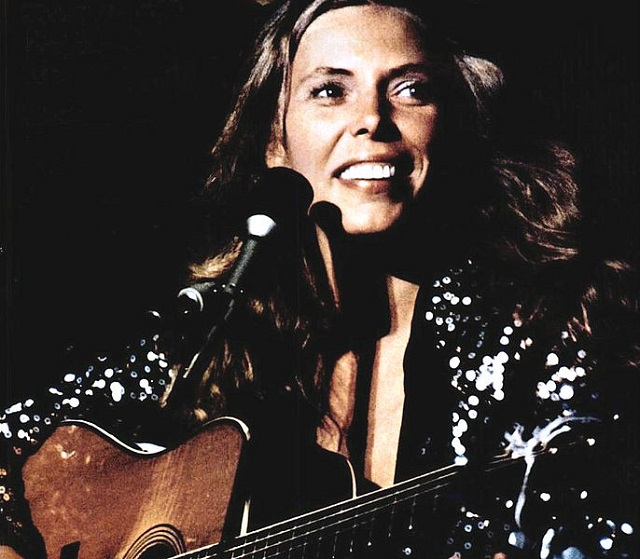 Joni Mitchell was found unconscious in her home in Los Angeles, yesterday afternoon.
According to her official website, the singer and songwriter:
"Regained consciousness on the ambulance ride to an L.A. area hospital. She is currently in intensive care undergoing tests and is awake and in good spirits."
Mitchell, age 71, is no stranger to health issues. According to her Rolling Stone biography, she battled polio at the young age of 9! Her doctors told her that she wouldn't ever walk again, but she proved them wrong. While confined to the children's ward, fighting her illness and eventually recovering, Joni would pass time by singing. She eventually taught herself to play guitar and was very into art and music throughout her childhood.
Her love of singing and playing guitar gained her a good deal of popularity as a folk singer in the late 60s and early 70s. She spent time playing music everywhere from Canada to New York to Los Angeles.
In 1970, she received her first Grammy for Best Folk Performance for her album Clouds. After that, she began branching out to a more pop and rock sound, in addition to her traditional acoustic folk sound. She released the song "Big Yellow Taxi" which became popular for addressing environmental concerns.
"They paved paradise & put up a parking lot…"
Joni has continued to write and produce music as she's gotten older, though she now also struggles with the skin disorder, Morgellons disease.
While there is no official word yet on her current condition, and what caused her to lose consciousnesses, Joni's verified Twitter account has posted that she is "awake and in good spirits."
In the meantime, as her website suggests, we can all do the following: Light a candle and sing a song, let's all send good wishes her way.
Relephant Read:
Author: Yoli Ramazzina

Editor: Renee Picard

Photo: WikiMedia Commons
Facebook is in talks with major corporate media about pulling their content into FB, leaving other sites to wither or pay up if we want to connect with you, our readers. Want to stay connected before the curtain drops? Get our curated, quality newsletters below!