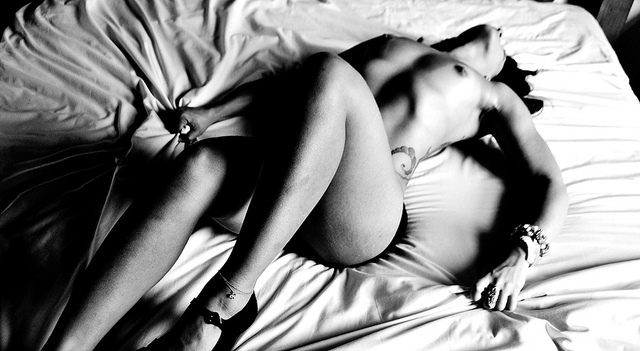 My courage is fierce but my soul is sensitive.
I'm easily overwhelmed by the fire that exists in between the spaces of you and me. I'm no stranger to passion, to seeing desire in the eyes of those that search me out, but what burns behind your eyes undoes me like a corset slowly being unlaced and slid to the floor by confident hands; long silken ribbons loose and undone.
"…sex is the root, eroticism is the stem, and love is the flower." ~ Octavio Paz
I want to bloom before you.
I want to not have to hide behind the "ifs" and the "maybes."
I want to let myself go and fall into you—into your hands and into your body.
I'll be your danger, if you'll be my safety.
Somewhere before in a lifetime other than this, I was yours. I think you know this now too. It's not romantic, or sweet, but seems to be the only explanation for the feeling of racing hearts and breathlessness that we inspire in each other.
It feels nothing like we've ever felt before, but it feels as old as time itself, as if it has always existed.
I want to give it up to you.
I want to taste myself on your lips.
I want to spend all night tangled up in you.
And this is only the beginning.
I've learned that some roses bloom under the moonlight; indigo shadows casting light on our secrets, with Courvoisier soaked petals, smelling of Ylang Ylang and honored trust.
They bloom in secret because the most beautiful things always do.
They bloom not because someone has tended them with special care and words soaked in sugar, but they bloom because that is what they are meant to do.
They bloom in adversity, through challenges, with thorns and all, and for that they are even more prized.
I want to bloom in your hands; your lips wet from making me cum, the scent of me covering you. I want wet, on my knees, shower steaming type of love. The middle of the night I just had to have you inside of me type of fire.
I want stumbling hands and shaking knees; quickies on the counter and all-nighters that have us missing work the next day. I want back seat, front seat, hood of your car kind of passion.
I want you to surrender—to my hungry touch, my dancing fingertips, my eyes that continually call to you.
I want to taste you when you cum, hard and fast in my mouth, your hands grabbing my thick hair. I want to feel your body spasm and shake. I want to be the one to do that to you.
I want you to talk dirty to me so that I become wet from just your words.
I want you to be the only thing intoxicating me, because the bravest thing I can do is come and stand before you sober with nothing to stop my shaking and fast paced breathing.
I love mysteries and you are no exception. I have no use for formal rules or titles or customary expectations that seem so important to others. And I wonder, if everyone felt this heat like we do, would they really care about all that either? I can't help but smile as I trace my lips with my fingertips—I'd rather have this burning fire than the reliable monotony of traditional any day.
I don't do normal, but you know that already.
I've never thought about things like others do, so it's no surprise that this is any different.
There aren't enough hours in the day to do all that I want to do to you, and I feel like it would take countless sunrises to work our way through the million and one ways we want to make each other breathless.
I want you to lick me until I am blooming; shaking down to my toes, until there is nothing left for me to hide behind, because even though I am brave, I hide more than most would believe. I want you to look into my eyes as you're cumming inside of me; I don't want you to blink it away, not even for a minute.
With wet lips and shaking knees, surrender and realism, honesty and trust, and the stars of the dreams that have kept us awake late into the night…I want us to bloom.
Ripe, full, delicious blooms.
Relephant Read: 
Author: Kate Rose
Editor: Catherine Monkman
Photo: Mimoza/Flickr