Final update (for the rest of my updates click here): 
May 25, 2015
8:33 am
I'd like to start today's update with a quote. I heard this quote during the screening of Drawn yesterday and knew it was a keeper. These words sum up my Mountainfilm experience because they encourage me to push my boundaries and to conquer my summits, whatever they may be:
"You cannot stay on the summit forever; you have to come down again. So why bother in the first place? Just this: What is above knows what is below, but what is below does not know what is above. One climbs, one sees. One descends, one sees no longer, but one has seen. There is an art of conducting oneself in the lower regions by the memory of what one saw higher up. When one can no longer see, one can at least still know." ~ René Daumal
This quote references the highs and lows of life—we must see the highs to get through the lows. The more summits we conquer, the more knowledge we receive, the more tools we have to apply to our life once we descend those "mountains."
This tension between highs and lows is a theme throughout Drawn as Jeremy Collins, artist and climber, is caught between mourning the death of his best friend and celebrating the birth of his newborn daughter. The film is intricately woven with Jeremy's artwork to create an evocative story about risk, family and the draw of the mountains.
At the end of the film, Jeremy did a live drawing in honor of the late Dean Potter.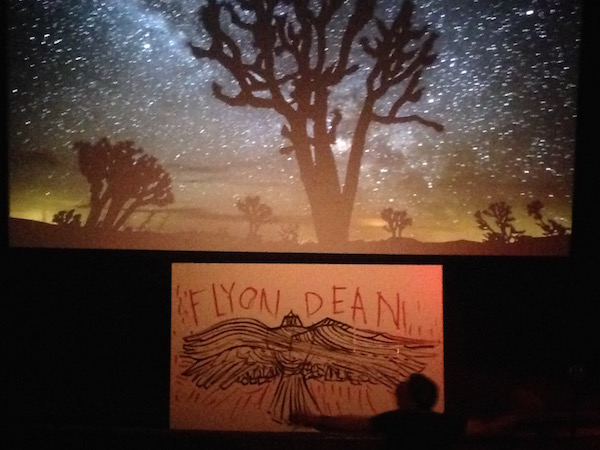 Here is the Drawn trailer to give you a better idea of this unique story:
After Drawn, I was inspired to go play in the mountains. I went for a jog up the canyon while listening to the new Rising Appalachia album—these soulful, bluegrassy tunes went well with the mountain views along my path. I've embedded the full album below, if you'd like to give it a listen:
Next up on my Mountainfilm schedule was Racing Extinction. This was hands down my favorite film of the weekend and I'm voting for it with my audience choice award ballot. This film brilliantly demonstrates the ongoing sixth extinction—kind of a big deal—in a way that appeals to a younger crowd. Let's just say that breathtaking underwater imagery, light shows on the United Nations Headquarters and Elon Musk all make an appearance. The film was created to engage ages 15 to 35, because this is the last generation that could potentially change the direction of climate change. Go see it and join the race.
After Racing Extinction ended, director Louie Psihoyos and crew did a Q&A (pictured below). When asked if Louie was a vegan, he responded with, "My stomach is no longer a cemetery. There is no trail of death behind it." What a boss.
One more quote from Racing Extinction that stuck with me:
"Better to light a single candle than to curse the darkness." ~ ancient Chinese proverb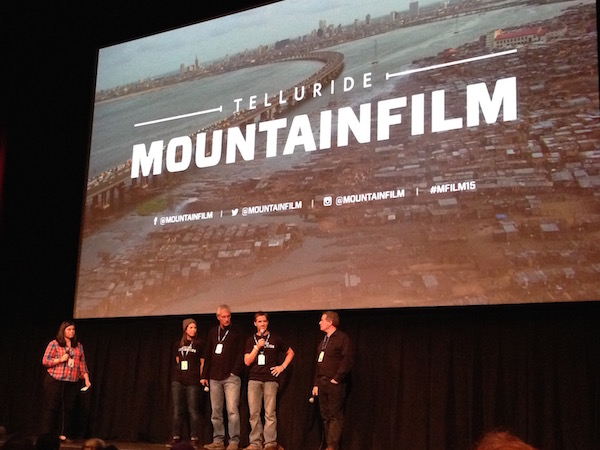 The last film I saw on Sunday was Landfill Harmonic. This real-life Cinderella story emphasizes our basic human need for culture and our desire to play and listen to music. No matter where we're from, be it the slums of Paraguay or the Upper East Side of New York City, we are united by music.
This film gave me the chills—granted the air conditioning was cranking in the theater—but I'm pretty sure my chills stemmed from the moving story and beautiful music. I won't give too much of the story away, but I've included a teaser of the film below:
Welp, that concludes my Mountainfilm live coverage. What a ride! This festival blew me away and I can't wait to come back next year. I'm currently making a list of all of the films I didn't get to see this weekend so that I can binge watch them when I get home. Thanks for following my journey over the last few days. Hopefully I've given you some new films to watch and maybe even a little inspiration to conquer your own dreams.
I'll leave you with a few songs from the Adrenaline 2015 lineup that screened the other night. These songs encapsulate the feeling of my Mountainfilm experience, enjoy!
~
Relephant:
~
Photos: Rachel Nussbaum, Meredith Meeks