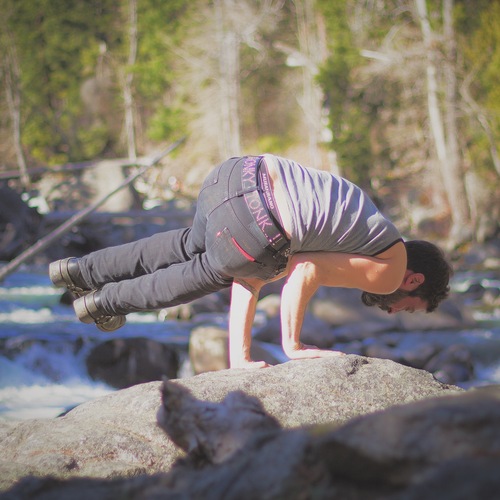 My fellow yogis,
Somewhere along the line, despite our best intentions, we as a community of yoga teachers, leaders and practitioners, have acquired some pretty ugly labels including everything from "privileged",  "self-righteous" and "holier-than-thou."
I wish that I could confidently say that these are merely baseless aspersions cast upon us and that we could find solace in the fact that they are nothing more than misconceptions.
The more I sit with it, however, the less certain I am that these labels are baseless.
While undoubtedly not intentional, it seems evident from these unfortunate perceptions that there's significant dissonance between what we would like to communicate to those outside the yoga community, what is actually being communicated and the true test of it all—how it is being received.
To illustrate how we might have come to earn these labels and how we continue to propagate them, here are a few questions to consider:
How many of us have ever struggled with excess? Too much drinking? An unhealthy relationship with cigarettes, pot or prescription medications? How many have of us have worked through an eating disorder? What about codependency or unhealthy sexual relationships?
When it comes down to it, most of us have dealt with at least one, if not a few of these issues.
And how many of us first came to the practice looking solely for a great workout or a better body?
These are common paths into the practice, a story many of us know all too well.
I wonder, then, if we all share in this struggle, how is it that the yoga community at large has often been dogged by this perception of being "holier-than-thou?"
The more conversations I have with those outside the yoga community, the more I'm convinced that many, if not most people, truly want and need the benefits that yoga provides. They're actively looking for reprieve from their day-to-day mental, physical and emotional stressors.
So, how can both of these concepts be true? How can so many people want and need these benefits that yoga provides, yet be so turned off by the very system that has been proven to provide them?
In my opinion, however well-intentioned, our inability or unwillingness to authentically and vulnerably lay bare the struggles of our individual and collective journey carries with it some serious consequences. At best, it does nothing to open the door nor to invite would-be practitioners inside. At worst, it creates and perpetuates a stereotype that breeds skepticism and reluctance in many of the people who might otherwise be willing to give it a shot.
It seems to me that we're missing a huge opportunity here. The overwhelming evidence of the dramatic, life-altering potential held in this practice is undeniable and mounting by the day, yet for the most part, we seem unwilling to do what's necessary to break down the barriers that keep many from even considering the practice.
So what's the solution?
Yoga!
Honestly, though. This answer isn't at all intended to be placating or trite.
As we know, the yamas and niyamas provide specific guidelines by which to navigate even the most difficult of life's terrain. Specifically, by mindfully adhering to the practice of the Svadyaya (self-study), in conjunction with Aparigraha (non-grasping), we could do much in the way towards dissolving the stigma that we need to be more saint-like than we are and to create the foundation by which an entirely new generation of personalities may find their way into the practice.
Self-study allows us to not only see the beauty within the struggle and the fact that nothing grows without stress, but more succinctly, that self-realization is entirely dependent upon the friction between where we are and where we would like to be. Without the discomfort of struggle to weigh against, we have no capacity to assess or appreciate the value of our growth or progress. By sharing more of these aspects, it will go a long way to debunking those perceived barriers that separate "us" (the yoga establishment) and "them" (prospective practitioners).
Non-grasping, on the other hand, allows us to cease placing all communicative emphasis on the purity, peace and contentment we've often glimpsed as the perceived destination. Instead, we could shift the conversation to our ability to find these qualities right here and now in the midst of our struggle, confusion and discomfort. The more dedicated we are to vulnerably and authentically sharing our individual paths and unique practice, the more safe and inviting the practice will feel to those looking in from the outside.
When we let go of our ego—when we cease to be so attached to the idea of appearing "more yogic"—it is then that we will see the limiting effects of this false perception fall away. It is imperative that we, as the established yoga community, do all we can to identify and communicate that any access point is viable—that yoga meets you exactly where you are.
The world is ready for yoga. In fact, the world needs yoga—and the time is now!
So this is a call-to-action.
Instructors: let's check in with ourselves. In the same way we invite our students to create an intention for their practice, we can get grounded in our own intentions for each individual class. Is it our aim to simply help our students progress in their asana practice or are we using the opportunity at hand to help them better understand how to lean into their edge on the mat—then helping them to draw parallels between their practice on the mat and the rest of their day-to-day lives?
Let's ask ourselves, what are we communicating with our particular language, voice and tone while we teach? Is there a way we can create and maintain a kind and nurturing affect while also being direct, provocative, and penetrating? Is it possible to hold our students high, trusting in their ability to understand and absorb the wisdom of our knowledge and experience, while also transparently revealing ourselves as a fellow students as well, speaking to them from a present, connected and grounded position?
Gatekeepers (bloggers and studios):  As the bridge between the yoga community and the general public, it's imperative that we ask ourselves the tough questions. Is the content we're writing and circulating bringing anything new to the table, or is it just recycling different iterations of the same information to the same audience? How can we use our platform to not only support practitioners in deepening their practice, and also creating and highlighting access points by which prospective yogis might feel more comfortable taking the leap into their first class?
To be effective ambassadors of yoga, we would be well-served to recognize and embrace the fact that the latter will require a different tone and voice than the former. There are people out there ready to take that bold step into their first class, but they need the support of someone speaking directly to them, and in a context and language that meets them exactly where they are.
Practitioners (all of us): while it could be tempting and certainly easier to just recycle various talking points about yoga, what if we simply strived to be our practice—to live our practice. We can all identify and affirm our responsibility as students, to be teachable, receptive, open and lean into our edges in order to more fully embody the fruits of our process.
Nothing is more powerfully motivating or inspiring than simply bearing witness to someone's conscious awakening. We are all on our own unique path, each with its own unique challenges, struggles, opportunities and breakthroughs. What's most important is that we maintain mutual respect, compassionate support and, most of all, inspiration and encouragement to continuously show up on our mats, ready and open to experience whatever might arise.
Of course, this is just the beginning of a long conversation. What will be required of us to continue down this path is collective criticism. By no means do I claim to have all the right answers, but I do believe that this is a solid foundation from which to build. Until we address those perceptions that are serving as barriers of entry for so many people, we'll never see what the world might look like filled with people eager to explore and discover what lies in the deepest recesses of the heart and soul.
In order to create sustainable change outwardly, we first have to work inwardly. With that nurturing and wisdom, we'll be able to implement some simple shifts in conversation, which will significantly increase our ability to open the door to yoga for an entirely new generation of practitioners.
So let's get this ball rolling!
Please join me in this conversation. It's going to take all of us working together to create and communicate a more open, safe and spacious environment that will make yoga exponentially more accessible and approachable for those who don't fit the traditional mold.
We all deserve yoga. Let's make it happen.
~
Author: Jason King
Editor: Ashleigh Hitchcock
Photo: courtesy of the author