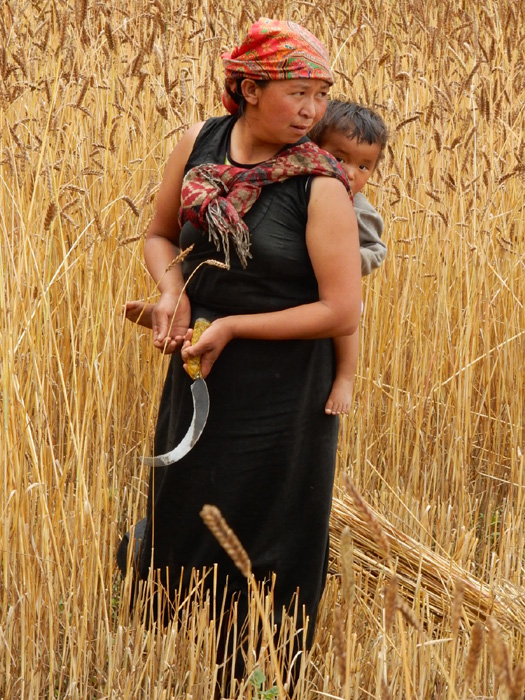 Read the first report here. 
Chhulemu, like nearly all nearby villages in Nepal, is a Sherpa community.
The Sherpa are a tribe of people that migrated from Tibet some 400 years ago. They came over the Himalayas near Mt. Everest and settled in what's now known as the Solukhumbu area.
As a people they all claim the name of their tribe, Sherpa, as their last name. For first names, parents give their new baby the name of the day of the week upon which he or she was born. Regardless of the sex of the child, boys and girls carry names like Lhakpa, Sonam and Dawa.
At the birth blessing performed by the local monk, he will give a different name. In addition some will have nicknames.
Over the following days and with the help of Ngima and Chirring I conduct separate interviews of all 30 families, wanting to know each of their individual stories. Most were either in their homes or outside working in the fields when the quakes hit. The rest were away from the village in nearby locales, or working abroad to earn money for their families.
Those inside their homes heard a loud rumble and felt the floor beneath them shake uncontrollably. They ran outside and witnessed the same thing their neighbors in the field saw and felt. The earth shook up, down and sideways. For a lifetime lasting two-three minutes, they saw their houses swaying left to right and back and forth. Trees rocked to and fro and they saw uncontrollable rockslides cascading down the mountain across the valley.
Mothers in the fields rushed inside their homes to reconnect and rescue their children. Those children and adults alike screamed in terror as they watched the peace and serenity they knew instantly become something cruel, unknowably nasty and unthinkably violent. Terrified is the word I hear over and over again with each story.
Here is some of what they tell me:
"The earth shook so badly, I couldn't stand and had to sit on the ground," said Lhakpa, wife of Danu and mother to Sonam (6), Pasang (18), Dolma (21), Mingmar Dolma (13) and Pemba Gyaljen (14).
She goes on, "For me, life now is very difficult mentally. I'm fearful of the coming of another earthquake and equally terrified of the coming monsoons and with them the leeches, snakes, and bugs."
By the end of her story, her face is cloudy and she casts her eyes downward.
"I could not walk for three days following the last quake. Nothing was injured, but I simply could not make my legs move. And for the longest time I could not concentrate," said Dorji wife of Pema Dike and mother to Kanchhi (14), Lhakpa (12), Ngima (22) and Mingmar (20). "The aftershocks cause more damage, cracks become more and bigger. With each aftershock the fear and fright come again and again. It stays and never seems to end. Any sound, any at all, will startle me. The worst are those that come at night. They make me afraid and want to run."
"I was on the roof of my neighbor's house helping them re-roof the place when the third one hit," Ngima Onjchhu said. "Without hesitation, I jumped to the ground."
It was a three story structure and he suffered an injury to his left hand and wrist which seems to be improving. His wife, Chhechi, begins to tell immediately she breaks down in unending sobs. For the next several minutes we all simply listen while she describes in detail the events of all three quakes, the terror of it all along with the ever present lingering fear.
"Before each quake, I was out working the crops in my fields. Before each quake I notice the cows stopped grazing and stood in silence, all facing north. And, my two dogs barked incessantly for probably two-three minutes before each actually hit," says Kanchha. Even though he saw these things happen, it wasn't until after the third quake that he connected the dots between the animals' behavior to the impending disasters.
"It was probably a good thing, actually. I was outside, the best place to be, I could do nothing to stop what was about to happen, and besides, I could have suffered more and longer if I'd known what was about to occur," he says. For him the future looks bleak and he has lost his energy and interest in work.
"Before I saw rewards for working hard, but not now. I should be back to normal, working. But I'm not."
"I don't like going into my house and I forbid my kids from going in at all. I only go only to retrieve necessary items or to put up some harvested grain," was a common refrain. When they do go inside, they all feel fear from the uncertainty of what may happen.
"I got sick a couple months before the first quake, and was hospitalized in Kathmandu," said Dorji, whose wife has passed. His son, Dendi (43) lives with him, along with his granddaughter, Gelmu (4). "I was treated, got well and came home. I had to spend all my savings on that, and now this."
"For several days after the third quake, I could not eat or sleep," said Yandi, wife of Tendi and mother of Dawa (11) and Sonam (6). "My Sonam doesn't like to use the toilet. He's afraid another earthquake will happen when he's in there."
**
I wanted to know about the government's response, and in fact there is a system in play. The head of the local political party visited Chhulemu and gave an order for the local police to conduct inspections of all homes and report their findings. There are three problems here–the order came from a political party, not the government; the police have no training or skill to do these kinds of inspections; and the police failed to inspect every house.
Nevertheless, the inspection reports do go through a process whereby a local official will issue certificates of finding, with one of three possible—no damage, partial damage, full damage.
When I left the village, seven homes of the group of 12 had received "full damage" certificates, meaning the house should be torn down and replaced. Three more of the 12 had received "partial damage" designations, one had not been applied for, and one was "ineligible". The "partial damage" designation means the government believes the house can be repaired, and, in time, a small amount of money is paid to the homeowner, but not enough to cover the cost of the repairs. Neither does the money from a fully damaged house cover the costs of rebuild.
From our lay persons' analyses Ngima, Chhiring and I believe the original 12 should be increased to 14. Number 13 had not been inspected and 14 had received a "partial damage" certificate.
Wanting an unbiased opinion of damage done to all the Chhulemu houses, I met with a private engineer upon my return to Kathmandu. Within the next couple weeks he will travel to Chhulemu, inspect all the houses and give the Himalayan Development Foundation (HDF) and the villagers his report as to what he believes ought to be done. That should give us the information we need to determine which houses need to be replaced and which need earthquake resistance retrofitting.
We will then get cost estimates along with a basic design for rebuilding homes that will be earthquake resistant. With cost estimates for the retrofitting we will then know the total costs of our project.
If we can raise enough money, HDF intends to rebuild every house that needs to be taken down and replaced. The rebuilds would include designing new homes to make them earthquake resistant. Further, our efforts would include raising enough money to retrofit the remaining houses to help make them earthquake resistant.
Upon my return home in a couple days, on HDF's website, I will be creating a profile of the 14 homes and the families who occupy them. When we have the rebuilding cost estimates, I will add that to each profile. I will also list the retrofitting costs for the remaining homes and the total project costs.
Additionally, this fall, 2015 I will lead three groups of 12 volunteers each to Chhulemu to help the carpenters in the rebuilding process.
We need your help. Please consider making a gift to the Himalayan Development Foundation in whatever amount you can afford—no gift is too small as dollars go a long way in this very poor country. Just $10 will pay the wage of one carpenter for one day.
Please go here and click on button #1 Rebuild Chhulemu, to make a tax deductible gift. If you would like to join me on one of the volunteer treks, great!
No building skills necessary and we'd love to have you along.
You can find details of the trip here. If you have questions please refer to my contact information below.
Some of you may be concerned about how safe it is to be to Nepal. At the time of this writing I have been in-country for 12 days. During that time six aftershocks ranging in magnitude from 4.4 to 5.3 have occurred. Others I've talked to reported having felt them. I did not. Neither did I see walls collapse or rocks being dislodged from buildings. Some aftershocks I slept through and I was walking outside when the others happened. Most people who felt aftershocks were inside. You will need to make your own decision, but for me this is both a safe and beautiful place to be.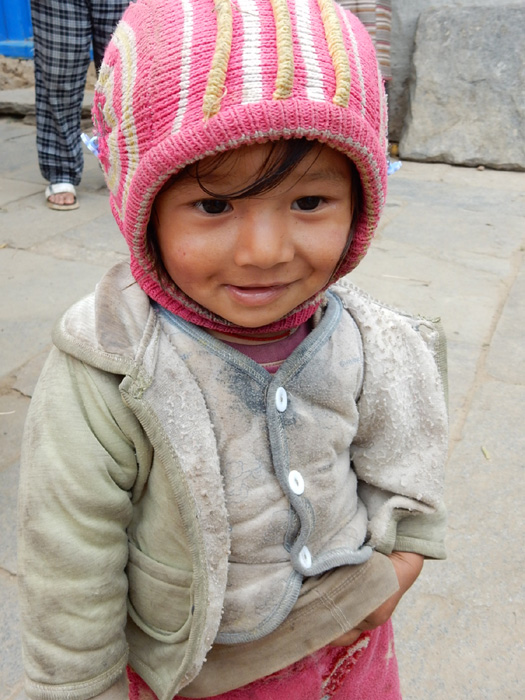 The loss of life, injuries, damage and destruction are real and substantial. No question about it. And, the international media outlets cherry picked images and anecdotal stories which, while true, distort reality to fit their narratives.
The Nepalese I've talked to are furious about the coverage. It has left the wrong impression about life in the country, and as a result tourism, the country's leading industry, is suffering mightily. One government official told me that indeed the country can use money and materials to rebuild, but more importantly it needs people to come here in the numbers that existed before April 25.
While here, one tourist will support the livelihoods of 13 countrymen and women.
We at HDF look forward to hearing from you.
Author: Don Moore
Editor: Renée Picard
Photos: via the author