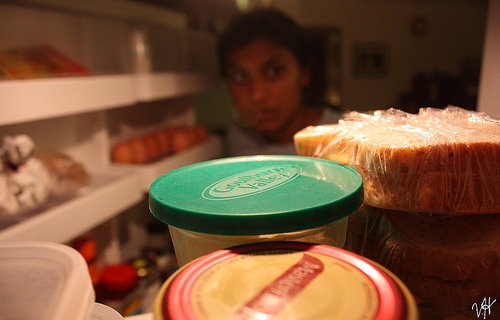 A food sharing initiative in Spain has recently been launched with so much success that it is sparking a trend.
Galdako is situated close to Bilbao and, similar to many other towns and cities across the western world, it has a problem with food wastage. But thanks to the "Solidarity Fridge," it's estimated that up to 300 kilos of food have been saved from ending up in landfill since it opened just seven weeks ago.
It is a very ordinary looking fridge, except for the wooden fence around it, to ensure it's not mistaken for an unwanted piece of furniture that might otherwise be removed.
Both businesses and households can drop off food, but they must adhere to a few rules:
No raw fish, meat or eggs.
Packaged or canned goods cannot be past their use-by date.
Food prepared at home must include a label detailing when it was made.
When it comes to taking food from the fridge, there are no such rules. While the initiative is helping to feed hungry families, charity isn't its primary motivator—it's about waste reduction. And as anyone can help themselves to the contents, there is no stigma attached and vulnerable people can take from the contents with dignity.
Originator of the scheme, Álvaro Saiz, says: "This isn't charity. It's about making use of food that would otherwise end up in the bin. It doesn't matter who takes it—Julio Iglesias could stop by and take the food—at the end of the day it's about recovering the value of food products and fighting against waste."
The fridge is policed by volunteers to ensure anything past its sell-by date is removed, but so far everything has been removed on a daily basis.
The project is being so well received that Saiz has received numerous enquiries from other towns and cities as to how he implemented it—even from as far away as Bolivia. And last week the city of Murcia, in the south of Spain, became the second in the country to install a Solidarity Fridge.
The concept of food sharing isn't new. But it is an ingenious, if an obvious solution to enormous waste while vulnerable people are still going hungry in the first world. When researching a solution to Galdako's waste problem, Saiz discovered a food-sharing project in Germany which oversees a number of initiatives, including 50 fridges across the country. This discovery spurned him on to implement something similar.
However, many food-sharing projects are labor-intensive—requiring volunteers to collect and then redistribute the food. The beauty of this spanish model is in its simplicity: once the paperwork to legally install it is in place, only a small team of volunteers is needed to police the contents.
The food is dropped off by those with food to spare and collected directly by those who wish to avail of it. It also has the added benefit of making people more mindful about throwing out perfectly good food.
It is a simple idea but a great solution. A win/win for all of us, including the planet—I'd love to see one in every town.
Relephant:
Author: Hilda Carroll
Editor: Renée P
Photo via Flickr