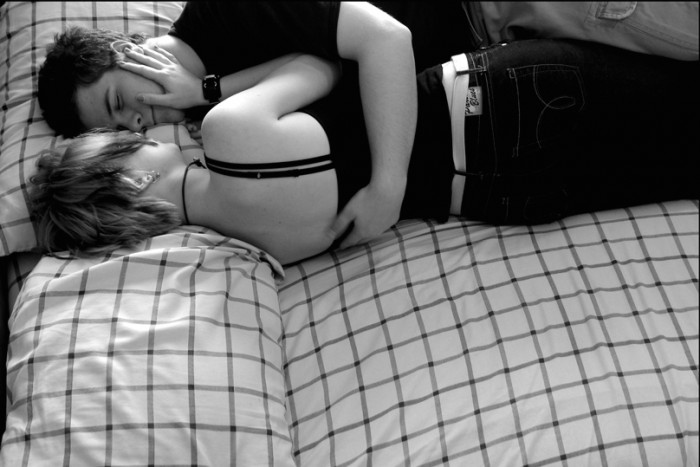 I haven't said, "I love you," but you know I do.
Sometimes I miss you when you're not even gone. Each tick of the clock a bang of torture. How long can I keep you?
Tick, tock. The time is dwindling. How do your earlobes taste again?
Tick, tock. It's imminent. Could I say it now? Could the three words leave my lips that are screaming for release?
Tick, tock. One more kiss; desperate. Can you feel the words instead?
Tick, tock. Time to leave. Depart. Go.
The words hang in the room unuttered. Unanswered.
But that's okay.
If my heart could bubble over, emit from my throat, you'd know how I feel. Yet, you already do.
I ponder. Do we put too much on our words? One sense. Why do we ignore all other essences that offer passion?
My lungs may not have encouraged the words, but I have spoken them when I stroke your hair at night, your head warm on my heart.
I may not have said love with my lips, but I have spoken them when I caress your thigh during a long drive.
Love is spoken all around. It's screaming.
I'm starting to listen now.
What about here? As I grab for your hand in the pouring rain, can you feel the heat?
Or when you hold my shoes so I can prance barefoot in the lush grass; can you sense it here? As we sing show-tunes under the grey clouds, getting soaked, I'm somehow dry.
You make the simple magical.
As our ears are brightly pierced by a terrible college student and we muffle giggles hidden in an open window of a museum; I feel it here. Dusting rain drops off each other, sitting close for warmth; I feel it here.
Here I believe you. Oh, how I believe when you say I've never looked more beautiful. Barefoot. Covered in mud. Does love need to be uttered, when here, in this barren room? It's alive. Wet. Vibrant.
Drip! Drip! Goes the rain. Pitter-patter! Heart to brain.
Love is screaming from everything.
When you call me darling and twirl me under thunder—it screams here. When you rub my back gently as altitude sickness takes hold—it screams here.
When you exit the car, but open my door for one last kiss and short embrace—it screams here.
I had it wrong before I think. I had needed tangible items to hold, something to "show," to proclaim, "Look! Love is here."
We measure love by the size of our gifts, instead of the size of our hearts. When did we start to go wrong?
My palace, the place where my soul feels rich, is cuddling you on a worn twin bed, listening to your soul dance from your lips––soft fingers, as you set the space ablaze with your guitar, your voice.
My palace is laughing ourselves to tears as we stare at the ceiling, creating new names to make us famous in the yoga world: "Hi, I'm Bhakti Chai!" Moments like this are worth more than any any dollar, any cent!
For once, I need no picture, nor gift to justify what I can feel.
When I listen with my heart, I need no validation.
When I lose the ground––when the world evaporates––in your eyes, my heart whispers softly, "Love is here."
You haven't said, "I love you", but I know you do.
Love screams from everywhere.
Relephant Read:
~
Author: Elizabeth Jane Brumfield

Editor: Travis May

Image: Deviant Art