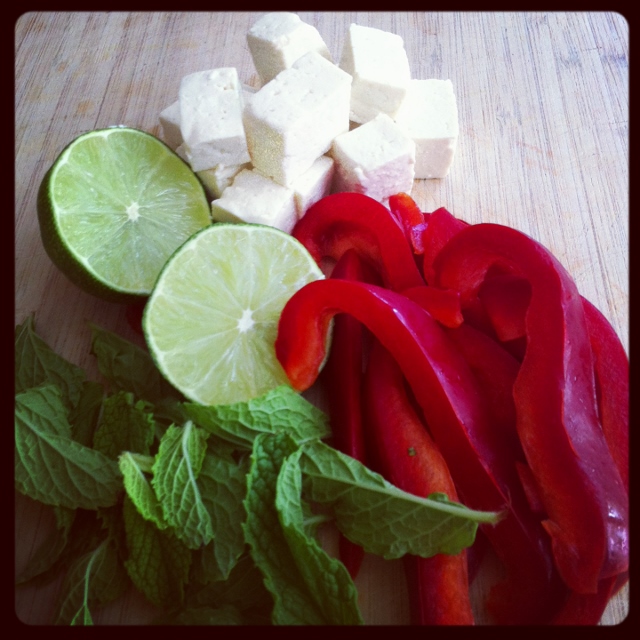 Mostly I toss kelp noodles into soups or salads almost as an afterthought, but now I've finally put kelp noodles to good use with this Pad Thai-inspired sauce.
Insanely low-cal kelp noodles pair perfectly with a high-calorie nut-based sauce.
I'm not a calorie-counter, but it's just common sense not to overload your palate or belly with a cocktail of high-calorie foods at once.
Kelp noodles are practically calorie-free (<10 calories per serving), gluten-free, and raw. Just soak in water with an acid (citrus, vinegar) and they remind one of glass noodles. Kelp noodles are made from brown seaweed, sodium alginate (a seaweed-derived salt; therefore, high in iodine), and water. Clear in color and quite bland, they are al-dente-like crunchy until soaked.
This recipe is vegan and I would love to call it "raw" because it's very, very close; however, for bestowing the raw title you must drop the tofu, sub agave or raw honey (but then it wouldn't be vegan!) for the maple syrup, and the canned coconut milk is suspect (I believe there are raw versions of coconut milk available).
Raw foodies are mostly likely aware of the appropriate substitutions. If you are not, carry on…
Pad Thai Sauce (enough for 2 batches of noodles & veggies):
1/4 cup tahini
1/4 cup almond butter
1/4 cup canned coconut milk, light
3 TBSP tamari, low sodium
3 TBSP maple syrup
1-2 TBSP fresh mint, chopped
1 tsp crushed red pepper or cayenne
1 lime, juiced
1 tsp crushed garlic
1 tsp grated ginger
Other Ingredients:
1 bag kelp noodles, soaked overnight in water and juice of 1 lime
8oz tofu, extra firm, drained, squeezed, and cubed
1 red pepper, diced
1 cup shredded/grated carrot
Handful of bean sprouts
*Other veggie ideas: sliced snow peas, shredded cabbage, grated beets
Place drained kelp noodles, tofu, and veggies in a mixing bowl. In a separate bowl, whisk together the sauce ingredients. Combine 1/2 of the sauce into bowl of noodles, tofu, and veggies. Mix well and refrigerate for 1-3 hours. Sprinkle with toasted sesame seeds when ready to serve. Cool, creamy, and layered with flavors and textures. Extra sauce keeps for 3-4 days in refrigerator.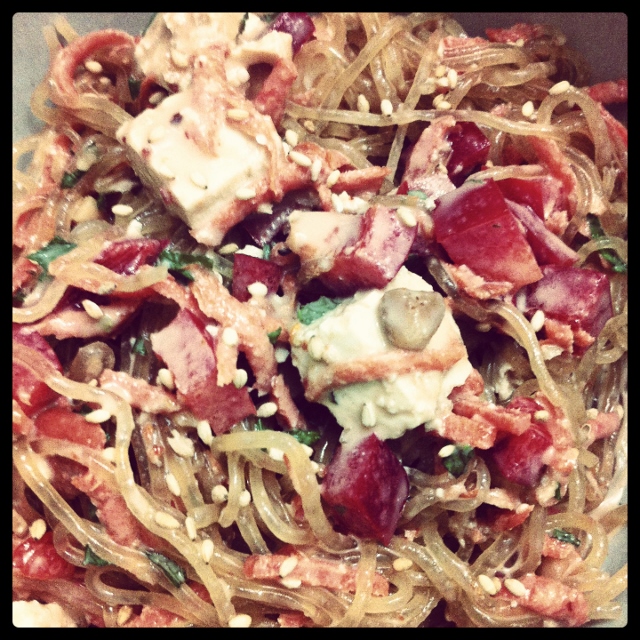 More awesome from Tahirih: 
Author: Tahirih Lin
Editor: Renée Picard
Images: author's own