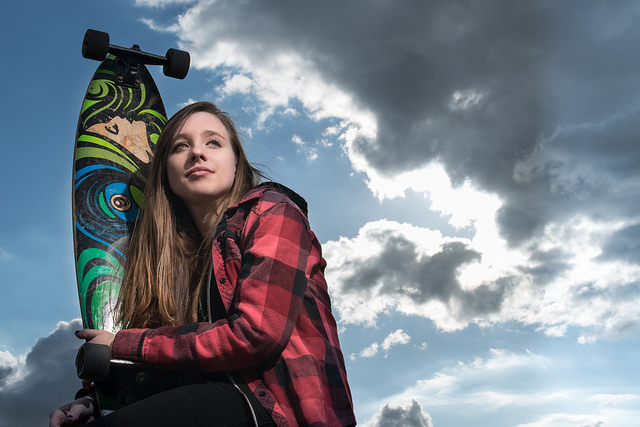 I spent my growing up years inside the house, reading, napping and practicing the piano. Having been born with a heart condition, I wasn't allowed to ride a bike, skate, swim, dance or even run.
"Don't get excited," my mother was constantly saying. Or, "Be careful; you know you're not supposed to get your heart rate up."
I felt like an egg that would break at any moment. Everything in me seemed fragile, and I was sure that, just like Humpty Dumpty, nobody would be able to put me back together again if for some reason my shell did crack,.
Not so my sister. There was nothing that would break my sister.
She was a derring-do, bicycle riding, skating, swimming, and running through the neighborhood with the other kids kind of little girl.
While I was all confined, fluffy-puffy ruffles and skirts, she was all un-confined jeans and t-shirts. While I had a doll named Susie, she had one named Bobby.
My sister was a tomboy.
I always wished I'd had the chance to at least decide whether I was a tomboy too, rather than having my fragile, giggly-girl role forced upon me by the circumstances of my health. I'd always wished that I could have at least tried tomboy-ness out. Not so much for the clothing aspect of it, but for what appeared to me to be the freedom of it—the unbridled exploration of the world, the independence and the sheer breathless excitement of it.
Below is a poem written by a friend of mine about her own "tomboy-ness" and about how she wasn't given the chance to embrace it, express it or even to show it. So poignant are her words—so tender and true, and so close to my heart.
Like my friend, I would have wanted to have the chance to be a tomboy—a tomboy for all the world to see.
Perhaps you can relate?
Tomboy

Mommy bought us some white socks with lacy tops. I hate those; they make me feel like a sissy. The navy blue socks are better—I feel more like the real me, like I'm a boy.

Those lacy white underpants with pink bows on them that Aunt Bud gives us—ugh! Too frilly, too much like a little girl who thinks she's cute, like those little girls next door who kiss boys.

Oh, no, Mommy got Judy and me puffy sleeve dresses! They're Kate Greenaway dresses, pretty purple flowers on them—I like the flowers.

But those puffy sleeves! I hate the puffy sleeves. Too girlish, too little girl, dresses with puffy sleeves. I feel like the weak me, the scared me. Not the brave me. Too much like a girl. Plain sleeves are better; they're like me. I'm better than Judy; she's a little sissy.

Mommy and Daddy got us six-shooters and holsters. I love them! Yellow and blue shirts with cowboys and horses. Leather vest with fringe. I love that cowboy feeling—just like a real cowboy.

I'll make a lasso; Daddy taught me to make a square knot in the rope. I'll try to lasso the piano bench—it's hard, but I'll practice 'til I can do it. Sitting on the arm of a chair, legs over it like a horse. Yippee, yahoo, up and down, bumpety-bump.

Jimmy and me. Hot, sunshiny sticky day. Jimmy wears jeans, so I'll wear jeans, too. No more shorts, they're for sissies. I feel like me in jeans.

Wanna play cowboys? Okay. Get out my vest, my gun, my holster, caps. Find a hideout, dust in the field, sweaty arm creases with black dirt in them. My brown arms—I love my strong, tan, arms, just like Jimmy's.

Yippee, we'll ambush the bad guys; we'll sneak up on them. Around the house, peek out, pull the trigger, the caps go off. Kkkkk, kkkkk, kkkkk—got him! Jimmy likes caps, little black dots. Smoke hurts my nose; I don't like the smell.

Hot morning, dust devils, the big dirt pile. Climb up, on top looking down. Feel powerful, like I'm on a mountain. It's starting to rain—spots on the dust, faster, faster; we better go inside.

We're thirsty. Go in the kitchen, get some grape juice. Half water, half juice. Welch's. It tastes just like grapes. Good!

Girls playing dolls with Judy. They're sissies. Jimmy and me are better than them. We play cowboys. Jimmy and me, we're alike—we're partners.

~
[Author's note: This poem is printed with the permission of the author, who wishes to remain anonymous.]
~
Author: Carmelene Siani
Editor: Toby Israel
Photo: Jaime Schaap/Flickr