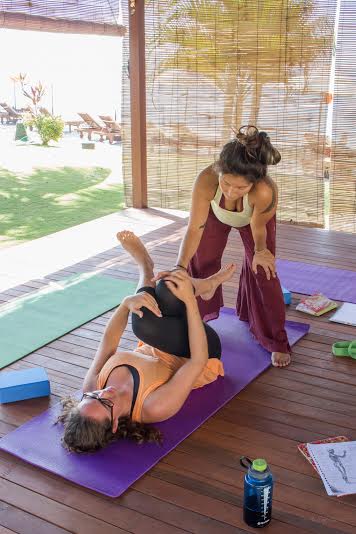 As we sat down for coffee my friend checked her Instagram, pointed to a photo and exclaimed, "This is not yoga!"
The image was of a young woman in an odd posture sporting flashy leggings and designer mala beads. It was followed by what appeared to be 837 hashtags.
Creative vinyasa flow is not yoga, my friend said.
But who are we to judge? I thought.
I have posted my own shameless selfies of yoga poses. I am not claiming to be the most yogic of yogis.
I preach simple body awareness instead of comparisons with another's body. Yet I am still very much confused about my own growing pregnant body that shifts and turns without my control.
Just a few days ago I pointed out a yoga photo to my husband, saying, "I want a butt like that after my pregnancy."
I have no problem admitting that I, too, have a shallow side.
Yes, I sit down for daily meditation, read spiritual, New-Agey textbooks and practice yoga asana when I can—but that's out of necessity. I don't do these things because I want to. I do them because sh*t goes down if I don't.
Just the other day, I wrote an elephantjournal post on the importance of personal practice when choosing the right yoga teacher. I practice asana, but sometimes forget the other limbs of yoga such as Yama and Niyama, moral codes for yogis including honesty and non-violence.
I often forget my compassion toward the infinite numbers of ants occupying my outdoor kitchen here on the island of Bali. I look forward to my own fitness routine after pregnancy, while I occasionally enjoy bacon.
My friend smirks at another picture on Instagram.
I can't help but notice the gulf between what I preach and practice. I try my best to live my life the way I want and I teach what I believe to be the benefit of all, including myself. I have never traveled to India (except for a very long half-day layover in Mumbai). I was not trained by an ancient foreign guru.
I value more traditional teachings, and I also love the way modern science explains the effects of yoga—and who are we to determine which way is best for the whole human?
~
Relephant Read:
~
Author: Tomomi Kojima
Editor: David Lewis
Photo: Courtesy of Author