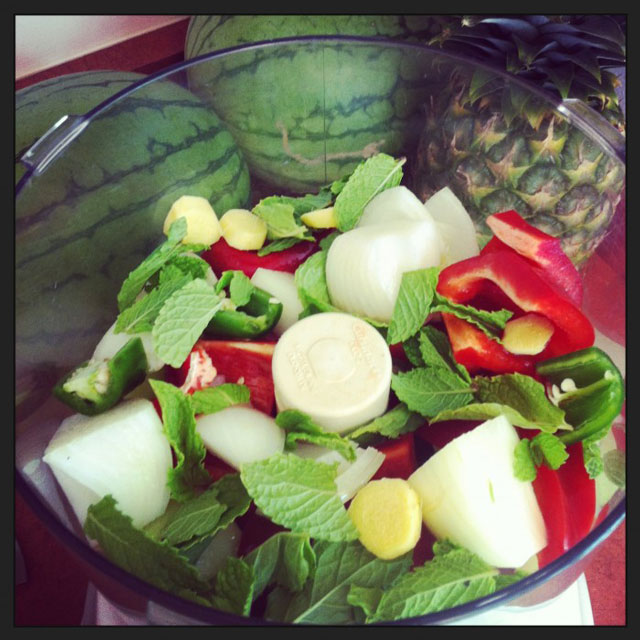 At my son's request we planted mini, sugar watermelons in our garden along side the cucumbers.
I fantasized about indulging in watermelon/cucumber recipes and juices all summer long but, until very recently, we've had very little sun this summer. The watermelon vine went rogue choking out the cucumber and producing very little fruit and we are still waiting for them to ripen.
It's finally hot and sunny so the weather is perfect for a sweet and spicy cold soup. Sadly, none of the ingredients came from my garden, but it's delicious regardless.
This sweet & spicy soup is nicely layered and nuanced with ingredients such as honey, ginger, mint and cucumber. I like savory, tomato-based, gazpachos but they also tend to be a bit acidic and dense. Using a lightly-sweet fruit as the main ingredient is so refreshing and hydrating during a heat wave.
I prefer to do as little chopping as possible, especially on a hot day, so I recommend using a food processor first and then transferring to a blender when you add the last ingredient—the watermelon. Or use a high-speed blender, like a Vitamix, for everything.
Ingredients (4-6 servings):
8 cups watermelon or about 1/2 of a watermelon
1 cucumber, peeled and roughly chopped into big chunks
1 red bell pepper, big chunks
1 small onion, quartered
1/2 -1 small jalapeño pepper, with or without seeds depending on your ability to take heat
1/4 cup lemon, juiced
1 TBSP olive oil
1/4 cup fresh mint leaves
1 piece of fresh ginger, about thumb-sized
1-2 TBSP honey
Preparation:
1. Throw all ingredients except watermelon into food processor or high speed blender and puree until everything is itty-bitty shreds.
2. Add watermelon (if not using a Vitamix, this is the time to switch from processor to blender or your soup will be all over the counter—trust me, I've done it so many times) and pulse a few times. I like the watermelon to be slightly chunkier than the other ingredients for a nice texture contrast.
3. Taste and adjust as needed but I don't recommend adding more ginger or jalapeño as this soup gets spicier (and yummier) over time!
4. Chill for at least an hour to allow the flavors to marry.
~
Author: Tahirih Linz
Editor: Katarina Tavčar
Photo: Author's Own