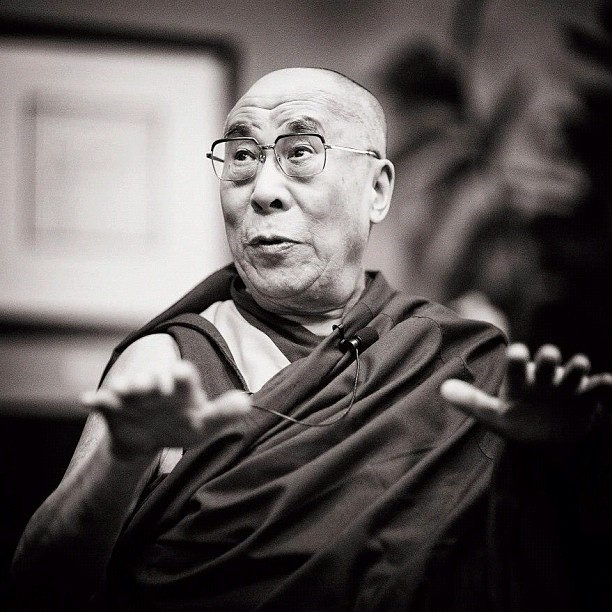 Update: His Holiness, the Dalai Lama will celebrate his 82nd birthday this year in Ladakh. 
Cheerful birthday from all of us at elephant journal!
Today, July 6, 2015, is the 80th birthday of His Holiness the 14th Dalai Lama of Tibet.
The Wall St. Journal had an article on Friday that I thought was going to address gift-giving for the Dalai Lama, but it turned out to mostly be about cake. (Everyone from the Glastonbury Music Festival to the Art Institute of California-Orange County has been baking birthday cakes for His Holiness.)
The article mentioned the Dalai Lama's selflessness and his habit of re-gifting, but mainly, it presented material examples—not spiritual, as I had hoped.
So—in honor of the Dalai Lama's supreme selflessness, I suggest that we bestow upon him a birthday gift of our attention to Buddhist principles. Let's try to send so many positive, loving thought waves throughout the universe today that the planet will literally vibrate with our intentions.
The following is my list of Dalai Lama quotes and 10 suggested gifts.
1. "Depend on Mindfulness." ~ Dalai Lama.
Today, let's give mindful attention to all of our daily tasks from the trivial to significant.
One way that we can focus on this is to take three deep breathes when we switch gears—before we enter the shower in the morning, before we cook our breakfast, before we eat our breakfast, and so on. Mindfulness: a simple concept, but a challenging habit to adopt. Let's be especially mindful during today's yoga class.
2. "Love and compassion are necessities, not luxuries. Without them, humanity cannot survive." ~ Dalai Lama
Love and compassion are main components of Buddhism's bodhichitta a path to enlightenment with many facets.
In Pema Chodron's book The Places That Scare You, bodhichitta is described as as "a soft spot, a place as vulnerable and tender as an open wound". Let's seek our own soft spot today, sharing love and giving compassion by understanding another's pain.
3. "Remember that the best relationship is one in which your love for each other exceeds your need for each other." ~ Dalai Lama
Speaking from experience, I believe that our first encounters with love often develop into relationships where there is an imbalance of need and want. This creates weakness in the relationship, leading to failure. We should not need one another, but want to share our love. Let's try to be less needy today.
4. "Silence is sometimes the best answer." ~ Dalai Lama
Who among us cannot contribute a little silence? This is a great gift.
5. "Be kind whenever possible. It is always possible." ~ Dalai Lama
There are daily challenges to our kindness, not the least of which is our own impatience with brief acts that inspire negativity. The person that cuts us off in traffic. The waitperson that accidentally spills coffee on our sleeve. The child that has left their toys out.
Let's be kind, and in return, it will foster kindness in those we touch.
6. "We are born and reborn countless number of times, and it is possible that each being has been our parent at one time or another. Therefore, it is likely that all beings in this universe have familial connections." ~ Dalai Lama
Treat everyone if they are our brothers and sisters. Our familial relationships have their ups and downs, but usually, we are more willing to make peace with our brothers and sisters than with strangers. Let's sincerely try to extend that respect to all.
7. "A vegetarian diet is the most healthy one for you. We must respect all forms of life." ~ Dalai Lama
The Dalai Lama is not strictly vegetarian, as he lives also by the principle that he should accept whatever he receives, but he also believes "Animals deserve our compassion. We must know their pain. We should nurture this compassion through education. Showing concern about animal rights is respecting their life."
Let's prepare and enjoy a lovely vegetarian meal in his honor.
8. "Happiness is not something ready made. It comes from your own actions." ~ Dalai Lama
Happiness. This is a tough one. We can appear so free and balanced in others eye, yet often we lack true happiness. Let's try not to measure our lives against another person's measuring stick. Let's try to have a truly "glass half full" attitude towards life. It will make us happier.
9. "Take into account that great love and great achievements involve great risk." ~ Dalai Lama
In 1989, the Dalai Lama was awarded the Nobel Peace Prize for his work advocating nonviolent means to free Tibet from China. It's not always easy to take the leap of faith towards love, and it's not always easy to have faith in one's goals. Take a chance on love and life today. Take the risk and find your own inner peace.
10. Fasting.
The Dalai Lama usually has hot porridge for breakfast with barley powder, hot tea, bread and jam. A vegetarian lunch, and no dinner. I have read that as celebrations of the His Holiness' 80th birthday take place around the world, some celebrants are including fasting in varying degrees.
Surely, if the Dalai Lama can forego dinner on a daily basis, we can go without dinner tonight in accordance with his practice.
Maybe we'll find that we can do without more than we thought.
Visit His Holiness' Facebook page today and add to the wishes.
Happy Birthday, His Holiness Dalai Lama!
Relephant: 
Author: Linda Summersea
Editor: Renée Picard
Photo: elephant archives