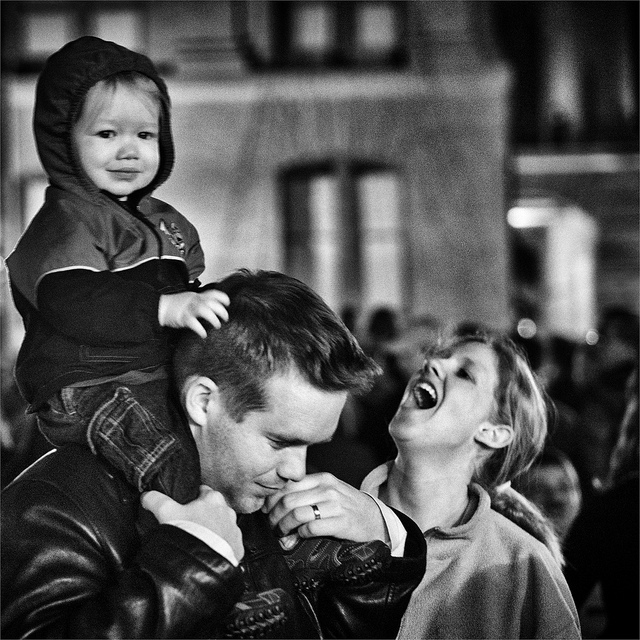 "We are never so vulnerable as when we love." ~ Sigmund Freud
Beginnings—so full of promise and usually much more enjoyable than the endings, especially when it comes to love.
Opening our heart to another can be a wild adventure.
Like, the fantasy of Jaime and Claire in the Outlander series. But keeping our hearts open for an extended period of time, past the honeymoon phase and into, say, fifteen years? Now we're talking, Gone Girl.
Like most couples, I imagine Ben Affleck and his beautiful soon-to-be-ex wife Jennifer Garner entered into their marriage thinking they would make it through. So why can it be so difficult to love and stay together?
Real intimacy, not the romance novel kind, brings us face to face with our own closed down parts—all the shriveled up, contracted places within that make us want to scream, hide in the dark or run away. This is usually the time we begin to fantasize, complain, judge, compare, attack, use or bolt.
For most of the people around me, love relationships seem to be incredibly challenging. When we think of our first love, how many of us think about the person we fell head over heals for the first time? For me, his name was E. and I "loved him madly," during this chaotic connecting-to-love-through-sex time in my life. I was barely a bleep on his screen.
Rarely though do we think of our parents. But for better or worse, our parents have a tremendous influence on us, which can be the not-so-great news; not just because our well being in the early years depends totally on them, but because they are the first people we love.
Our parents create the imprint for attachment when we are wee little ones and these imprints are undeniable and is something we drag along for the rest of our lives.
Here's the deal: our attachment to our parents completely and utterly impacts our attachment to our partners.
Let me explain. Those of us with parents who were distant or unavailable usually end up fearing some kind of loss. Relationships might be navigated in a way to avoid feeling neglected or abandoned again which could look like clinging to people in an addictive way or demanding that our partners continually prove their love. We might even keep one foot out the door so that we are never in a situation where we could be left. And I know this way too well, I was the President of the "one footer" club.
The other extreme are those parents who were too invasive or controlling hence the fear of losing ourselves and the constant need for more space. Psychic incest? Helicopter parenting? Those provoke the fear of feeling emotionally controlled by our mate.
Any of this sounding familiar?
When we play out these fears in a relationship, we are re-enacting old scenes from our childhood, our own personal Game of Thrones, which has two main subplots: first is bonding with our parents, then separating from them and becoming an individual of our own.
Those of us who did not bond deeply or separate fully from our parents might not make a clean transition from childhood to adulthood without being wounded in these areas. Bonding and separating are the main factors that influence our present relationships.
Our old fears of not getting what we need can make us feel powerless when these needs arise in a relationship. This makes us act out in crazy ways, like having a screaming knock down fight with our husband in front of our child despite the fact that we absolutely know better, but can not stop ourself. Yeah, not one of my proudest moments.
Or when we find ourself in the same conflict for the millionth time as if it's the first. Hello Groundhog's Day.
If we continue to act this way, our wounds might just keep creating and repeating different dramas and start destroying precious moments of intimacy. The good news is that we can start healing these wounds even in the midst of relationships that are calling up the most unpleasant parts of ourselves.
So if you are experiencing anxiety over whether to commit to or leave your partner, first take a step back and look at your first love. And if you're willing, look even closer at your relationship to bonding and separating with your parents and how these patterns influence your present relationship needs. By connecting the dots from past to present, we can begin to understand our love imprint. With this understanding, our patterns become clearer.
Our suffering is a message that something is no longer working and any struggle with our partner is a chance to help us rediscover and empower the parts of ourselves that are blocking love.
This is the secret: any difficult moment can be a wake-up call and a chance for greater freedom. One of the gifts that come from these moments is that they brings our wounds into light. So let there be light.
So what imprint did your parents leave on you about the meaning of love? It might be worthwhile to take a look.
~
Relephant:
Author: Carrie Dinow
Editor: Katarina Tavčar
Photo: Anne Worner/Flickr