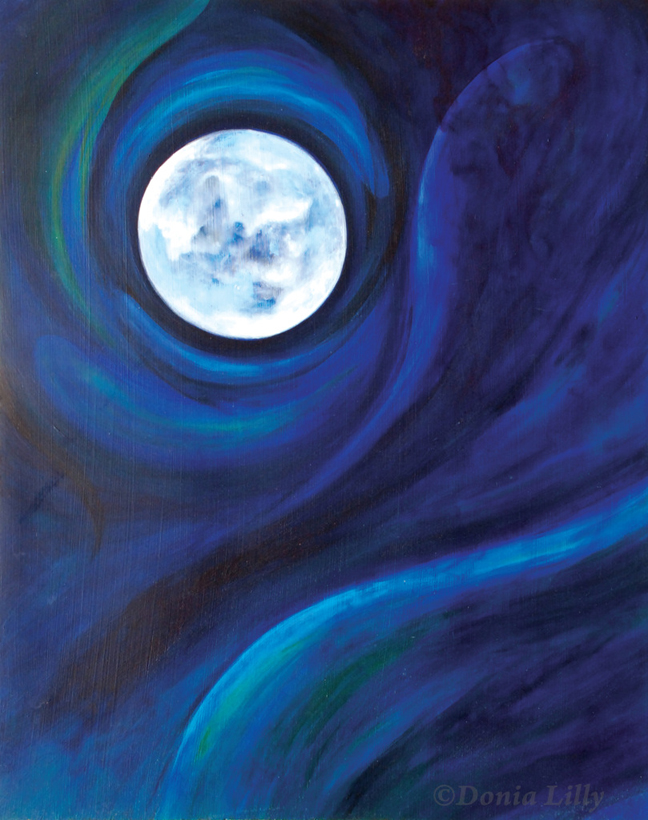 *Eleditor's note: Astrology isn't a religion. We're not sure it's a science, either. It's magic, maybe. But, as with feng shui, say, things affect things. So as long as we don't go blaming our problems on the stars, as long as we assume responsibility for our own actions…well, hell, a little auspicious coincidence and applicable wisdom can't hurt. And so, with that grain of salt…enjoy!
It's time for a universal roller coaster ride.
Ready or not—a turning point and important discovery in this summer of karma has come.
The moment is approaching for this karmic time to come to a close and a new beginning to take its place.
On August 29th, 2015 a full supermoon will light up the summer sky and, perhaps, bring some new insight onto the scene. Powerful twists and turns of perception could set us on a brand new course, given all the combinations in play.
I had mentioned waiting until September 6th to make any important decisions regarding relationship matters in my article "Venus Retrograde 2015: Relationship Karma Goes Full Frontal." One of my reasons for making that astrological recommendation was because of this important supermoon.
Supermoons occur when the moon is a little closer to the Earth, which makes them appear bigger and brighter than regular full moons. This particular supermoon will take place in the sign of Pisces which will try to float us into a mystical and spiritual place.
The question of course is "Are we willing to let go and be open to the mystical place this moon wants to take us?"  That answer can only be answered by each individual.
Supermoons are always gorgeous to me. This go 'round the true beauty won't be in the way it looks. It'll be found in the insight it will bring to the table. Full moons have a way of giving us some much needed answers. Like a light getting turned on, new awareness will begin floating into our consciousness.
Questions like, "Are we headed in the right direction?" or "Is it time to take a new exit?" might suddenly come into our minds and answers suddenly appear. Some practicality may also start to come over us. Thoughts about whether or not something is sustainable begin to come into the picture too. Full moons bring a finality of something or a closure point. It's time to move on now to the next level of whatever is prominent in our life.
While the sign of Pisces will be in the forefront it's going to be opposed by Virgo—the sign being pulled by the moon. The moon in Pisces is the force that will want us to dream about the possibilities of what could be. It's the side that believes in the unbelievable and that anything is possible. This energy may push us to try and escape reality.
However, the Sun in practical Virgo will be urging us to look at the realistic and factual side of things. That force will be aided by Pluto, pushing us to see the practical side and ground down. Jupiter, the lucky planet of the zodiac, will also be helping the Sun in its endeavor. Ever since Jupiter entered the sign of Virgo, things of a practical nature have started to have a little extra luck in coming together and we may be able to begin feeling that now.
The Pisces pull will be very strong and have great influence. Neptune (Pisces natural ruler) will be intertwined very closely with the moon and that will make the mystical side stronger in the balancing act. A true force of spirituality will be around.
There is going to be a heightened sense of healing, intuition, psychic ability, creativity and inspiration all around for the taking. Acts of kindness may take us by surprise and a willingness to help somebody out will be strong. Transformational awakenings and shifts of consciousness will also be readily available. This could be a point where the unbelievable becomes believable.
Relationship matters of all sorts will also still be quite prominent. This super moon could change your perception in our place in the relationship. The point of making a firm decision is approaching given that Venus will be turning direct a week after the peak of this super moon (September 6th, 2015). Venus retrograde has thrown many of us into karmic situations and helped us encounter people we never thought we would. A practical note comes into the forefront now and we could be pulled into a head (Virgo) over heart (Pisces) decision.
Passion and the urge to connect with others will be thrown into this planetary mix with a vengeance. Venus and Mars will be dancing ever so closely at the peak of this moon, creating the perfect recipe for romance and desire. Love affairs could heat up again to new levels or new attraction may form in people we never thought about before.
I've mentioned music before because I always have a song that comes to mind when I think about upcoming planetary energies. Van Morrison's classic song, "Into the Mystic" entered my playlist when I started analyzing all the planetary plays in motion. Given all the energies in play, I really think that this is a super moon that could push us into rocking our "gypsy souls," as the song goes.
This Pisces supermoon is going to be the first of three super moons in a row. It's a necessary force that will bring important pieces to the table to help us make decisions and close out our karmic summer of love. The next two supermoons will be eclipses that will create powerful beginnings and endings.
The practical side of things will now begin crossing our minds about what our steps will be. The caveat of course is that this moon will be singing, "let your soul and spirit fly into the mystic" as loudly as we're able to hear it. This karmic season is coming to a close and a turning point has come. Eclipse season is right around the corner and this supermoon will be the catalyst into the brand new chapter in our stories.
For additional personal insight, here are some of the themes associated with the Pisces Supermoon for each Zodiac sign.
If you know your rising sign, read for that one first. Keep in mind that relationships will still remain center stage with Venus still in her retrograde period. No matter where your sign falls, it's important to think about the relationships that are most prominent in your life right now.
Aries: The realm of mysteries and service to others is in focus for you Aries. There may be some sudden subconscious breakthroughs about yourself, and perhaps your past. This supermoon could be like a soul cleanse of your psyche.   Relationships or how you see yourself in a particular relationship could also take center stage. There could also be a call for you to help someone or do something service related.
Taurus: The area of friends, acquaintances and groups you belong to comes into focus for you Taurus. A balancing act of some sort between these themes and something involving your children or what you want to do for fun/play may surface.  Maybe you want to have some fun but a group obligation needs you. At a deep level, your hopes and dreams or something you've been wishing on has the potential of becoming reality.
Gemini: The area of your career and place in the public eye is the focal point for you Gemini. Something could energize your career or reputation or bring you into the limelight. It's also possible that an issue with a parent surfaces. An important project or job could come to a finishing point. A new shift in your direction may be ahead.
Cancer: The area of foreigners, long distance travel, higher education, publishing and self promotion, the law, teaching endeavors, spirituality or beliefs, grand-children and in-laws comes into focus for you Cancer. Plans for a long distance trip could be finalized or a situation comes about where your views conflict with a sibling, cousin, aunt or uncle. Your communication style may come into view.
Leo: The realm of of joint resources or things you own with someone else comes into view for you Leo.  Joint resources, investments, transformation, death, inheritance as well as intimacy and sex are all themes that play part of this area of your astrology. You may decide to take a new look at your joint assets or find yourself involved in tax matters. A mortgage refinance may come to completion. Additionally, you may decide at this time to take your relationship with someone to a more intimate and sexual level.
Virgo: This supermoon is going to be a big one for you Virgo given that it takes place in your polar opposite sign. The area of your marriage partner, close and personal relationships and business partners come into full focus. Business agreements could be finalized or come to completion.  If you've been working on a close relationship (with a lover/marriage partner/business partner) you may come to a point where you decide that the things you've asked for in the past need to become a reality now. This could be a point where you make the decision to commit deeper or walk away.
Libra: Work, daily routines/productivity, pets, co-workers and health comes into focus for you Libra. This is a great time for you to make a personal change for the better. Giving up something that no longer benefits you health wise is something to consider. A project at work or in your environment may have to be given up—so that something new can take its place.
Scorpio: Areas pertaining to creativity, speculation and short term investments, children and romance are highlighted for you Scorpio.  Something that you started in one of these areas approximately six months ago comes to point where you can reassess or complete it.  A creative endeavor or project could finally be finished and that's something to be excited about.  A long standing issue with a child—particularly your oldest—could finally come to a close and resolve itself.
Sagittarius: The area of home and family comes into full view for you Sagittarius. A balancing act could come into play regarding to your career/work and domestic matters. A prominent parent or important family or real estate matter could also demand your attention. Additionally, this area in your astrology is very much connected to karmic experiences.
Capricorn: The focal point for you Capricorn is going to be on your ability to connect with others. Siblings, relatives, neighbors, study, travel, technology and communications in general become quite highlighted at this time. Issues involving transportation could also come to the table. Education or some sort of learning endeavor may come to a completion point. This could be a point where an important project finally wraps up.
Aquarius:  Money, possessions and things that you value come into focus for you Aquarius. Awareness could become very high in something involving money, finances or a close and personal possession. People that you possess or hold dear in your heart are also part of this realm. Your logical side (how much can you afford) could be in battle with your emotions (but I want it!) in some way. This could mark a point where some important decisions regarding money finalize.
Pisces: With the supermoon falling in your sign Pisces, this is an important time where you might make some new discoveries about yourself.  It's also possible that you gain new awareness on a particular relationship and how it affects you. This could also be a turning point in a newly formed relationship. This full moon could help you decide whether this is working for you or not and whether you want to take it to the next level. Personal health matters could also come into view and decisions about your look or appearance may be made.
Into the Mystic.
Relephant bonus!
~
Author: Crystal B.
Editor: Ashleigh Hitchcock
Photo:used with permission from Donia Lilly, flickr