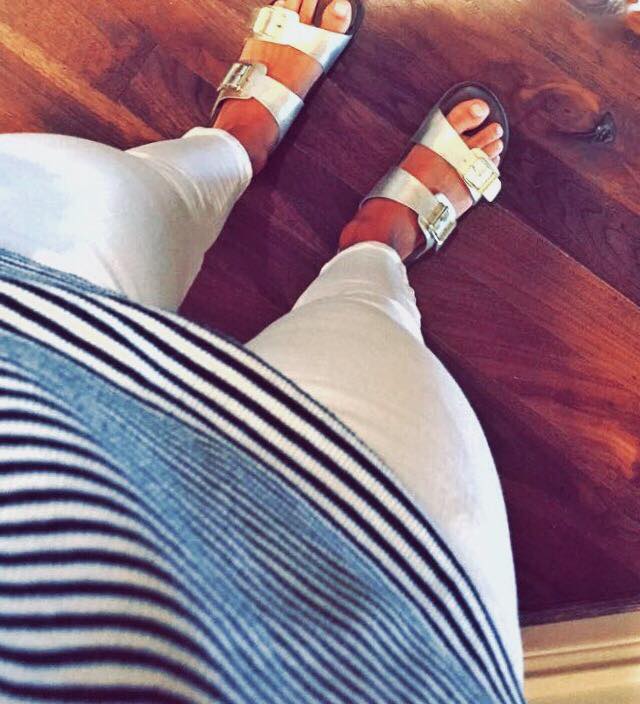 I just saw something on my Facebook page that said that Birkenstocks are back.
I can't believe it. I bought my first pair of Birkenstocks in 1974 in Santa Cruz, California where I went to attend a Gestault training workshop. Coming from Tucson, Arizona, I was the only one with a bra and without the long-haired, 1970s hippie-love look—and I was certainly the only one not wearing Birkenstocks.
Back in the day, they were the anti-culture sign, the tree-huggers' flag, the rebel's stance and, they were the ugliest shoes ever seen, but they made a statement and I was ready to make a statement. My kids, however, not fully appreciating the political and social meaning of a really ugly pair of shoes practically locked me out of the house when I wore them home to Tucson. Nobody in Tucson wore Birkenstocks.
"Mom, they look like they were made for walking on water," my kids told me.
What could I say? They are not attractive. But back then what they looked like wasn't the point. The point was that they gave you an identity as an agent of change. The minute you put them on, you had the urge to say things like "Cool, man," and "groovy," and to go sit under a tree and eat granola and smoke uh, stuff and you and other women you saw who wore Birkenstocks were immediate "friends" by virtue of your no-more-panty-hose outsider status.
Apparently, today everybody is wearing Birkenstocks. Not just cool, groovy, granola eating hippies but even movie stars are wearing them, and they don't have hairy armpits.
When one of my daughters was in her 30s and broke her toe in an horrible accident at the gym, I went to stay with her for a while because she could barely walk and suggested that she get a pair of Birkenstocks to help her get through the mending stages of her foot.
"Are you kidding, Mom? Birkenstocks!"
She said she would be "embarrassed to wear them to the office." Embarrassed to wear Birkenstocks? What the hell. They allowed people to bring their dogs to her office, why couldn't they bring their Birkenstocks?
I later wore Birkenstocks to her wedding just to get back at her—okay, they were black, patent leather, but—I'm just saying.
In fact, way back in the 1980s I practically did all my training for my first marathon in Birkenstocks. My husband was a runner and he'd said,
"You'd be a good runner," (the way husbands will say things when they want you to do the same thing that they are doing whether you're really any good at it or not) and I said,
"I don't have any shoes," and he said, pointing to my Birkenstocks,
"What's wrong with those?" And I said
"Yeah, what's wrong with them?"
And I got up to five miles a day—in Birkenstocks!
I have to admit that I've never slept with a man who wore Birkenstocks. In fact, it was one of my credos. "Don't sleep with a man whose belly sticks out further than his you-know-what or who wears Birkenstocks." It seemed like as good a dividing line as any.
I do however have fantasies of my current husband wearing Birkenstocks. No. Not the metallic shiny ones, silly. The rough and tough "man" ones made in black or brown leather.
Oops. Better not say the "leather" word in the same sentence as Birkenstocks. I mean—don't all those tree huggers and animal rights people wear Birkenstocks? I guess not, because I think Birkenstocks are made out of leather. They probably wear Birkenstock look-a-likes made out of plastic which is way less harmful to the planet—everybody knows that for a fact.
I bet though that even as we speak, Birkenstock is working on making a pair of vegan Birkenstocks. I wonder if they're gonna be shiny. It's hard to imagine anything vegan being shiny though.
Twenty-five years ago, when I was in Germany on my one and only trip to Europe, what did I buy to bring home with me?  Birkenstocks. I was in the land of Birkenstocks, their homeland—their fatherland. I wanted to bring the real thing home with me. It was the first time I ever wore turquoise colored Birkenstocks.
When my 20-year-old granddaughter, a real life former beauty queen with a crown and a banner across her chest and everything, showed up at my house wearing a pair of Birkenstocks, I almost choked.
"Yes, Nana. They're real Birkenstocks."
"But you're a sorority girl," I said.
"Everybody wears them," she said.
I can't believe I don't have a single pair of Birkenstocks today. Out of the over 20 (okay, maybe 25) pairs of shoes I have in my closet, not a single one of them is Birkenstocks. What happened? When did we break up? Did our relationship go the way of so many long term relationships? No more spark? No more flame?
Or, did my need to make a political statement with my shoes or clothing or t-shirts or even bumper stickers dissipate within me? Did I come to the point at which how I dressed or how I wore my hair or my makeup didn't mean as much to me as what I did, who I voted for or volunteered for?
On the other hand, I miss my Birkies.
I'm going on vacation next week and I love to buy shoes when I'm on vacation. I'm going to be in Houston, Texas and I am not going to buy a pair of cowboy boots while I'm there.
"I'm gittin' me a pair of Birkenstocks."
A person can always re-kindle an old flame. Just ask a country western singer.
Relephant: 
Author: Carmelene Siani
Editor: Catherine Monkman
Photo: Author's Own