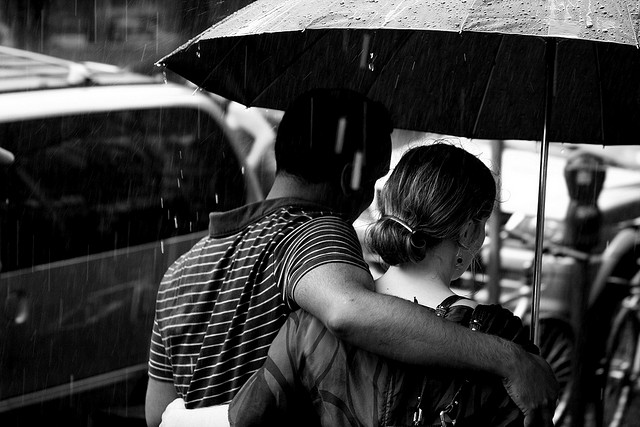 A few months ago, one of my most chilled-out guy friends said, "Maybe monogamy isn't natural."
We were at the end of a bike ride, and a fellow with a leaf blower started walking our way—so I couldn't give an immediate reply. I've known this friend since the time I graduated out of training bras.
We waved goodbye, and parted ways, but I was still left thinking about  whether or not monogamy is natural.
Hell, is any of this authentic?
I began to think about how all of it is constructed—some of it wisely and some of it so poorly that havoc ensues in the day-to-day.
I was familiar with the concept of monogamy being an unnatural state. But since it was coming out of the mouth of my friend—who is a deeply "in tune" person—I decided to give the concept a bit more thought, from the angle of his fresh perspective.
It's true that monogamy is a preconceived, societally constructed prescription.
It's a cultural idea that implies each of us must have one for ourselves, and only one. We pair up, and create a life together—for better or worse, and in sickness or in health.
And sometimes—maybe more often than not—the pairing doesn't match up, so we go searching for a new partner.
Or we don't. We say, "to hell with all that coupling," and become lone wolves. Or sheep. Or a mountain lion.
What if monogamy—even as a cultural construction—truly does work for some of us?
Is it so bad to be committed to one person? To feel the deepest love for another soul, and for them to reciprocate that same feeling? Not at all. It's what so many of us search for in our lives.
And once we find it—the intimacy of monogamy—then it becomes a little bit more like work, and sometimes a lot less desirable. At times, the work of monogamy is like doing a yoga practice when our muscles are aching and stiff, but we still unroll our mats anyway. We plant our feet, breathing deep into the discomfort so we can loosen up those tight muscles.
We've committed to the effort because we chose to do it even in those moments when it's easier to give up and walk away.
Such is the case with monogamy: it may not be natural, but there is an enormous graciousness and beauty in the practicing of it.
~
Relephant:
~
Author: Jes Wright
Editor: Alli Sarazen
Photo: Alex/Flickr