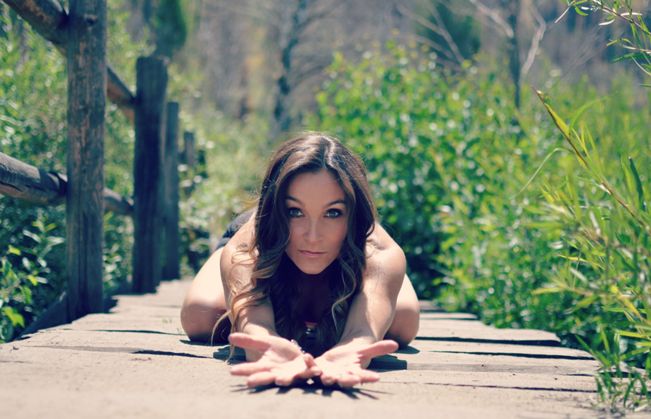 Sit still. Don't talk. Don't think. Basically don't do anything.
These are the first words I heard during my first class.
The teacher might have stated it a little more gently, something like, "Come into the space and quiet the mind. Become one with your breath."
In that statement I heard expectation, pressure and fear. I can't be still, and I'm already thinking about my grocery list! I'm f***ed! I should just leave now, I thought. But I stayed. Luckily my curiosity outweighed my fear.
The class progressed and I slowly became more comfortable. Loud music was turned on and my grocery list started to fade. The pace quickened and I started to sweat. The flow was almost hypnotizing. Before I knew it the class was over. I was laying in a puddle of my own sweat, my was body tired but awakened and my mind was empty.
In that moment I got it.
The movement was my stillness, the music was my silence and the vigor was my "don't do anything."
I was hooked.
I started practicing yoga regularly when I was attending school in New York City. Growing up in Sun Valley, Idaho, I was used to the mountains, relaxed pace and open spaces. The city made me feel anxious, scared and almost exhausted. I was craving quiet. I was in need of space and hungry for a deeper connection.
Once I started flow classes at Kula Yoga I was sold. It was my medicine, my drug, and yoga quickly became my spiritual practice.
The same year I began teaching I also gave birth to a son. His name is Jack. He is now five years old, and has Autism. I love the life lessons we are given. I mean, really? How pertinent. Yoga was literally delivered to me in this child. Every moment was my teaching. I was reminded that I had a choice on how to respond, how to react and ultimately how to ease him in a world that is just too much for him to handle.
At first, I felt that same anxiety, fear and exhaustion that I did in New York City. I felt as though I couldn't handle this. More importantly, how was he supposed to handle this? Deep down, though, I knew that this was the most beautiful teaching I would ever receive.
To me, yoga is about knowing that everything happens for a reason—fate. We trust in what we are given—and when—because ultimately we know it serves a purpose.
We often fight to find decipher reason behind most everything. Sometimes though, it just is.
My son and yoga have both taught me the power of acceptance. My son is yoga.
Yoga also taught me that not only do we get what we can handle, but we also get what we need.
I need Jack, and his daily reminders, just as much as he needs me. I need my yoga. I need my meditation and my music. I need to sweat and move, and I need to lay still. I need my green juice and my wine. I need balance.
We all need balance.
I had to learn that stillness and movement weren't two separate things but rather that they co-exist.
Thank you, Yoga.
~
Author: Beth Stuart
Editor: Toby Israel
Photo: Ashley Nicole Photography via Beth Stuart
~