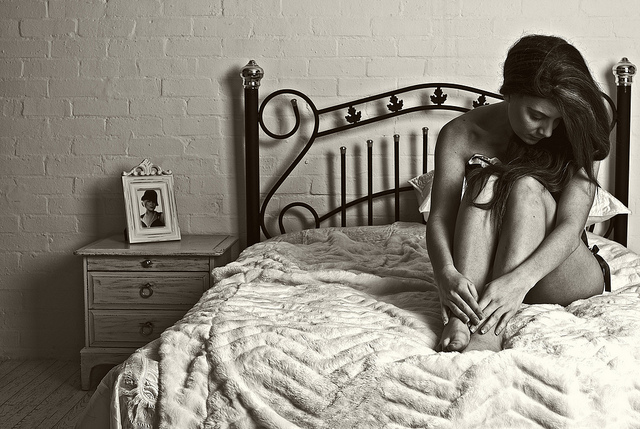 Hey there lover, thought I'd drop you a line.
I'm totally over that game we've been playing. I've found my spine.
It was over there in a heap—in a corner. I forgot about it when you told me that you loved me.
I was so hungry when we met.
I was aching for tenderness. I needed your touch. You who are expert at finding my weak spots, who gladly found my best vein and needled it.
Something in my eyes, you told me. Something that made you want me from day one. Yeah, it was my overt neediness. It fit so well into your own.
I needed love, and you needed to torture someone with snippets of your attention.
Every day, like a starving dog I lapped up your words of adoration. One word at a time, then you'd back away. Then another, and another, while I crawled and licked and begged for just one more well-timed scrap.
So beautiful, you'd whisper. So what you needed, you'd speak while nibbling on my ear.
Just give me this; just show me how much you love me babe. No-one needs to know what we do.
A little slap—a love tap, really. I made you so hot. Your words like a drug, I was the junkie you loved to watch slip into a strung out coma.
No one will love you like this.
No one will f*ck you like this.
No one will keep you hungry like this.
And I believed that what everyone else had was boring. That if I didn't have what we had I'd die from a life lived in mediocrity.
I wanted to believe that you needed me so badly you couldn't help those dark and angry moods. I made you angry. I disappointed you. I could do better. I would try harder.
Making love to you was the only time I saw your weakness. Your eyes honest when you came. Groaning your release, you were vulnerable. And I fed on those only moments of true intimacy between us.
It was the only time that you were truly open, but you'd close your eyes as quickly as you could—even though I begged you to look at me.
My love, I no longer need that heroin you peddled.
I no longer want to swim in your cold, dark river.
I no longer eat at your table of rotting promises.
You're going to hate me when I tell you this.
You're going to try to win me back.
You're going to try all your old tricks.
Dancing, weaving, spinning tall tales, you will wave the key to my demise—your talented hands on my body one last time.
But I don't need your passion anymore. I've given up mining for the treasures within your soul. They're too deep for the tools I know how to use.
I have met someone new.
I found love in an unlikely place.
With someone charming and kind and smart.
You see my passion is now ignited by a love that you can't beat.
I'm able to say now to the next man who wants me: Love me or leave me, but don't treat me like sh*t.
My newfound hero has taught me this.
You see, I have met my best friend.
I found my new love packed away in boxes on the highest shelf in the closet of your madness. Little by little when you weren't looking I unwrapped treasures that I had forgotten about.
I found my soulmate wrapped in disintegrating tissue—almost too late, yet just in time.
Don't look so surprised, so disdainful. You couldn't understand.
Yes, I've found Me.
.
Relephant:
~
Author: Monika Carless
Editor: Toby Israel
Image: Flickr/Lies Thru a Lens
~