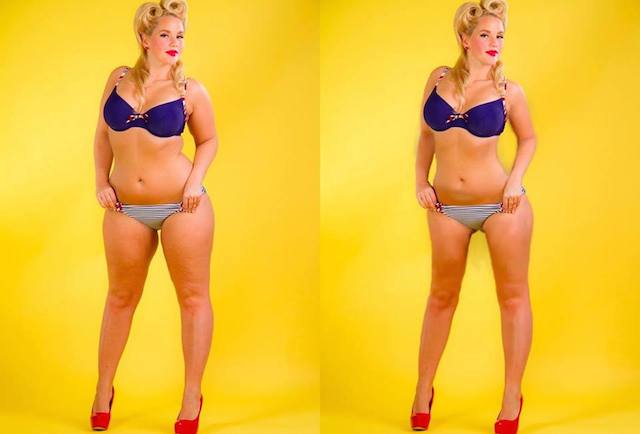 Update: after a huge media backlash—including a scolding from Tess Holliday—the Facebook Pages had been removed but Project Harpoon is back again.

We have to love from the inside, out. Then #projectharpoon will truly be harpooned. Frank dialogue is okay: hate isn't helpful. ~ ed.
 .
.
Yesterday, the above image was shared by Elly Mayday, a "plus sized" (whatever that means) model with this message:
"Hahah I was waiting for this, I've been "harpooned" by Project Harpoon a site that takes any image of a woman and does a shit job of photoshopping them thin.
They said from "miss piggy to miss pinup" and funny enough I am happy to be called either. Miss piggy is probably one of the coolest, gorgeous and most outspoken sassy character I could imagine.
…
You have no idea of the pride and strength I have in my body. I wouldn't change it for a thing. 
…
I can't imagine what someone has experienced to make them feel this way towards others. I think they need a hug. Don't attack the page with hate, attack it with love….really lets try and use some poise folks and see why this person feels this way towards women and their bodies. Trolls hate when you come at them with logic and heart."
I appreciated Elly's focus on not being a troll hater. She also said that people were sending her messages making sure that she was okay, which was sweet and all.
Plenty of people commented under her image saying "Elly you are beautiful."
Sure, she is, most of us know. I'm pretty sure that she knows it too, and that's really awesome.
I'm going to guess that some of the people who are being photoshopped (other plus sized models like Tess Holliday are in the mix) are okay. I'm guessing that people like her and Tess Holliday are well-versed in this kind of controversy, and they understand that this is—on some level—just a dumb prank.
These models are used to being in the limelight. They are experienced with social media and have a certain level of privilege and power because of their fame.
But in her willingness to brush off the situation (and granted she's got better things to do, like have an operation) I think she missed the point in her social media commentary: the fact that this is a full-blown site means that it's not really about her, or Tess, or a few random trolls which we all know we can't avoid entirely anyhow.
This isn't about whether Tess or Elly "look okay" in a photo, or whether their feelings were hurt.
This isn't about them at all.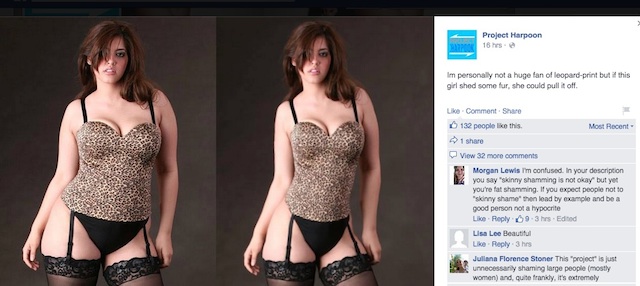 In case you can't read it, the caption for this photo reads:
"Im personally not a huge fan of leopard-print but if this girl shed some fur, she could pull it off."
This isn't about a couple of models and sh*t comments on social media. It's about all of the people who are both perpetuating this and buying into it—they are really the ones who are not okay.
This is about hate speech.
This is about body shaming.
This is about eating disorders.
This is about how women who already feel bad about themselves and their bodies (are going to) feel when they see that this is a group effort.
I do understand that this whole thing is basically a massive trolling prank (4 chan strikes again), but it's the topic and potential pervasiveness that scares me.
The fact that these kinds of groups exist scares me.
Plus, it does personally hurt me, so it probably hurts others even more.
It might lead them into a new level of self-hate, or it may encourage others to disrespect fat women (people) on new levels.
The Project Harpoon Facebook site is a virtual space created expressly for the purpose of fat shaming. It markets itself as a "health" website/art experiment. They then steal images of others (mostly "fat" women) without permission and alter them alongside cruel comments.
There is no way around it: this is fat-shaming forum.
Taking an image of an overweight person, making them skinny, and adding comments and things like McDonald's thought bubbles on the "fat" version of the person is not okay.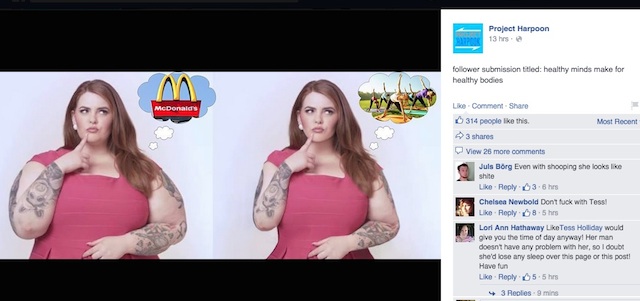 The site has over 10k likes and is perpetuating absurd beauty standards under the guise of "health." They've also got a solid Instagram and Twitter following.
Here's what it says on their "about" page:
"A collaborative art project open to interpretation.
#InnerBeauty
#ThinnerBeauty
#SkinnyAcceptance
No shaming please.
No hate speech please.
"No hate speech please.
This is a page dedicated to showing both sides of modern day beauty.
In current societal fashion, a recent trending surge of "pro-obesity" and "fat acceptance" have paved the way for many people to renounce exercise and personal healthcare in general. This page aims to only show that being skinny is okay as well! Skinnyshaming is not okay :)"
Connected with the subreddit "thinner beauty," where the top article is "[Resource] Quick photoshop tutorial on how to make landwhales look human."
No matter what their "about" page says, this is a group created by people with blatantly cruel intentions that are perpetuating hate speech in a public forum.
And Facebook doesn't seem to care.
At the time of writing, many people had reported the Project Harpoon page, but it was still going strong. Apparently it doesn't violate their Community Standards.
So, Facebook, what the f*ck? You get upset over a nipple here and there, but this is acceptable?
And then there was this threat that we had back in March about this article.
We are well aware of many other examples.
The whole effort is more than just shameful—it's dangerous.
By the way, their current Facebook page is already being changed to a new one. Here's a quote from the "health" page:
"You hurt people when you lie to them. HELP THEM. Stop telling your friends they are 'fine just the way they are'. fat acceptance is death acceptance and you are helping your friends and loved ones to an early grave every time you tell them fat is fine."
Nick Baskins, a group member, says that they "aren't out to offend or trigger anybody"…hmmm, what do you think?

(Enlarge)


(Enlarge)


(Enlarge)


(Enlarge)


(Enlarge)


(Enlarge)


(Enlarge)

Author: Renée Picard 
Images: Screenshots