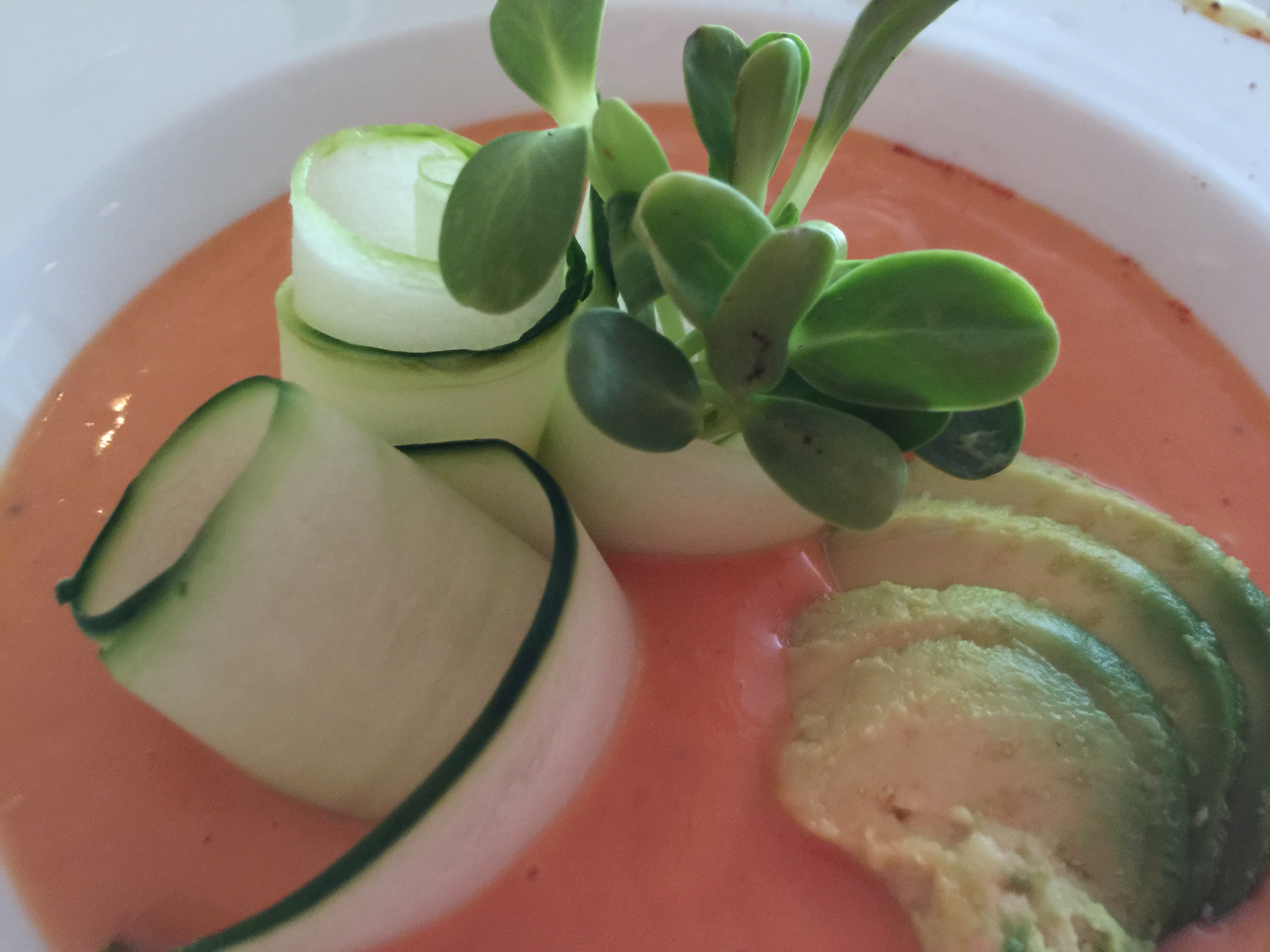 It has been several days now since leaving Barcelona to end my travels on the southern coast of Spain where I visited some of towns along the Mediterranean Sea.
As a foodie, my eyes scan the environment with a specific focus and sometimes narrow my vision. But with this vision, I came to experience many of the delightful variations of gazpacho native to southern Spain.
In a matter of days, I became convinced that gazpacho is one of the healthiest foods on earth, densely packed with vitamins and minerals along with anti-oxidants that help reduce inflammation and fend off potentially serious illnesses such as diabetes, heart disease and cancer.
Gazpacho comes in many different varieties in southern Spain.
In one restaurant, a blend of tomatoes, carrots and apples was served in a tall drinking glass and sipped as you would a smoothie. Rather than being juiced, the blended gazpacho retained its fiber that gets lost in the juicing process. Fruits in gazpacho were new to me and a real variation from the more typical recipe with tomatoes, onions, bell peppers, garlic, oil and sometimes bread as a thickener.
Another restaurant served gazpacho as a tomato purée with chopped vegetables on the side—onions, tomatoes, cucumbers and avocado—that were tossed into the tomato blend.
In a variation of the tomato purée in a different restaurant, beet root was added to the soup as thickener and chopped leeks and avocado after blending. It was only a light touch of beet root since the soup had more of a red tomato hue. Olive oil and a dusting of paprika were drizzled around the rim of the soup bowl, giving you the option to add it to the soup or leaving it for decoration. The chef also explained that he adds strawberries to the gazpacho from time to time for a fruity flavor.
The following day, at the chef's recommendation, I tried another gazpacho that was avocado rather than tomato-based and mixed with chopped parsley, basil, cucumber and onion. It was served as a thick purée in a glass tumbler but eaten with a spoon. It was so thick and delicious that it was a meal in and of itself.
During a visit to one of the towns, I also had the good fortune to meet a local resident, a lovely woman, who shared her recipe for a fruity soup—apple gazpacho:
4 green apples, but not too green which increases acid content. Yellow apples also can be used in the recipe.
Apple cider vinegar to taste
2-3 cloves of garlic
1/4 onion
1 to 1/2 shots of olive oil
Glass of water
Mix ingredients in a blender with a quarter slice of bread and add quarter slices until the desired thickness is reached.
All of these variations of gazpacho seem relatively easy to make and I think would be wonderful additions in different countries in the summertime. Living in a climate that loses its warmth in the blink of an eye, I was inspired by the creativity one could use in making gazpacho with winter vegetables.
Back in Barcelona, I had ordered what I thought would be a traditional gazpacho and much to my surprise out came a bowl of thick deep-red puree. The gazpacho was made with beet root, cherries and an infusion of sherry. It was beyond words. While cherries have a season in the United States, frozen versions may suffice, and it would be fun to experiment with some fall fruits as a variation of the cherry blend.
Winter gazpacho does not have to be eaten as soup since in colder climates, we usually crave warmer foods. But just to make winter gazpacho and drink it as one would a smoothie any time of the day makes so much more sense than juicing. It also does not have to be served cold.
My anti-juicing bias comes from the fact that juicing removes the rich fiber that serves many functions, including removing excess cholesterol and toxins from the body.
Amazingly or not so amazingly, whenever I have juiced fruits and vegetables, I start to crave a food with fiber to make up for what was lost in the juicing process. Gazpacho also has a certain simplicity in that it can be made with a few ingredients, some rich spices and left at that. One does not have to seek out an excess of fruits and vegetables to produce one glass of juice!
"Let food be thy medicine and medicine be thy food." ~ Hippocrates
Author: June Rousso
Apprentice Editor: Jaimee Guenther/Editor: Caroline Beaton
Photo: Courtesy of Author