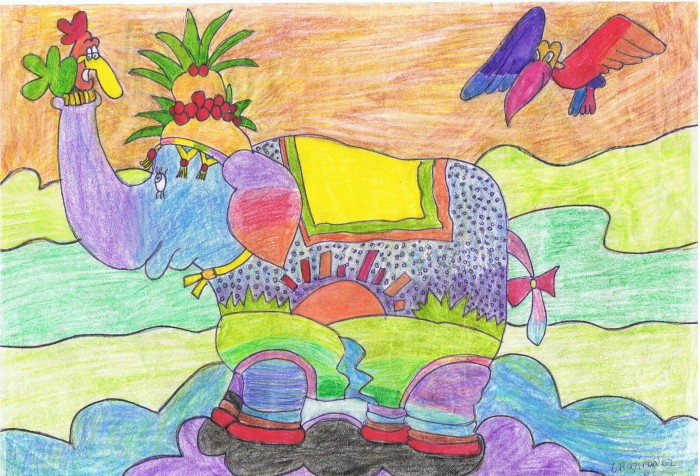 When I met my elephant family in May 2015, I had been suffering from Postpartum Depression for 16 months.
I had been at home not working, with no energy to take care of my son. I started to read elephant articles about Postpartum Depression and learned a lot about it.
Then I thought I could share my experiences too, to help other people…so I did.
elephant journal made me believe that my words deserve to be read and shared.
I have learned that I have many things to tell the world.
How it all Happened
One day I saw the application about elephant's Summer Academy. I immediately applied and was accepted.
I was so excited to have started something new—I had needed this for a long time.
In the first meeting, when we were told that "elephant's mission was to spread the mindful life,"  I had not understood this completely. Now I understand it all too well.
I have learned that it's important for us to share our experiences and knowledge about life, no matter who we are. Sharing our good and bad experiences helps others get through the tough times.
I have learned that I have an active role in this world. I can change it in a good way with my good intentions and actions.
Everyone living in this world is important and has a mission to accomplish.
Helping one another
We had the opportunity to communicate with wonderful editors and teacher assistants in the elephant family, as well as the founder, Waylon Lewis, who taught us a lot—especially in our Monday meetings. He offered many videos and articles which included information about writing, (such as why we should avoid emotionalism), social media, editing, and handling writer's block.
I have learned that people whose existence I had not known for years could help me learn more things about life than people who have been beside me since the day I was born.
I have learned that people whose faces we have never seen can make us feel we have finally found our home.
We learn something new every day. 
When I was a teenager, I thought I knew everything there is to know about life.
Then I learned that I really know nothing.
In the past three months, I have seen that even experienced editors and writers learn new things each day. Admitting to this is about being humble instead of boasting of experience and knowledge.
I have learned that everybody in this world has something to learn from other people, and that thinking that we know everything blocks our way through perfection.
Everybody makes mistakes.
I am a perfectionist and all my life I have tried to avoid making mistakes. But thanks to this training, I have learned that everybody can—and should—make mistakes. This is how we learn.
People are understanding…and mean.
I have been using the internet since I was a child and I have interacted with so many people since then. But with the help of elephant journal, I have learned that people can be understanding and mean.
I have learned that it is hard to please everyone at the same time. For example, when I shared a post about mothers on the elephant Family Facebook page, fathers did not like them and when I shared posts related to fathers, mothers did not like them. On the other hand there were many readers and followers who appreciated the posts and made positive comments about them.
Just like in the real life, cyberspace has good and bad aspects.
I had the opportunity to read articles as a reader and as an editor.
When I was experiencing Postpartum Depression, I read articles about it, and they helped me a lot. I have learned that many people around the world have experienced the same or similar problems in life and I could only see that through elephant. It also encouraged me to write about my own experiences to help others like other people have helped me.
As apprentices we had meetings every Monday in the guidance of our editors and Waylon Lewis. We had small meetings with the teacher assistants, who taught us a lot. I am going to share 10 things I have learned—I will not be able to forget them for a long time.
"Our mission is to share good things widely with humans, and, also, to share awareness about bad things widely, so that hopefully we can affect change."
"Simplicity is the ultimate sophistication."
"Getting criticism is not bad, it's good. You can learn."
"If you're not accessible, it's a selfish exercise."
"When we are best at writing, we're simply genuine."
"It is like exploding your guts all over the page or screen and then refining and shaping what you're saying, the picture you're painting. This is self-editing."
"Read your writing out loud. It should sound like something you'd actually say."
"The best you can do to improve your writing is to read. Read to enjoy, read with a critical eye, read for inspiration."
"Experimentation is key."
"Elephant's mission is to spread the mindful life far-and-wide to create an enlightened society."
So for everything I have learned this summer, I thank the elephant family so much. It was a pleasure to be with you. {Bow}
Relephant:
~
Author/Apprentice Editor: Anet Kalpakciyan

Editors: Travis May / Renée Picard

Photo: Author's own
~