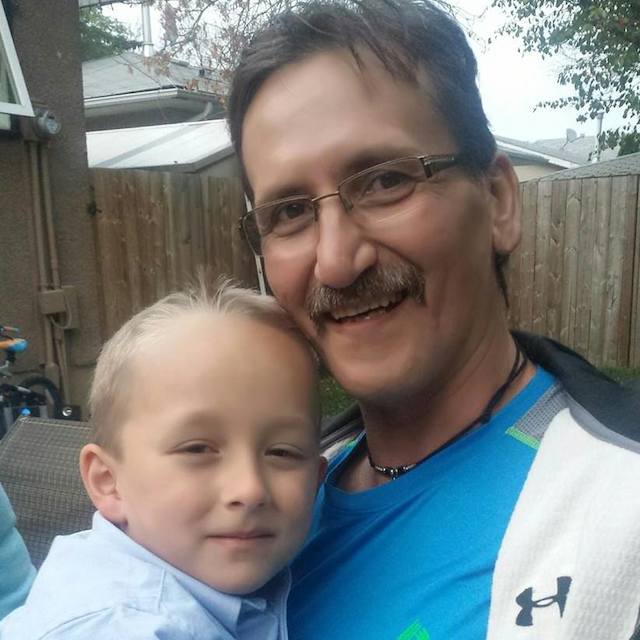 My name is Joe Galinec, and I was diagnosed with Multiple Sclerosis in the summer of 2001.
I was out doing a bit of shopping when it suddenly felt like someone had attached cement blocks to both of my legs. I was dragging my feet and I felt unbearably weak. When the feeling persisted in the days that followed, I decided to make an appointment with my family physician. My appointment was the first time I had heard the words Multiple Sclerosis.
My doctor told me that MS is a neurological disease that affects the brain and spinal cord, and referred me to a neurologist who then booked me for testing. Over a span of a few weeks I got worse. I was bound to a wheelchair because I couldn't walk without becoming dizzy, exhausted and losing the feeling in my legs.
After the excruciating spinal tap and MRI testing the neurologist had finally called me to come into his office. I could tell it was bad news, the air was heavier in the room. And then he said it: "Joe, we've found lesions in your brain." I'll never forget that day—it happened to be my 35th birthday and I was hopeful for a simpler less debilitating diagnosis.
A dark cloud hung over my head and I felt lost, alone and without purpose. I knew my employer did not have a health plan in place, which was going to be an enormous financial challenge for my family and I wasn't sure how was I going to pay the mortgage, monthly bills, or be able to continue to feed my then-wife and two teenage sons.
Thoughts of the embarrassment I'd cause them flooded my mind, and I felt like a failure. There was absolutely no financial assistance for people living with MS at that time, so applying for government issued family assistance was the only option. Being without a job and living on that assistance left my family in a $3,000 per month deficit.
I spent that summer giving myself daily injections to manage my symptoms while trying to stay positive, balance our unbearably small cash-flow and discover my limitations. I kept pushing myself to be productive around the house. Before I was diagnosed with MS I had purchased the necessities for a new fence and planned on building it in my backyard. There was no way that this disease was going to take that from me, so I started building my fence at my own pace. It took me longer than normal to finish, but I did finish—and I was proud of that.
It soon became apparent though that my new life with MS was too big of a challenge for my then-wife. She didn't work prior to my diagnosis, and resented that she was now being forced into providing for our family. Our relationship suffered greatly because she was not able adjust. She filed for divorce after 15 years of marriage and left me on my own with my 13 year old son.
Depression set in quickly and I knew I needed support. I reached out to the MS Society of Saskatchewan for guidance. They informed me of a support group I was able to access and asked me to attend. It was a natural fit. It really opened my eyes and educated me about other people living with this disease that were in worse physical and financial condition than myself. Most of them were striving to continue to live a positive life and their stories impacted and inspired me to change my attitude. I decided to go back to school to keep my mind busy and give myself goal to achieve. I ended up getting my degree not long after that.
It was roughly two years since I had been diagnosed with relapsing remitting MS that I was starting to learn how to manage my symptoms and feel better. I was beginning to walk longer distances, and made sure I was going to the gym three times a week. MS changed my life physically, mentally and financially and without the support of my family, friends and the MS Society a lot might have been different. Today I am 49 and know there is still a lot of life left in me; living with MS is just another curve in the road.
I look forward to continuing to travel and enjoy life as much as possible and will continue to move forward and face the challenges of living with MS as they present themselves.
Here are 10 tips for living with MS that I have picked up along the way:
1. Stay positive.
2. Manage your fatigue and listen to your body—learn when to sit and take a break.
3. Exercise anytime you get a chance.
4. Take all of your medications as prescribed including vitamins Like Vitamin D and Vitamin B12.
5. Don't read worst case scenarios. Everyone is different.
6. Stay cool in the summer; invest in an air conditioner.
7. Avoid stress at all costs; if you can't avoid it, manage it.
8. Eat a well-balanced diet.
9. Do things you're afraid to do. You only live once, enjoy it.
10. Have a good support system of family, friends, and the MS Society of Canada.
Relephant:
~
Author: Joe Galinec

Editor: Travis May
Photo: Author's Own