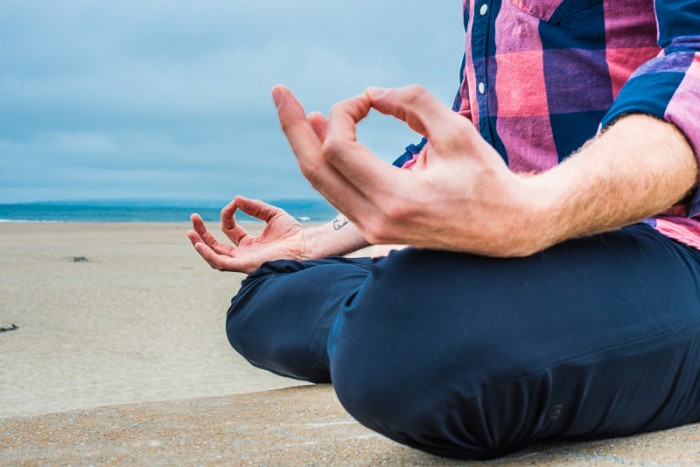 Sādhanā (Sanskrit: साधना;) is understood as a means of attaining a spiritual goal. Through practice we develop dispassion and non-attachment.
What brings us to practice can often become an obstacle on our path. Chronic pain, depression, scoliosis and trauma are what first brought me to reiki, meditation, and yoga.
As my spine began to unravel, and my depression and pain dissipated, the transformative power of my sādhanā got me hooked into trying to fix, change and heal myself. This actually got in the way of the healing power of my practice and I learned that not attaching to outcome was tricky business.
The less we fixate on change the more we can relax into and welcome it. Here's how to avoid the most common pitfalls to practice that keep you from change.
1. Forgetting change is your nature.
We arrive at our practice seeking change. We are change. We can't do change.
The severe curve in my spine had always felt so fixed and rigid. Such a dense holding pattern always seemed unchangeable and I was completely identified with my pain and depression. It was who I thought I was, I was my injury. I didn't will, force, or create the change. Rather, my practice created the climate for me to flow with the inherent wave of change within me. In the process, energy that was stagnant and fixed began to surface. Shame and limiting beliefs and regressive behaviors all came to awareness.
Ride the wave of change.
2. Thinking you are in control.
It pains me to see yogis forcing themselves into a rigid meditation posture—creating more tension instead of liberating from it. Trying to obtain some lofty ideal, concept or goal.
Reiki, meditation and yoga are practices to help us sync with the wave of change and attune to the natural intelligence within us. We can't control this process. It's a natural unfolding we tend to through, the awareness we cultivate in our practice. Awareness becomes the ultimate practice.
When I forget this, I can lead from a place of manipulation and control to try and achieve an outward goal, like opening up my heart and unraveling my spine in a deep back bend. There is subtle violence I impose against myself which actually results in shutting down instead of opening up and unfolding naturally.
We are both the wave and the ocean.
3. Rejecting what is.
What do you have aversion to? Pain? Conflict? The unknown? It's far too easy to arrive at our practice in an attempt to fix our pain or get outside of our discomfort. As much as we can take refuge within the sanctuary of our practice we must not avoid what is in front of us. Otherwise the practice might be a detour taking us further away from ourselves.
Our practice is an opportunity to meet ourselves where we are, as we are. Instead of negating our experience of ourselves, we may open our arms wide open and embrace what is—the totality of our experience. This is where transformation arises.
When I first started to experience more freedom from pain and depression, I started to arrive at my practice hungry for more of that new found space. This hunger caused a resistance into feeling the reality of the pain that still remained and the shame that began to surface. I started to create more constriction and holding in my attempt to liberate from the pain.
When I embrace the curve in my spine as it is, and show up to my beliefs and behaviors with a sense of wonder, I create an invitation for a new opening to arise naturally. This way I don't need to be anything other than who and what I am.
Lean into the wave.
4. Being attached to the practice itself. 
Could you imagine still riding your bike with training wheels? The tools that first helped you find your way can quickly become a hindrance. In practice, it is the same.
What first serves us on our path may one day no longer be relevant or needed. We often develop such gratitude and love for the practice that has served us that we sometimes hold on when it's no longer useful. One practice may just be a stepping-stone for another. Be open to your practice changing to meet your ever-changing needs.
How I arrive at my reiki and meditation practice today is very different than when I first began practice. There is a deeper sensitivity and receptivity to my needs. The quality of my awareness has shifted, which informs a new orientation to the practice. It's been helpful to not hold on too tight to outer form to free up inner space. This is where the miracle of our awareness can circulate and inform the flow of our lives.
In the same way, my yoga practice has shifted. Less asana and more pranayama, mantra and meditation. Some days my asana practice is more invigorating, heating and dynamic and other days the flow is more grounded and peaceful—all to meet my precise needs in the moment.
Let go of the form of one wave to ride another.
I still have to catch myself when I practice. There's days I arrive with agendas to fix my spine or to get out of pain or discomfort. There's a subtle shaming in this. Sometimes I arrive at practice from a mechanical and habitual place out of safety and control. Then I feel how I'm short circuiting the free flow of energy that wants to assert itself all on its own.
Each time we forget is an opportunity to remember!
The gift of our sādhanā is to simply come into contact with what is and to allow presence and connection to be enough. In doing so we invite a new level of organizational intelligence to nourish us. Our practice is simply an opportunity to be. After all, how we practice is how we live.
Relephant: 
Author: Greg Wieting
Editor: Catherine Monkman
Photo: Used with permission from Cameron O'Steen/Yogatography