~
~
My upgraded Matcha Latte:
A few years ago my "guilty pleasure" was a Starbucks pumpkin spice latte. Unoriginal, I know. Sometimes I even added a shot of whiskey. Yep, it was a sure way to put myself into a sugar-laden coma of toxicity.
This was, of course, before I realized what it felt like to eat foods that truly nourish my body.
Now I am obsessed with a new latte: no sugar, dairy, alcohol or guilt involved.
I spent about a year combining matcha with some of my other favorite feel-good things, just because. Most of it was good, but some of it just tasted too…healthy. I wanted to create something that kept me feeling awesome, but I also wanted something that felt decadent and rich. I've finally found that recipe. Suffice it to say, my pumpkin spice latte days are gone forever.
My Matcha Super-Food Latte combines matcha, chalk full of its own health benefits, with three of my favorite super-foods: coconut oil, bee pollen and chlorella. All three ingredients can be found at your local Whole Foods or organic health food store. No organic stores by you? You can head over to iherb.com, where I order most of my supplements, to get your hands on your own bee pollen and chlorella.
Chlorella is a green algae, and if that sounds unappealing to you, I can assure you it has a wonderful, rich sort of concentrated green tea taste. It is the definition of a super-food, containing B vitamins, plant-based protein, and large amounts of chlorophyll, one of the compounds that make leafy greens so good for you. Chlorella is also a powerful detoxifier, binding with harsh metals and helping your body release them through the bowels. Because humans don't have the digestive enzymes to break down the cell wall of chlorella, you want to buy cracked-cell chlorella powder (like the one made by Pure Planet).
The bee pollen lends a nice sweetness to the earthiness of the matcha and chlorella, so there's no need for any sweetener. I recommend using bee pollen granules (as opposed to ground bee pollen) for the best flavor. Bee pollen contains large amounts of readily available protein in the form of free amino acids, B-vitamins and enzymes that aid digestion.
Then there's coconut oil, my absolute favorite. It blends into the latte so nicely and provides a creamy texture without having to add any dairy or nut milks. It's also packed with healthy fats for your skin, hair and hormone health.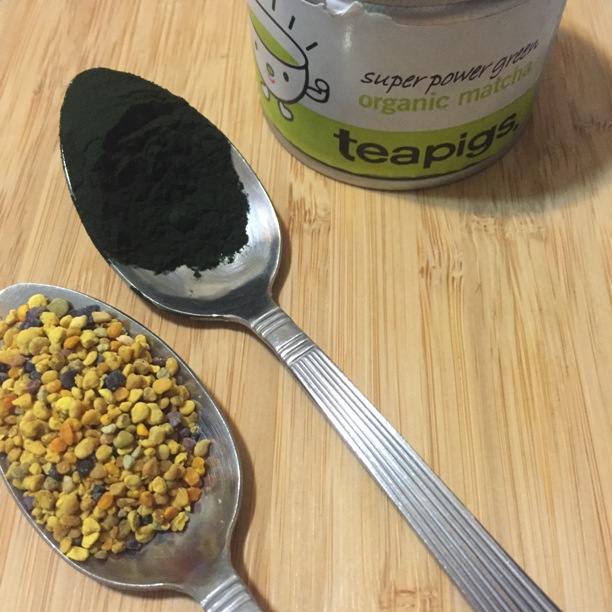 Ingredients:
1 teaspoon matcha
1 teaspoon bee pollen
1/8 teaspoon cracked-cell chlorella
1 tablespoon coconut oil
1 teaspoon powdered greens
1 teaspoon hydrolyzed collagen (optional)
Note on ingredients:
You want to find tea-quality matcha, which comes in small tins, such as Harney & Sons or Tea Pigs. The larger bags of matcha that you typically find in health food stores often have a grittier texture. Bulk matcha just isn't as fresh.
For the powdered greens, you can experiment with your favorite. I've used both Barlean's Organic Greens and Vibrant Health's Green Vibrance.
For the hydrolyzed collagen, if you choose to use it, I use Reserveage Collagen Replenish with Vitamin C and Hyaluronic Acid, and have also used Bulletproof's Upgraded Collagen.
Directions:
My "morning ritual way" is to make 1 cup of matcha: Strain matcha through a fine sieve into a bowl. Bring about 1 cup of water to a near boil. Pour just enough boiled water into bowl to create a paste at the bottom of the bowl. Now add the rest of the water and whisk until a bit frothy.
Then, add hot matcha to Vitamix, Nutribullet or Ninja type blender (others may not blend ingredients quite as smoothly).
Finally, add ½ cup room-temperature water to reduce the heat. Add other ingredients and blend until smooth.
If you're pressed for time, you can skip the morning ritual and add all ingredients to the blender, matcha and all, and mix away.
Pour into a favorite mug and enjoy!
For more:

Relephant Read:
Author: Kara DeDonato
Editor: Catherine Monkman
Photos: Author's Own