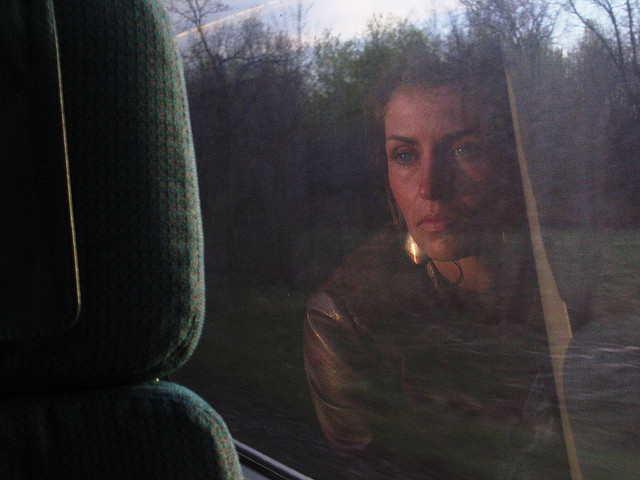 I plugged in my headphones and leaned against the window, listening to my current favorite songs and trying to settle my nerves.
It struck me that it's been a really long time since I'd done this: just watch the city—my city—go by.
Every stop, and every passage between stops, rushes memories through my mind.
I took the train a lot in my 20s, less in my 30s, and now only occasionally in my 40s. The only recent trips I can recall have been with my kids—to a game or event—and never have they allowed me the freedom to just sit.
This morning, tears were a little too close to the surface, and I wished that I'd both washed my hair and taken a Xanax. Instead, I rubbed a little essential oil on my wrists and inhaled deeply, took a photo and wrote a quick post cementing my need to work with what I'm given.
"Let go," I reminded myself, channeling my hero. "Breathe. Let go of what you cannot control."
I tried to read a bit but couldn't lose myself in words, so I watched the city move through the morning, mouthing the words to songs I wished I could sing aloud.
I allowed my train memories to float through me.
Here I was, back in a suit, wearing a 23-year-old scarf—headed into the unknown, aware of the strangers around me buried in their own companionable electronic silence.
The first time I rode the train in Chicago, my father took me on the subway. I might have been 14. We descended at Grand Avenue in the middle of a weekday. I don't recall where we were going. I think we were working on a commercial and maybe going between the client's office and a post-production facility.
The station was fairly deserted, slightly dank but not as filthy or odorous as I would have expected. I was fascinated by the old tile mosaics and patterns, the starkly lettered signs. I avoided looking into the darkness of the tunnels, thinking about being so far underground.
When the train came through, the noise was not quite deafening, but it completely blacked out everything else. I remember I'd have been afraid if not with my father, who towered over me and almost everyone else I knew. Instead of cowering, I stood bravely at his side and let the wind assault every sense.
It was extraordinary—it was unlike me, and I loved it.
I loved the strangeness of everything, the cityness of it all. I loved pretending this was my world, that I belonged to it. I imagined that, one day, I'd be an adult and I'd do this every day: board the train, pretend it wasn't magical to skip beneath and above the traffic with just the slip of a token.
The noise level of the "L" train isn't quite what it is on the subway, so was possible to hear music through my headphones as I sat against the window. My briefcase—slippery, still-shiny leather—needed to be held by one arm on my lap so it wouldn't drop.
The train carried us quickly past so many landmarks of my life. They spun me through sense memory until I was nearly dizzy with it.
And I waited for the inevitable attack of longing, of missing.
There was the stop where I lived before I was married.
I barely recognized the stop where I lived when I was pregnant with Jacob.
There was the playground where Jacob went to preschool, right before the now-unfamiliar, built-up rooftops around Wrigley Field.
There was the painted brick sign for Penny's Noodles, a longtime favorite that closed… how many years ago?
We passed Belmont, a haunt of mine over 20 years ago, and a bank dared to huddle where there was once Dennis' Place For Games. Above the bank was the place whose name is lost to memory where Terri and I met the Finn Brothers after Crowded House played Chicago.
Before I knew it, there was Wellington—when did I live there? Was that my first studio apartment, on Sheridan?
And then I was speeding toward where my house was, the plot of land we bought in the days when the IT world was exploding and it felt like we owned it—the days when companies threw money at us just because we typed fast and well and picked up everything sooner than others. Back when I got to O'Hare in my sleep and had a regular Club Level room in an Armonk hotel, when I owned six suits that coordinated and I could wear heels all day without a second thought.
I used to ride the train and watch for progress—from a messy dirt lot to spray paint and sticks, to cinder blocks and concrete, to struts and studs. To walls and windows and doors. My house, my choices, my kitchen, my closets—oh, the closets I designed!
My colors! The Crayola cornflower blue I painted in Jacob's bathroom. The sky I painted on his ceiling, perched on a ladder, singing along to my boom box. The wine colored scarves I'd found in a Covent Garden shop while in London on business, and adorned over the basic ivory damask striped drapes in the master bedroom. The big, beautiful wooden bed I'd ordered out of a JC Penney catalog and loved, even though it felt so lonely. My tiny patch of green, the windows on my world…
I didn't see my house today.
My eyes instead flew from the unfamiliar stores crowding North and Clybourn, to the leafy bliss behind Orchard Park. There was a new gazebo in the gardens behind the retirement homes there, and benches, and even a grill. And the next thing I saw was the high school beyond the row where my house once stood.
Where what was once my house still stands.
And still the train moved, past Old Town—studying at Second City, visiting my parents on Scott Street, serving drinks at Rush and Division—into Streeterville—the film studios, business lunches, bars with my girlfriends, restaurants where I'd applied or worked or eaten—and to the Mart and finally the Loop.
I passed so many places with memories in them, and I waited for them to hurt.
I waited for the familiar and yet unfamiliar places to ping against my skin. I waited to miss.
But I realized, I think as we passed the fields by what is now Walter Payton College Prep, that I don't miss it at all.
Wow.
That was new.
I could admire the city, I could love being near it, I could be proud of being somewhat of it, but I no longer missed it. I finally felt some sense of closure, passing through it. My old life—my old lives—are so removed from where I am now, and that's perfectly fine by me.
I imagined catching this feeling in my palm, pulling it to my heart. Pulling that perhaps oddly-timed peace closer, so I could savor it.
On my way to something strange and a little scary, I received this gift with an open heart, and I realized that I felt better. I felt calmer. I no longer felt tears pressing against me, pushing for release.
Instead, I breathed.
I breathed in, I breathed out.
I let go of my past, and I sang along to the music within my head, and I let the moment dance within the palm of my hand.
~
Relephant read:
~
Author: Jodi Glenn Fox
Editor: Khara-Jade Warren
Image: Simon Law/ Flickr
~