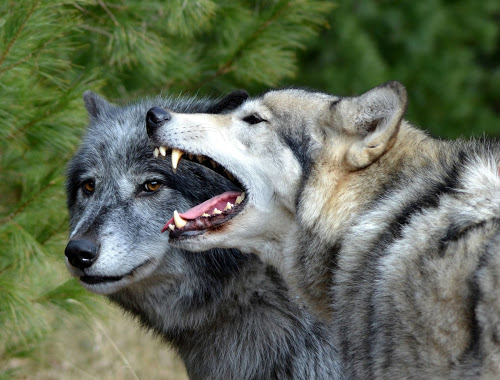 Scientists now say that the effects from some of the world's biggest nuclear disasters are less damaging to the Earth than human beings' current effect on our planet.
That's the harsh reality.
Large numbers of deer, elk, wild boar and wolves are thriving around Chernobyl, home to one of the largest nuclear events we have witnessed.
The animal populations are going strong, despite the high levels of radiation found in the surrounding area. The zone around Chernobyl, called the exclusion zone, has been closed off for three decades, with no human activity allowed within it.
Despite the radiation levels, animal populations are found to rival those of neighboring regions outside the exclusion zone. The outlier is the wolf population—nearly seven times that of surrounding regions due to the fact that wolves are largely hunted outside the zone, where human populations abound and the wolves threaten livestock.
So wolves, a species that largely hovers between stable and endangered in many regions of the world—especially North America—is thriving in a region thought to be uninhabitable. Original hypotheses suggested that the radiation zone would adversely effect animal life, not allowing populations to flourish.
To me, that says that our human activities are more of a threat to wildlife than radiation.
With rates of development and deforestation at a high all around the world, Chernobyl would probably have been no different had the catastrophe not occurred. Animal populations would have been decimated and driven out as the area continued to develop—had the meltdown not happened.
When we compare animal populations in areas where humans are present to the numbers in a human-free radiation zone, we see the populations in the radiation zone rise while numbers continue to fall in many human-occupied areas of the world.
I see this information as a wake-up call to humanity.
Radiation and nuclear threats are one of the scariest threats to us as humans. Radiation. The word itself invokes the same reaction as cancer. It's ugly, threatening and menacing. As a cancer survivor who underwent both chemo and radiation treatment, I wouldn't wish radiation poisoning on anyone.
And now, sadly, we see that our species has a more devastating effect on the other species of the Earth than this radiation. Again, having experienced radiation "treatment" for cancer which burned my throat so badly I could not swallow solid foods, I find that is a harsh reality to swallow. (No pun intended).
In the recent wake of the Fukushima disaster in Japan, where tons of radiation leaked out into the Pacific Ocean, we need to be mindful that perhaps there is a reason humans are being driven out of certain areas, which will be deemed uninhabitable to us and left for Nature to run its course.
Maybe the Universe is trying to send us a message.
~
Relephant Read:
~
Author: Lindsay Carricarte
Editor: Toby Israel
Image: Pixoto/Karen Nadeau Lester 
~