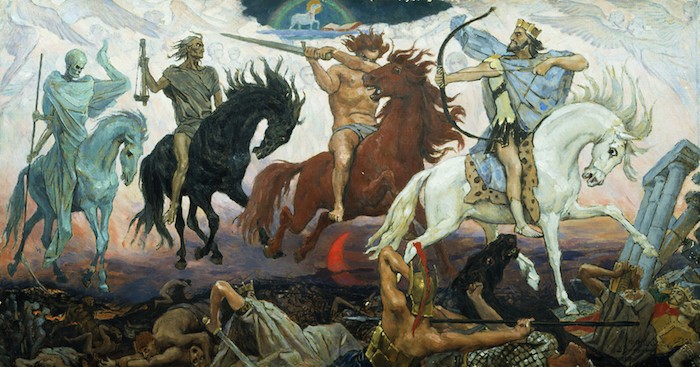 So we survived the most recent onslaught of fresh warnings about the end of the world, from the so-called "Mormon apocalypse" to the prediction of an imminent collision of "Comet 67P" with Earth.
Since Neanderthals first cowered in the eerie darkness of a total solar eclipse and wondered if their number was up, it seems that human nature is geared toward a periodic freak-out over imminent, global doom.
We do live in a time when the world seems to be on the eve of destruction: besieged by global climate change, the accelerating degradation of natural resources, and religious and political terrorism. If we are not simply overwhelmed with despair, we may think we know how some or all of these problems could be solved—but only if enough people agreed with us, in order to implement our solutions for everyone's benefit. (And so it goes with everyone, including all those vehemently opposed to "our" solutions.)
I suspect that the world has always felt fragile or doomed to many of its human inhabitants. That might owe to the fact that we carry the knowledge of our individual doom within us. The end of our world as we know it will come someday via our personal death, whether or not everyone else goes at the same time.
Most of us find a way to deal with that inevitability, whether it's through religious mythology ("I'll be saved and go to heaven where I will live eternally"); resigned fatalism ("life's a bitch and then you die"); or a practical procrastination ("I've got romance/family/career to worry about, so I'll leave the rest to philosophers for now").
There is another way to end the world as we know it, however, with more immediate effects than the usual strategies. That's through any kind of spiritual discipline that helps us remember that the world-as-we-see-it originates within our own minds—and that's where we can end and remake it.
"I loose the world from all I thought it was" is a meditative lesson from the daily Workbook of A Course in Miracles, which explains: "You have enslaved the world with all your fears, your doubts and miseries, your pain and tears; and all your sorrows press on it and keep the world a prisoner to your beliefs. Death strikes it everywhere because you hold the bitter thoughts of death within your mind."
When we "loose the world" through any form of meditation—letting go of our fears, doubts, and miseries for even a few moments at a time—we have a chance to end the frightful world we've been living in and let something new arise to take its place. "The present now remains the only time," the Course continues. "Here in the present is the world set free. For as you let the past be lifted and release the future from your ancient fears, you find escape and give it to the world."
Seems worth a try, doesn't it? Either that, or keep worrying about what the Trilateralists, truthers, birthers, doomers, droners, suicide bombers, and all those uncharted meteors have in store for us…
~
Relephant Read:
~
Author: D. Patrick Miller

Editor: Travis May

Photo: Wikipedia