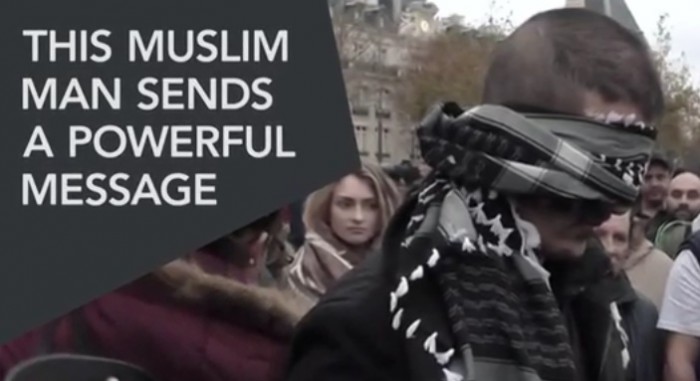 On 16 November 2015, at the Place de la République in Paris, a blindfolded man put out two signs reading, "I'm a Muslim, but I'm told that I'm a terrorist," and "I trust you, do you trust me? If yes, hug me."
And then he waited for hugs.
This experiment is not new—it has been done earlier this year by several Muslim men and women around the world. Always successful, or at least it seems so based on the various videos published online.
But repeating this close to a mourning site in Paris just one day after the attacks, well… Calling it gutsy is an understatement.
He got hugs, though. Many. Tears flowed. More hugs.
I don't know this man, but I want to thank him for taking a stand and doing what is in his power to spread love and understanding. We don't all need to climb on the barricades and shout. We don't always need to plan grand schemes.
Small gestures can have a huge impact as well.
Mahatma Gandhi's famous quote, "You must be the change you wish to see in the world" is, as always, exquisitely appropriate.
~
Relephant read:
~
Author: Yaisa Nio

Editor: Toby Israel

Photo: Youtube screenshot

~