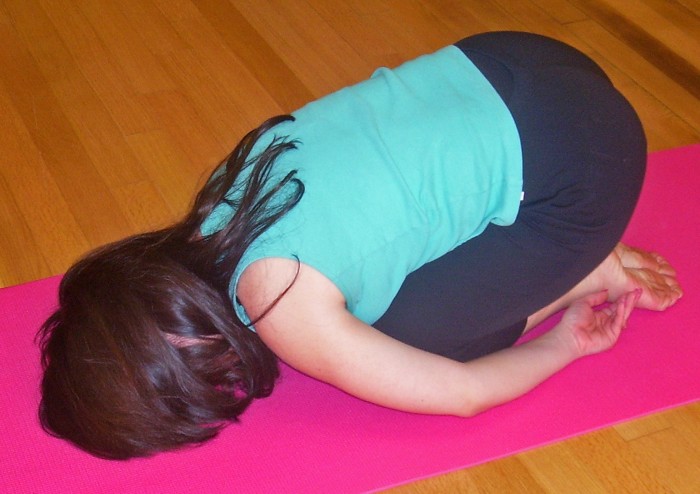 After four months of recovering from a low back injury, I was finally able to go to a Slow Flow Vinyasa class this week.
I had severely strained it going up into Shoulder Stand at the end of my own practice back in July. I then injured it again, nine days later (trying to do too much too soon) and found myself unable to get up off the floor.
My daughters had to call an ambulance.
I rested it, iced it and did oh-so-gentle stretches for weeks. I taught my classes without demonstrating the poses (which actually has made me a better teacher). Just when I was feeling like I could practice again, I leaned forward to help a student in a pose and felt the familiar twinge spread across my low back.
This time, my doctor suggested physical therapy.
I went. After four weeks of focusing on strengthening my core, especially those pesky tranverse abs, my physical therapist agreed it was time for me to graduate. But she wanted me to try one of my regular yoga classes first.
Which is why I returned to my mat this week.
I'm not sure what I was expecting. I know my ego expected me to just jump right back in, picking up where I had left off, able to flow from Plank to Chaturanga to Up Dog to Down Dog with ease.
My body had other ideas.
It was difficult to just walk into a forward fold from Down Dog much less float through. My forward fold was shallow. Planks had to be done on my knees. I had to support my hands on blocks in lunges.
I took Child's Pose many times throughout the practice.
At first, I felt like a failure, which I know in my heart is ridiculous but my head was in charge at that point. I also found myself very self-conscious about being a yoga teacher and unable to do what may be considered "simple" poses.
Finally, at some point during the practice I just let that critical, perfectionist voice go. I tuned it out. Nothing I do is ever good enough for that voice anyway, why would this be any different?
Instead, I focused on my breath, just as I encourage my students to do.
I moved slowly, really tuning into my body, taking inventory along the way so I could give my body exactly what it needed moment to moment, breath to breath—just as I tell my students to do.
I used blocks when it felt right, supporting my body—just as I tell my students.
I allowed myself to find Child's Pose as needed—just as I tell my students.
I've returned to my mat a much more humble yogi. I've often said in classes that it doesn't matter if we don't look like the cover of "Yoga Journal" but deep down, I expected or wanted it of myself. I've often said that we shouldn't compare our bodies to other yogis in the room or even to our body yesterday but I am often guilty of doing just that.
I've returned to my mat a more compassionate yogi—compassion for my students as they find their way deeper into their own practice, compassion for myself as I ease my way back into my body.
I've returned to my mat and while my body may feel tight and dark, my heart feels spacious and light with a renewed commitment to mindfulness, to awareness, to loving my body just as it is now.
Relephant:
Author: Kim Haas
Editor: Renée Picard
Photo: Wikipedia Commons