A combination of far too much alcohol, political debates and NFL teams losing makes for some unhappy Thanksgiving dinners.
Real Estate blog Estately put together this light hearted list to see which dinner guests are most likely to skip dinner to check out Black Friday sales and which are most likely to have fallen asleep intoxicated with alcohol before dessert is served.
Although Kentucky was not in the top 10, it ranked Number 1 in eagerness to secure a bargain in the Black Friday sales.
1. Ohio
The title of The Most Miserable State to Spend Thanksgiving in was won outright by Ohio. The main reason for this is due to the amount of bickering over the ethics of eating meat. This might be the reason they are the state most likely to google search "Subway."
Ohio is also likely to have alcohol induced guests, a poor result in the NFL games, contentious political debates alongside some food poisoning.
2 . Iowa
The reason Iowa came in second on the list was due to differing opinions on political issues. As they are most likely to google "terrorism" it is likely that this will be a subject that many people will have strong opinions on. Combine politics with binge drinking to get the most likely Iowa Thanksgiving get-together.
3. Pennsylvania
Tofurkey or Turkey is the reason for friction in Pennsylvania. Also the arguments over Obama's real country of birth will bubble to the surface. Following this will be a heated discussion about the Steelers and Eagles meeting in the Super Bowl. When we take into account the most embarrassing things they search for on google, don't be surprised if a guest turns up in a furry animal outfit while debating the latest Donald Trump bombshell.
4. Arizona
The disappointment of the day in Arizona will arise if the Arizona Cardinals lose. They are the state most unlikely to see their team win. Whoever isn't sulking about sporting events will be unhappy about their meat-free, gluten-free, dairy-free food options. While everyone is in low spirits due to either the football or the sugar-free and taste-free desserts, a political debate about "whether Obama is American" or not will likely erupt.
5. Wisconsin
Due to the Packers bad track record on Thanksgiving, Wisconsin residents are top of the list for drinking too much and making a spectacle of themselves. They are likely to intoxicate themselves and already be asleep before the game kicks off.
6. Nebraska
Drinking too much and making a fool of themselves is the main reason Nebraska made it on the top 10 most likely to have a miserable Thanksgiving. It's not just one or two drinks, it's drinking till the bars have run dry that causes the trouble—until someone beings reel off lines from The Big Lebowski, according to their google searches.
7. Alaska
Drinking too much in anticipation of their favorite NFL team losing means that Alaska residents take their eye off what's happening in the kitchen, so unfortunately the food is dodgy. The queues will be outside the bathroom door; if they aren't throwing up alcohol, they will be disposing of the remnants of the turkey. Which is probably why Alaskans are google searching outhouses, so they can build a spare bathroom for next year's event.
8. Maine
Between being sick from food poisoning, or binge drinking while singing along to Nickelback (according to their google search history) or being sick of the Black Friday sales, Maine residents have a few reasons to have a miserable Thanksgiving. On top of all this they will also get into heated political discussions.
9. Virginia
Politics and dietary requirements are the two things that keep the conversation going over dinner. Between the sweet potato and the pumpkin pie courses the main subject up for discussion will likely be Obamacare. And there may not be much love going around in Virginia which causes many of their residents to google search "Is Virginia for Lovers?"
10. Missouri
Who got the best bargains at the Black Friday sales will be the hottest topic over the dinner table. Once the latest purchases have been discussed, which could be vagina jewels or fake moustaches, as they googles search them often enough, vegetarian vs. vegan vs. meat eater will be the topic of conversation most likely to erupt. All of which likely cooked on the George Foreman grill they bought in the sales, again, according to their google search history.
Prefer Sweet Potato Pie over Pumpkin Pie? You probably live in the Sweet Potato Pie Belt!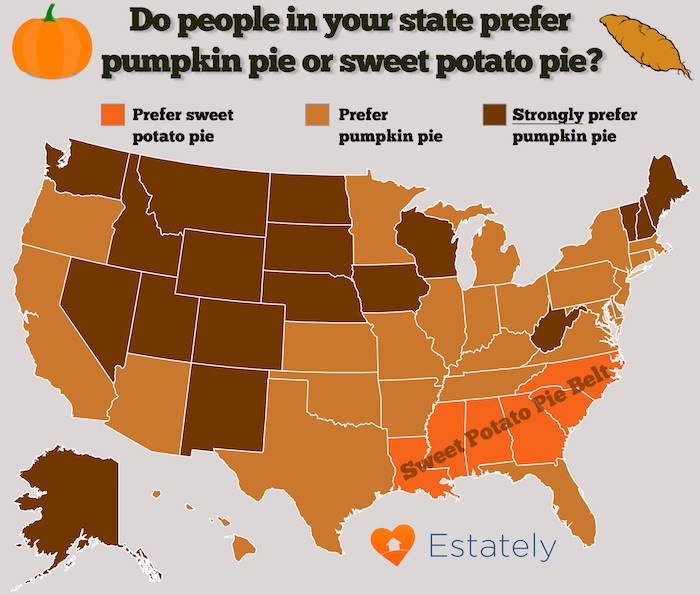 Even though Thanksgiving intentions are for everyone to gather together and share the love, it is also the time for everyone to gather to raise their voices and heat themselves up over politics, the NFL or who was responsible for the cooking. And when far too much alcohol is added to the mix, it isn't always pretty.
On the plus side, when we are aware of the thing that is most likely to cause contention, we have a far better chance of avoiding it. It's just whether everyone else will avoid these things too. Seems unlikely by looking at this list.
While everyone is under the influence of alcohol you can start a quiz to see who can guess each state's most embarrassing google searches: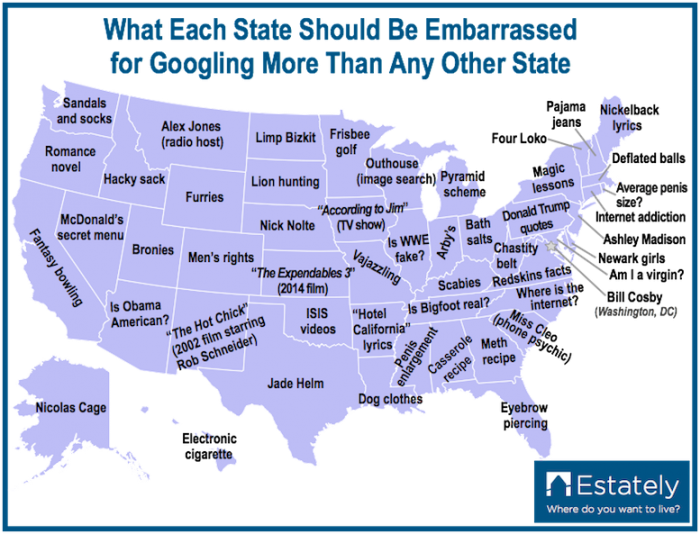 Here are some "highlights":
ALABAMA: What does Alabama mean? & Casserole recipes
ALASKA:  Nicolas Cage & outhouses
ARIZONA:  Is Obama American?
ARKANSAS:  Lunchables / Is Obama Muslim? / Hotel California chords / Hotel California lyrics / "19 Kids and Counting" (reality TV show) / "Toddlers and Tiaras" (reality TV show) / Josh Duggar
CALIFORNIA:  How to vape? / Carl's Jr. (fast food chain) / James Franco (actor) / Justin Bieber (musical artist) / fantasy bowling / Mexican costume / Asian costume / L. Ron Hubbard / Scientology / Kim Kardashian / Paris Hilton
COLORADO:  Vape pen / Crocs (the shoes) / Men's rights / Men's rights movement
CONNECTICUT:  Internet addiction / Jerry Springer / Spin Doctors (band) / Crazy Town (band)
DELAWARE:  Newark girls
DISTRICT OF COLUMBIA:  Snuggie / Bill Cosby (comedian/rapist) / Vladimir Putin (image search)
FLORIDA:  Lunchables coupons / eyebrow piercing / Home Shopping Network / "A Good Day to Die Hard" (2014 movie) / tongue piercing / Warren Sapp (NFL player)
GEORGIA:   Herpes / divorce lawyer / meth recipe / "Here Comes Honey Boo Boo" (reality TV show) / athlete's foot / Will the South rise again?
HAWAII:  electronic cigarette / vape / Flowbee
IDAHO:  Eagles (band) / hacky sack / brony
ILLINOIS:  Jim Belushi / "The Jerry Springer Show" (TV show/paternity test) / Carly Rae Jepsen / Is WWE fake?
INDIANA:  How big is average? / Arby's / Jared Fogle / Where is Syria? / Where is Africa? / free tattoo ideas / white civil rights
IOWA:  ISIS (terrorist organization) / "According to Jim" (cancelled TV show) / Jock Jams (albums)
KANSAS:  Fred Phelps (a$$#@!e) / The Expendables 3 (movie)
KENTUCKY:  Scabies (tied with West Virginia) / Creed (band) / Billy Ray Cyrus (country music's George Michael) / Is Obama the antichrist?
LOUISIANA:  Steven Seagal (actor) / dog clothes
MAINE:  Nickelback lyrics / Good Charlotte / disc golf
MARYLAND:   Pleated pants / crabs louse (not the edible crabs Maryland is famous for) / Am I a virgin?
MASSACHUSETTS:  Donald Trump president / "Grown Ups 2" (2013 movie) / deflated balls
MICHIGAN:  Bigfoot evidence / pyramid scheme / Little Caesars (pizza chain) / Lou Bega—"Mambo No. 5 (A Little Bit Of)"
MINNESOTA:  Frisbee golf / frolfing / fantasy golf / hot carl
MISSISSIPPI:  Gonorrhea / chlamydia / feet photos (image search) / penis enlargement / male enhancement / R. Kelly (musical performer) / Aryan Brotherhood / Blind Melon (band)
MISSOURI:  George Foreman Grill / vajazzling / fake moustache
MONTANA:  Alex Jones (radio host) / Infowars (conspiracy site) / Methamphetamines / The Offspring (faux punk band) / Where is Canada?
NEBRASKA:  Nick Nolte
NEVADA:  McDonald's secret menu / white pride / Brendan Frasier (actor) / Guy Fieri (chef)
NEW HAMPSHIRE:  Pajama jeans
NEW JERSEY:  Ashley Madison (website for affairs) / pubic lice / Jonas Brothers lyrics / frosted tips
NEW MEXICO:   "The Hot Chick" (2002 film starring Rob Schneider) / Slipknot (band) / Slipknot lyrics / Insane Clown Posse (rap group) / Juggalos
NEW YORK:  Donald Trump (blowhard) / Hugh Grant (actor) / magic lessons / Shake Weight (exercise device) / Snuggie Sutra / chlamydia / Gwyneth Paltrow (organic colonic promoter)
NORTH CAROLINA:  Where is the internet? / Nicholas Sparks
NORTH DAKOTA:  Fergie / dog breeding / blonde jokes / Limp Bizkit
OHIO:  Subway (fast food chain) / monkey porn / Baconator (Wendy's food item) / bath salts (as in the drug)
OKLAHOMA:  Supernumary nipple (third nipple) / ISIS videos / Toby Keith / pumpkin spice latte / Westboro Baptist Church
OREGON:  Romance novel
PENNSYLVANIA:  "Celebrity Boxing" (TV show) / Furry Convention / Donald Trump quotes / hipster quiz / "The Apprentice" (reality TV show) / Limp Bizkit lyrics / Good Charlotte lyrics / Goo Goo Dolls (band) / Maroon 5 (band) / devil sticks (those sticks hippies juggle in parking lots at concerts) / patchouli oil
RHODE ISLAND:  Average penis size / Dane Cook / Curt Schilling
SOUTH CAROLINA:  Hootie and the Blowfish (band) / Miss Cleo (telephone psychic)
SOUTH DAKOTA:  Lion hunting / Nickelback (band) / Where is South Dakota?
TENNESSEE:  Is Bigfoot real? / Obama conspiracies / Where is the G spot?
TEXAS:  Matthew McConaughey quotes / Jade Helm / Pimp Juice / Extenze pills / hot dog pizza crust / CiCi's Pizza Buffet / skunk hair / porn / Is WWE real? / contract killing
UTAH:  Video game addiction / unicorn pictures / Razor scooter / moustache / Dilbert (comic strip) / traditional marriage / bronies
VERMONT:  Four Loko / juggling / age of consent
VIRGINIA:  Redskins Facts / Jonas Brothers (band) / Avril Lavigne (music artist) / Virginia sucks / Is Virginia for lovers? / armpit (image search)
WASHINGTON:  Socks in sandals / moving to Canada / Canada / Soylent (liquid meals)
WEST VIRGINIA:  Hot Pockets / lice / scabies (tied with Kentucky) / skin rash (image search) / "Beavis and Butt-head" (animated TV show) / tattoo ideas / gay jokes / black jokes / chastity belt / "Who Let the Dogs Out?" (song)
WISCONSIN:  "The Big Lebowski" quotes / polka / outhouse (image search)
WYOMING:  Furries
Relephant Favorite:
~
Author: Alex Myles
Editor: Travis May
Photo: estately.com (used with persmission)