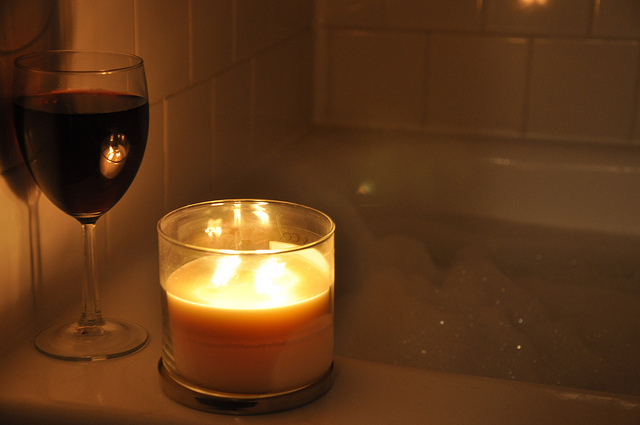 He kissed my forehead as snow drifted down outside the steamed window.
We were covered in the suds from a bubble bath and the melodic voice of Michael Bublé was wafting around the room.
He peered down at me and said,
"Don't fall in love with me."
And I nodded.
"I will leave you," he continued.
And nodded again.
And my heart felt a punch knowing he was telling his truth.
But also understanding that his truth was my own as well.
In my head I said, "Ditto."
Yet, with him I remained wordless.
Silence when I should have probably said something.
Silence when I could have admitted I felt the same way.
But instead I sang to myself a refrain from a Jimmy Eat World song from my youth:
"I won't always love these selfish things. I won't always live… not stopping."
I realized that in this very moment we were two people inhabiting that same place in life—our lives centered on our own pursuits. Neither able, nor willing to give up our own selfish ambitions.
And, at present, those ambitions do not make room in our lives for another human or their fragile heart.
And love is about much more than a feeling, a spark or a connection. We have those all the time.
But then, without gentle cultivation, they dissolve into the ether.
Love is about timing. And, more importantly, it hinges on a common willingness to take a leap, together.
And today, I leap alone.
With perfect clarity that I do it by my own volition.
And that I do it without a morsel of regret.
This life, right now, is mine.
So, fair warning: Don't fall in love with me, either.
Relephant:
~
Author:  Jessica Chardoulias

Editor: Ashleigh Hitchcock

Image: Kat/Flickr