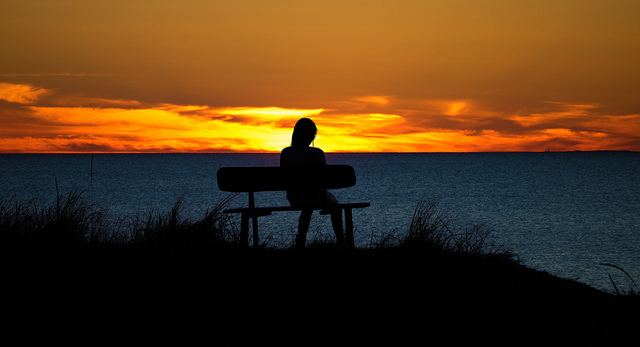 Recently, I have heard some variant of the following questions pretty regularly:
Aren't you so glad he hurt you so your life could change for the better?

Aren't you glad that bad event happened so you could get here?
I look at my life now, and will freely admit it is amazing. I am an American girl living in Europe. I have a great job. I have a network of friends and family that span the globe. I'm arguably the happiest I have ever been in my short three decades on this planet.
But I have found myself pondering what exactly I am glad about.
As it turns out, I'm not glad that I was hurt by other humans or life experiences. I think I could have been quite happy without any of that happening. I don't credit those people or experiences with my present happiness.
I'm not glad that I was lied to or cheated on.
I'm not thankful for the tears I cried.
I'm not grateful for the periods of pain.
Instead, I'm grateful for the internal strength I mustered to get beyond whatever dark clouds loomed.
I'm thankful for the friends who stood by me when I was hurting.
I'm grateful to my family for their unwavering support.
I celebrate my own bravery in realizing I deserved infinitely better out of life than whatever came before or whatever caused my periods of pain. I high-five myself for being courageous enough to pack everything I own and climb onto the plane that brought me across an ocean to a new home I'd never even seen before.
I'm thankful I'm strong.
I'm thankful I'm brave.
I'm thankful that the world can't break me.
Maybe it is just semantics, but I think we need to start reframing our thinking. We need to quit being grateful for the periods of hardship we suffered, and instead look back and root our gratitude in the light at the end of the tunnel. We need to refuse to give the power and credit to those people and times that left us hurting and lost. We need to celebrate our own perseverance in marching through our struggles.
We need to look back and cheer ourselves on, so that in the future, when struggle appears, we know we were strong enough once to power through, and so we will be again.
The next time someone asks me if I'm grateful to the demons of my past, I'll tell them this:
No, they don't get any credit for where I am today. The goodness in my life is a result of the love and support I receive from everyone positive in my life. The path I'm walking on now is a result of my own hard work and inner light. All the good is a result of my own strength.
Those that hurt us do not direct our future. We do.
Celebrate your own bravery. Be grateful for the light you found, and let the darkness decay in the pitch-black crevice of your memory.
Give the power over to the good. And let the bad languish in the past where it belongs.
Own your triumphs. They're yours. And bask in the warmth of your own sweet, unfiltered light.
~
Relephant:
~
Author: Jessica Chardoulias

Editor: Toby Israel

Image: Bhavishya Goel/ Flickr
~