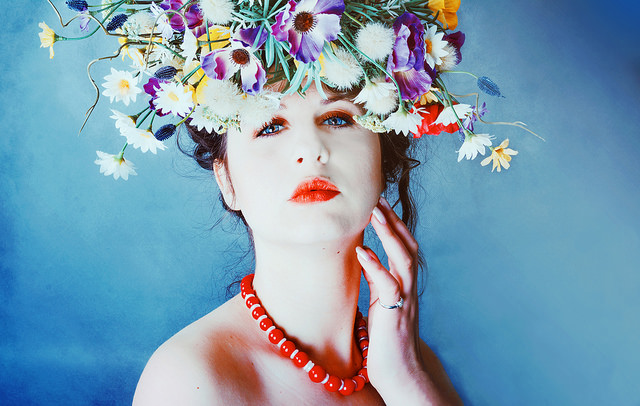 *Editor's Note: No website is designed to, and can not be construed to, provide actual medical advice, professional diagnosis or treatment to you or anyone. Elephant is not intended as a substitute for medical or professional advice, care and treatment.
Women all over the world have mastered the art of aging gracefully.
In every country, you will find women with their own unique beauty routines to keep their skin glowing, their bodies fit, and their fashion on-trend. If you are feeling stuck in your daily routine and are looking to make a change, here are a few inspirational tips to try.
Oceania
Australia: Yarrow extract for stretch marks. Yarrow extract is an Aboriginal secret that Australian women have used for generations. Thanks to its anti-inflammatory and antimicrobial properties, it is often used to treat wounds. Yarrow can heal skin irritation and scar tissue, which means it's great for reducing the appearance of stretch marks.
Polynesia: Monoi oil for healthy hair. Monoi oil is a combination of coconut oil and the essence of tiare flowers, which are a type of gardenia native to Polynesia. Monoi oil rituals are passed down through the generations. Women coat their hair to nourish it and protect it from the elements. The essential fatty acids in the oil will help stop breakage, decrease split ends, and increase shine. Apply monoi oil to wet hair after showering and enjoy the benefits of healthier hair.
South America
Colombia: Coffee for exfoliation. Coffee beans are a major export of Colombia, but did you know it is good for more than just drinking? Coffee grounds have been used for skin care since ancient times. To exfoliate and to treat cellulite, rub the coffee grounds onto your skin and rinse off.
Europe
Bulgaria: Rose water for smooth skin. Bulgaria is famous for its Rose Valley, where it grows the roses to provide for 85 percent of the world's rose oil. Bulgarian women have discovered many uses for the fragrant oil. Rose water has anti-inflammatory properties, is rich in antioxidants, and is a soothing moisturizer. You can add it to almost any beauty product including toner, makeup remover, aftershave treatment, and shampoo. Put it in your bath or apply it after showering to make your skin soft and silky.
France: Neutrals for glamorous style. If there is one thing French women are known for, it is luxurious style. The key is all about the fit. Wear pieces that flatter your body, regardless of the current trends. Find a great tailor for those pieces that don't fit quite right. French women often stick to a neutral color palette and add pops of color with their accessories. This makes mixing and matching effortless and captures that natural French chic.
Greece: Mediterranean diet for brain health. The Mediterranean diet is inspired by traditional Greek cuisine, which consists of large amounts of fish, olive oil, legumes, fruits, and vegetables, and small amounts of non-fish meat. Recent studies suggest that those on the Mediterranean diet have a lower risk of cognitive impairment and dementia. You can enjoy the yummy food and feed your brain at the same time.
Finland: Saunas to soothe aches. In Finland, the sauna is a place to relax with friends and family and to rejuvenate your mind and body. The heat can help soothe aches and pains in your joints and muscles. It will make you sweat, which carries toxins out of the body. The heat also increases blood circulation, which speeds up the healing of cuts and bruises and releases feel-good endorphins.
Asia
China: Rice water for face washing. Chinese women make a point of taking care of their skin. In China, it is said that rice water is good for cleaning your face and removing oil and dirt from your skin. Plus, rice contains antioxidants that will absorb into your skin and slow the production of skin-damaging free radicals. To make rice water, soak rice in water for 20 minutes. Strain out the rice and use the water to wash your face.
India: Turmeric to fight acne. Turmeric is a classic Indian spice. It is not only delicious, but great for treating acne breakouts. Create a face mask by mixing turmeric powder and sandalwood powder and adding lemon juice. Apply the mixture to your face for 10 minutes and then rinse off with lukewarm water. The turmeric will decrease the inflammation of your pimples and reduce the amount of oil your face produces.
Thailand: Snail facials as a face massage. Made popular in Thailand, snail facials are exactly what they sound like: Snails are placed on your face and allowed to crawl all over. It is believed that the snail mucus acts as a moisturizer while the movement of the snails massages the skin. If nothing else, getting a snail facial is a unique experience that gives you a story to tell.
Inspiration for aging gracefully can come from anywhere. The key is to take care of yourself and to spend your days doing what you love. Take the time to pamper yourself, but don't fret about aging. Keep a positive outlook on life and your beauty will shine from the inside out.
Relephant Read:
~
Author: Arar Han
Editor: Catherine Monkman
Photo: Photo Vanova/Flickr