Every day, we are faced with choices as we strive to be conscious consumers and good stewards of this planet we are lucky enough to inhabit.
However, beyond separating our waste for recycling and composting, installing solar power on our homes, or making the choice to purchase a hybrid or electric vehicle, many of us struggle to understand just how green the environments we live and work in actually are.
As we look around our office spaces at fluorescent lights overhead, electric sockets on the walls, and the synthetic carpeting under our feet, it becomes evident that many elements in our homes and offices are far greener than others.
Wouldn't it be nice if there was an established metric by which we could measure the relative "greenness" of various physical structures? Wouldn't it be helpful to make a conscious decision to support businesses that make a concerted effort to ensure that their buildings have a minimal impact on the environment?
Thanks to a designation known as "LEED certification," we actually can measure the greenness of the manmade environments around us. Though it is not a perfect metric, LEED is continuously improving and is making headway in bringing eco-awareness to the forefront of corporate America.
Leadership in Energy and Environmental Design (LEED) certification has been in existence since March 2000. This standard, which is an initiative of the U.S. Green Building Council (USGBC) serves as a benchmark for the design of green buildings. Generally, in construction and architecture we think of green buildings as those that have a minimal environmental impact. Achieving LEED certification shows a building's commitment to the importance of the sustainable design movement.
For us to better understand the green movement in architecture, and the importance of LEED certification, it is important to look at the process associated with obtaining accreditation. It is also useful for us to discuss the standards that are used to determine a building's greenness and take a look at some of the best examples of LEED certified projects currently in the country.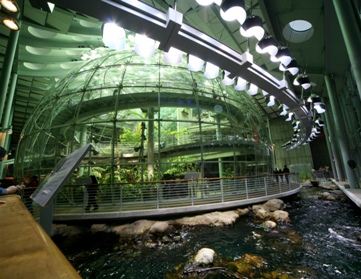 How can we get our home or place of business LEED certified?
LEED certification is a process used to determine the relative greenness of a building. LEED certification is based on a rating system that is applicable to the type of structure that is being LEED certified.
The five current rating systems are: Building Design and Construction (BD+C); Interior Design and Construction (ID+C); Building Operations and Maintenance (O+M); Neighborhood Development (ND); and, Homes. The process for becoming certified involves the registration of the structure to be rated, along with the submission of an application and appropriate fee. Achieving certification means that the structure meets the standards of LEED as contributing a minimal impact on the environment.
How is the relative "greenness" of our building defined?
The certification process has different standards, requirements and documentation for each of the levels of certification.
These levels are (lowest to highest): Certified; Silver; Gold; and, Platinum. Each level on the rating system has a certification threshold that is applied to determine which level has been achieved. A project earning 40 to 49 points is considered certified. Projects that receive 50 to 59 points achieve silver level LEED certification. For projects rated 60 to 79, the gold level is achieved. Platinum LEED certification is assigned to those projects that have obtained 80 or more points.
Some examples of exceptionally green, LEED-certified buildings
There are different LEED certified buildings that exemplify the standard for this designation. These examples include the Bullitt Center located in Seattle, WA; the Tower at PNC Plaza in Pittsburgh, PA; and Tassafaronga Village, a multi-family dwelling located in Oakland, CA.
The Bullitt Center is a 52,000 square foot commercial space. This structure was designed to be green and is largely self-sustaining with respect to energy, producing 60 percent of its energy from solar panels installed on the roof.
The Tower at PNC Plaza is the new corporate headquarter for PNC Bank that opened in October 2015. The building, which has a LEED Platinum certification, was designed with a double skin façade and solar chimney, among its green features.
Tassafaronga Village is a 75-year-old multi-family dwelling initially built as temporary housing for Oakland shipyard workers during World War II. Renovations transformed the structure from a grim, low-rise concrete building laden with asbestos and other contaminants into a Gold LEED-ND certified project.
Each of these projects have set high standards for future structures to meet in order to also be considered top of class examples of LEED certified buildings. They exemplify the potential of the green construction and design movement and offer us inspiration looking forward.
What are your thoughts on LEED? Are there other examples of exceptional, LEED-certified buildings that deserve mention as well? Sound off in the comments below!
Relephant read:
Author: Andrew Armstrong
Editor: Catherine Monkman
Photos: Sky Garden Ltd./Wikimedia Commons, TheDailyNathan/Wikimedia Commons