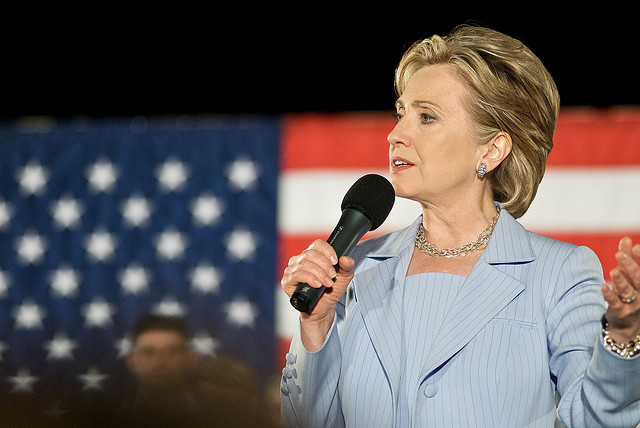 "We need to bring them to heel." ~ Hillary Clinton
These words have profoundly affected my already anemic support of Hillary Clinton, even though they were spoken over 20 years ago.
I know Hillary Clinton is not inspiring young people. I'm not young. I'm old—her age in fact. And I'm black. Most older, black folks support Hillary. I desperately wanted to be an all out, without reservation, Hillary Clinton supporter. But I can't.
I desperately want to see a qualified woman president and I believe she is qualified. She is a capable, experienced, former Secretary of State.
Only a few days ago I was defending her to some young women at my gym. I explained to them that all of the mischaracterizations that they were buying into were propagated and perpetrated by men—starting way back when she declared, during her husband's campaign, that she didn't bake cookies. I do believe that there has been a mostly, male, mostly right-winged conspiracy to discredit and diminish her for many years. And a lot of people, including women, have bought into it.
Until now, the thing that had given me the greatest pause, and dampened my full-fledged support for Clinton, are her ties to Monsanto, her perceived support of GMOs and the fact that her top campaign advisor is Jerry Crawford, a former, long-time lobbyist for Monsanto.
Until now, I had given her the proverbial "pass" on the controversy over her support of the stiffer sentencing legislation that was part of her husband's 1994 crime bill. Contrary to popular rumor (sometimes spread by her erstwhile opponent's camp) that legislation did not increase the already vastly disproportionate black incarceration rate. But it did lengthen sentences—which lead to more people in prison.
And it must also be pointed out that long before the 1994 bill, black leaders had been crying out for stiffer (read that longer) sentences for crimes committed in black communities.
Bill and Hillary Clinton both admit that the law was flawed and that the incarceration aspects of it were ill advised. There is nothing wrong with hindsight in my view.
But on Wednesday, January 24th, at a $500 per person fundraiser attended by mostly white people, a Black Lives Matter activist held up a sign that said, "We must bring them to heel." The ardent young woman then asked Clinton to apologize for calling young black teens, "super predators."
Keep in mind, that this young woman (or the group she represents) paid $500 just like everyone else to be there, so she didn't crash the party. Hillary Clinton read the sign the young woman held up and dismissively said, "We'll talk about it." And then got downright testy when that didn't shut the protester up.
As I watched the video, I couldn't help but think what a teachable moment Clinton missed out on. She could have—and should have, in my opinion—stopped her canned stump speech, addressed the questions and shown her solidarity with ardent, young activists on the issue of the murder and mass incarceration of mostly young black men.
So let me be clear. It's not actually the words she spoke 20 years ago that has my support for her teetering on the edge. It was her angry dismissal of the issue and the young woman—a young woman who should have been her ally—that angered and upset me.
Hillary Clinton has long been an advocate of children and young people. She has a long association with The Children's Defense Fund and was a staff attorney right out of law school. She has said, and I believe her when she says, she regrets these words.
"They are often the kinds of kids that are called 'super-predators,'" Clinton said in 1996, at the height of anxiety during her husband's administration about high rates of crime and violence. "No conscience, no empathy, we can talk about why they ended up that way, but first we have to bring them to heel."
In a written response to Jonathan Capehart of the Washington Post on Thursday Clinton said, "Looking back I shouldn't have used those words and I wouldn't use them today."
However her tone deaf attitude towards the issue and the young woman at the time of the incident, make me wonder if her overwhelming desire to be president is impeding her sense of empathy, or even simple logic.
Many attendees could be heard calling Ashley Williams, the 23 year-old activist, who initiated the encounter, rude and inappropriate. Ashley responded, "I am especially not always in control of how I'm perceived when I'm raising my voice to speak out against injustices. So I'm not surprised that I was told that I was being rude."
As a former '60s activist, Black Panther, anti-Vietnam War protester and Women's Movement advocate, I wholeheartedly agree that being polite is not always the best way. People don't always take you seriously. And if you're young and passionate about an issue, you want to be taken seriously.
So my advice—if my words were to ever reach Clinton's ears—are that, it is your actions, not only your words that matter. How you treat and respect this new generation of passionate young activists is important. This is a movement. And it will not be stopped or diminished.
Given all that I've said, the question might arise, why am I still supporting Hillary and not Bernie Sanders? I have no intention of making this a comparison article. But I will say this. I've known Hillary longer. I've followed her life and career for the past 26 years. I've agreed with her on more things than I haven't. I think she was an exceptional Secretary of State, in spite of the Republican attempt to smear and discredit her. And I think she rocked the Benghazi hearings, which for me, really showed the mettle of the woman.
I know what she's capable of. So although I was disappointed in her reaction to the Black Lives Matter protester, I still feel like she is the candidate to beat the Republicans. So for all it's worth, I'm still hanging in there with her—even if, at the moment, it might be by a slim thread.
~
Author: Gayle Fleming
Editor: Travis May
Image: YouTube still