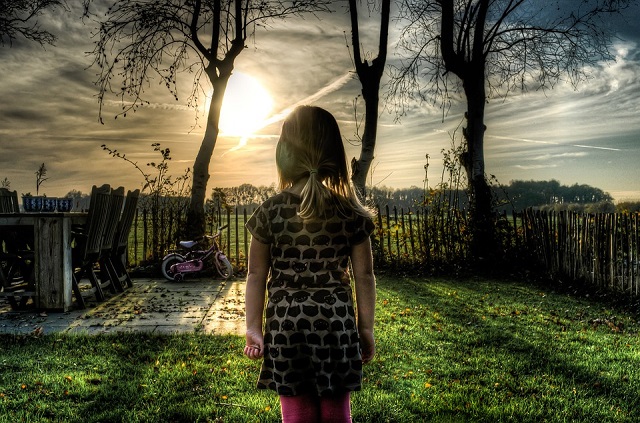 She bled from scars no one saw and wondered if the sun would ever shine down upon her again.
She knew that life wasn't supposed to be like this, but she had no control over the things that happened to her.
All she knew was that she was waiting for someone to care—for someone to step in and be the strength that she so desperately needed.
She heard the screams in her dreams and felt the pain as heavy as a weight upon her soul.
Yet no one came to rescue her.
No one stayed, and no one took the time to learn what was behind her fits of rage and tears of hurt.
She was just waiting for one who would show her the love that she so desperately craved—one who took the time to teach her the meaning of words like family and home.
Although she's of heard them—she's never truly tasted them.
~
Whether you or someone you know has experienced childhood trauma, this video will wrench your heart open.
It's not a pretty video, nor is it one who tiptoes around issues that most close their eyes to—but the reality is that millions of children worldwide are the victims of childhood abuse, and for those children this is their reality.
We owe it to them to not close our eyes to their tears any longer, but instead—to be their voice when they lack the ability to speak up for themselves.
We owe those children who live from belongings in garbage bags and are ushered between foster homes, beneath the beguiling moon, like a modern day underground railroad.
These stories don't come from nameless faces or those who live miles away from us—they are our children.
They are those who were born into lives of pain and heartbreak—those who were never taught what unconditional love truly is or that it even exists. These children have spent their lives in survival mode, caring for themselves and their siblings—and sometimes even their failing parents, because no one has heard their cries for help.
I am privileged to work with children who share this type of story, and this video touched me especially deeply.
While I have my own past that is dotted in tears, it's these children and their stories that tug on my heart and make me wish that I could give every one of them a home. It makes me wish that I could take them into my lap and tell them how loved they are.
They are worthy of this and so much more.
It's never easy to wake up to the social injustices which plague our society—yet to close our eyes and pretend it isn't happening, it's as if we are staring these children in their eyes and telling them that they don't matter.
We are saying that just because they aren't our children, it doesn't matter if they have been beaten and abused. That because we didn't birth them from our own bodies, we don't care what happens to them.
I'm not okay with that.
I'm not okay with pretending that we are helpless when it comes to children who go to bed each evening wondering if their parent or siblings will be safe—and I'm not okay with a child going to school bruised, because someone decided to use them as a punching bag.
And even more, I'm not okay with pretending that it doesn't exist—because the only way that we are going to change the problem is by waking up and acknowledging that this is going on in our very backyard.
Because while it may take a village to raise a child—it also takes a village to rescue one.
.
.
Author: Kate Rose
Editor: Yoli Ramazzina
Photo: Pixabay