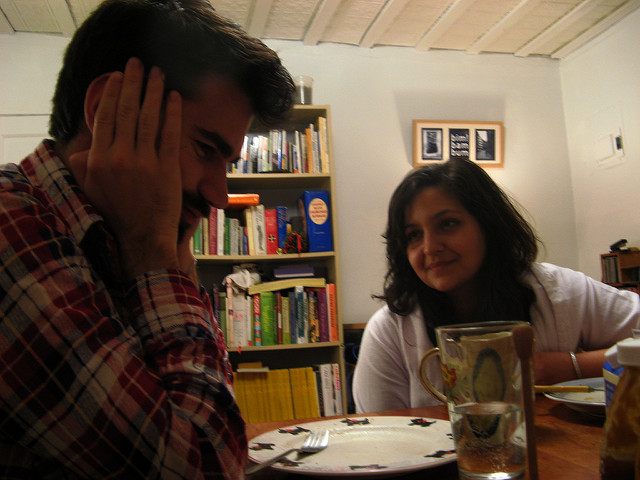 To kickoff the month of March, I decided to commit to a 30 day plant-based vegan challenge.
That meant giving up many of the things that I love—cheese and my addiction to bars of (non-vegan) chocolate, for starters.
While it seems very fitting to be the first thing to cross of the list, I realized that there's something about this challenge that makes me uncomfortable and it's not because I'm saying no to bacon…it's something else.
It's that damn "s" word that doesn't get talked about nearly enough. Shame.
I've been feeling some shame around being vegan. And while it's scheduled for only 30 days, I'm afraid to share with you that there's a good chance I'll continue past March.
I fear that going vegan might have you feel less connected to me. I fear that my choice to go vegan might make me less relatable. I fear telling you how much I'm digging this diet. I fear that you might judge me. I fear that I might judge me.
And in that judgement, separation and disconnection will always happen.
This is the exact reason why I don't ascribe to religion, politics, or anything else that attempts to make others "wrong" —yet separation and disconnection from one another continues to happen on a daily basis.
I'm bringing light to my relationship with Veganism because this points to something much deeper in our society than a choice to not consume meat products.
This is about normalizing the shame that shows up for every human on this planet, every single day.
The everyday shame might creep up when you say the "wrong" thing in a work meeting and beat yourself up for it. Or you might feel shame from saying too much of the "right" things.
The everyday shame might show up when you're feeling uncomfortable talking about sex with your partner, parents, or children. Or you might feel shame from being so open about sex.
The everyday shame could be your sense of not deserving of having such a privileged life or not having any privileges.
The everyday shame could be masked in quickly dressing yourself in the gym locker room because you're not wanting to be seen naked. Or you might feel shame from feeling like you don't deserve to be confident in your body.
While this might not be some of the shame that we tend to hear in our society, I find this to be just as valid.
I believe that it's the everyday shame that's stopping us from being in connection. 
The thing about shame is that when we're feeling it, we don't want to talk about it because we fear that if we do, we might lose connection. Yet, by not talking about it, guess what happens?
The same exact thing that we feared most.
I am experiencing some shame around my choice to go vegan. I'm not embarrassed. I'm simply feeling some everyday shame. It's not super heavy or preventing me from living my life, but it could hold me back from connecting with you if I don't name it.
By writing these words, I hope this provides you with a slip of permission to share something that you feel weird about.
Maybe there's something that might seem "small" to others that you might feel some shame around. Imagine if sharing that was just as normal as requesting an Uber? Imagine if speaking to what we felt "wrong" for was just as common as going for our morning Starbucks coffee?
That's the type of world that I'm committed to creating and sharing with you. And I won't stop until my heart gives out. I hope you're feeling a sliver of hope that what you're experiencing is not only valid, but worth sharing with those that matter to you.
If you're feeling courageous, I'd love to hear your story about everyday shame using #goodenough on Instagram or Facebook. And if you're wanting a boost, a hand to hold, or a place to call home — we're here with open arms.
I believe in a world where we own our story and we claim our shame as often as we breathe in air. If you're inspired to share your #goodenough story, do so on Instagram or Facebook with #goodenough and tag me @joshuabarad.
~
Author: Joshua Barad
Editor: Travis May
Image: Flickr/B.