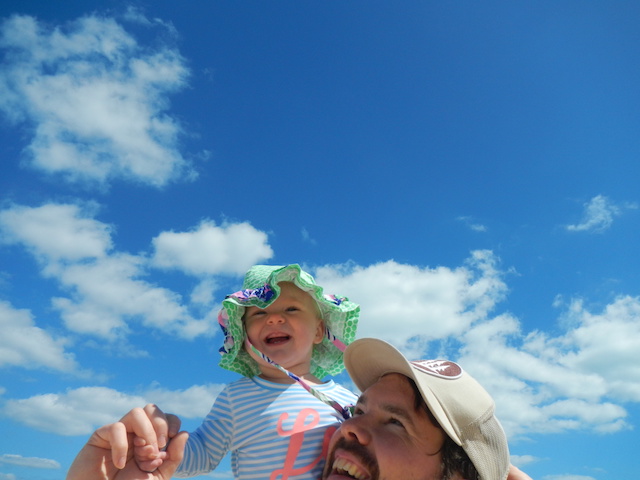 My rusty bike rattles and clanks over the broken sidewalk that runs from my villa in paradise toward the other end of this tropical island.
I rose at dawn, borrowing the clunky cruiser in the hopes of visiting an ashram known by yogis around the world but not, it seems, by anyone on this three-mile-long island.
Before reaching my destination, an all-inclusive luxury resort has me bound by a labyrinth of smoothly paved roads and circular drives. After several flybys of high-rise condos named for nautical features (think The Reef and Coral Towers), I enter a staff parking lot where the third person I ask offers directions along the lines of, "straight, right and then right." The paved lot turns to a broken asphalt path, traveling past dilapidated buildings, through what appears to be a sewage treatment plant and ending discouragingly at a gate.
I've been vacationing with my parents, husband and infant daughter at a quiet timeshare, where baby boomers cha-cha around the swimming pool. This morning, I thought I'd take advantage of being a short ride from a world-renowned yoga center. Instead, what I've stumbled upon is the dirty underwear of a five-star hotel.
Turning back, I glimpse an elderly local man reclining in the shade. I ask about a yoga centre and he directs me back to the gate.
That's when I notice the tent—Coleman-style, like the ones you buy at a local hardware store—pitched just beyond the fence in modest contrast to the towering accommodations I've just escaped. A sign on the gate reads, "Access to yoga center only by boat services." I have no idea how to get to boat services, but the gate is open and someone welcomes me in.
Leaving manicured lawns behind, I follow a concrete path through untamed jungle to reception, where I'm greeted warmly and handed a yoga mat. The yoga center occupies a narrow spit extending from the island's west end, one side facing a busy harbor and the other an idyllic white-sand beach. Tents have been pitched on every possible patch of ground, while tree-house-style accommodations climb toward the heavens. Chanting rises from a central gathering area as I make my way to a platform with a view of turquoise water framed by tropical evergreens.
Dozens of dormant bodies lay prone, filling the platform, and I squeeze into a narrow opening at the back. The instructor leads us through pranayama breathing exercises, chanting—including, fittingly, a prayer to Ganesh, remover of obstacles —and a vinyasa style asana practice as the soft morning breeze dances around us. When I stir from savasana, our final relaxation, I'm amazed to realize two hours have passed.
I bike home, my whole body smiling.
Two days later, I'm back for my next fix, but this time it's not so easy: I beg my way past a resort security guard and arrive at the gate to find it locked. Fifteen minutes later, I'm still standing there, bike leaning on hip, when a friendly karma yogi helps me haul my ride over the fence and squeeze through the gate. I arrive to class 10 minutes late and enjoy instruction from a sage-like yogi with 35 years teaching experience.
I bike home happy. Full-body smiles. Coffee balanced on handlebars.
Next time, I'll try boat services.
But the striking juxtaposition of this understated ashram to its ostentatious neighbor has me wondering: If an experience is more elusive, harder to obtain, does that make its procurement more rewarding? Conversely, if it greets you with a neon sign, pink high-rises and automatic doors to an air-conditioned lobby, does that diminish its authenticity? Does the path of least resistance lead us nowhere? The fact that we are told peace lies within us—we have only to know it, to access it—implies not. The purpose of practice is to move toward accessing it anywhere, anytime. Could I find transcendence in what was, quite literally, a tourist trap?
The resort is the antithesis of authentic experience. Its contrived nod to the local environment (manmade waterfalls, faux coral reefs, sharks circling in saltwater pools) has been growing like a cancer on this island for over two decades. Rock climbing, waterslides and dolphin petting—surely it offered yoga classes.
The next day, I'm traipsing through the sprawling grounds (through casino, past Rolex stand, around waterpark) with my husband and nine-month-old. The advertised "yoga pavilion" is a small, stuffy workout space where a spin class is just wrapping up. A muscular 20-something with "personal trainer" embroidered on his jacket unfurls a half dozen mats and directs us to lie down. Looking up at the ceiling, I notice lights that continually change color. The dance music changes to the sound of waterfalls and we begin.
For the next 45 minutes, instructions like "see if you can stretch just a little further here" and "try to challenge yourself in this pose" take the place of precise cueing and inspirational messages. Through my legs in downward dog, I watch sweaty fitness buffs pass the glassed-in room. I'd like to think I could find mindfulness anywhere (it's inside me, for goodness sakes). But I couldn't find it here. Staring up at those disco lights during savasana, my mind is squarely focused on where I can find the best latte after class.
Two days later, I'm back on my bike by 7:15, determined to access the ashram via boat services. At 7:35, my legs dangle from the end of the deserted ferry docks. For 15 minutes, I sit in reverie, the morning sun grazing the horizon and the warm breeze feeling better than the dreamiest savasana assist.
I wait. No boat comes. I get back on my bike.
Cruising away from the docks, I find my bliss in the rhythmic pumping of the pedals followed by the bouncy coast of my bike; in the friendly banter of strangers at the coffee shop; in the pudgy-armed embrace of my daughter when I walk through our condo's sliding-glass door.
The journey inward is rarely direct and transcendence is unlikely to welcome you with a uniformed doorman. It turns you back, spins you around and makes you take the scenic route. But, some days, a yoga class may be incidental to the heart-busting, gut-wrenching joy we feel.
Because, it turns out, it was there all along.
Author: Amanda Follett Hosgood
Editor: Emily Bartran
Photo: Greg Raines/Unsplash // Author's own