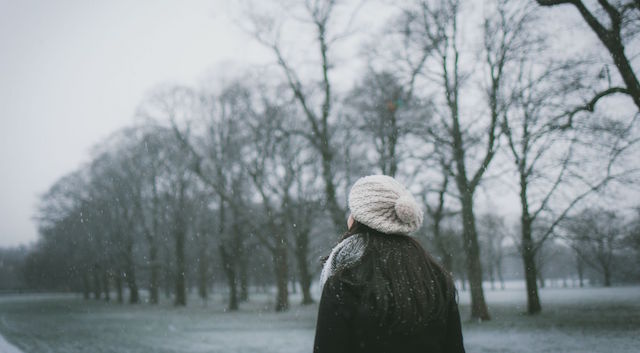 I like to go for walks.
Going for a walk is more than just movement for the body. It can serve as nourishment for the soul, stimulation for the mind and a soothing aid for emotions.
Depending on the environment, it can be exciting, educational and calming. A walk in an unknown big city has a very different vibe than one on a beach. Walking in the forest is different from walking in the suburbs.
Out of these four environments, I would have picked the last one as my least favorite. In a city, my curious nature enjoys getting lost and finding something unexpectedly wonderful, like a cute café. A beach spoils me with waves and a fresh wind on my face, connecting me to the ocean and the world. And a forest finds its way into my heart by surrounding me in its lavish green arms.
But a suburb?
I recently moved to a suburb—an American suburb. I am European. My favorite city is probably Berlin, a place that has more history (and more vegan-friendly restaurants) in a square meter than most other places in a square mile. Berlin is a place that is openly honest, bearing its wounds for the entire world to see. It invites you to be your whole self, warts, arts and all.
Going for a walk in Berlin can mean suddenly finding oneself standing on a spot where the Berlin Wall used to be, or stepping on one of the little golden Stolpersteine (stumbling stones) that are inserted into the sidewalk in memory of the victims of the Nazi regime. One might also pass the Reichstag (the German parliamentary building) which was completely wrapped by silvery fabric in 1995 for an art project.
In short, American suburbs are not really my cup of tea.
Or so I thought.
I went for a walk today in my new neighborhood and ended up in a nearby park, a park that I had already visited a few dozen times. But today, for the first time, I discovered that this park was dedicated to someone. Upon reading more about this person, I realized it was dedicated to a very special someone indeed.
To be specific, this is someone who, by the tender age of 13, had already published five New York Times Best Sellers. Someone who Oprah Winfrey said was among the very few people she had an instant connection with. And someone whom former U.S. President Jimmy Carter called "the most extraordinary person whom I have ever known."
I am talking about Mattie J.T. Stepanek.
Mattie was a poet and peace advocate. He also suffered from a rare neuromuscular disease called Dysautonomic Mitochondrial Myopathy. This beautiful soul passed away in 2004, shortly before his 14th birthday.
The Mattie J.T. Stepanek Park, which is situated near Mattie's last residence in Rockville, Maryland, was dedicated to him in 2008. It contains a life-size statue of the smiling young poet in a wheelchair, accompanied by his service dog Micah. The park benches are decorated with Mattie's beautiful quotes. Here are some of the ones that touched me most deeply:
"One of the greatest gifts of all is to be a gift to other people."


"Peace is just, and peace is worthy, and a plan for peace is more practical and achievable than we, the people, may realize."

"Cherish the important things in life, like a baby falling asleep holding your finger."

"If you have enough breath to complain about anything, you have more than enough reason to give thanks for something."
And here is my favorite quote:
"Remember to play after every storm!"
This advice is as simple as it is profound. As filled with child-like innocent as it is wise.
That these words come from someone with an extremely challenging life, full of physical pain gives them additional weight: It reminds us that playing can help us to weather the storms of life. That playing is a necessity, not a luxury.
I was surprised to find on my suburban walk, a park dedicated to someone who had such a big impact, and much more importantly, such a beautiful heart and so much courage. The proximity to this thoughtful memorial immediately made me feel more at home in my new neighborhood on a different continent. I enjoy the peaceful and expansive atmosphere of the park, which is now more apparent to me than ever before.
The takeaway for me is that we can walk into beauty and adventure anytime, anywhere. And we can find a spot that helps us feel at home anytime, anywhere. Including in an American suburb.
It all starts with a few steps.
~
Bonus:
For more of Mattie's story:
~

~
To hear music based on Mattie's poetry:
~

~~~
Author: Bere Blissenbach
Apprentice Editor: Corinne Milentijevic / Editor: Caitlin Oriel
Image: Paul Green/Unsplash