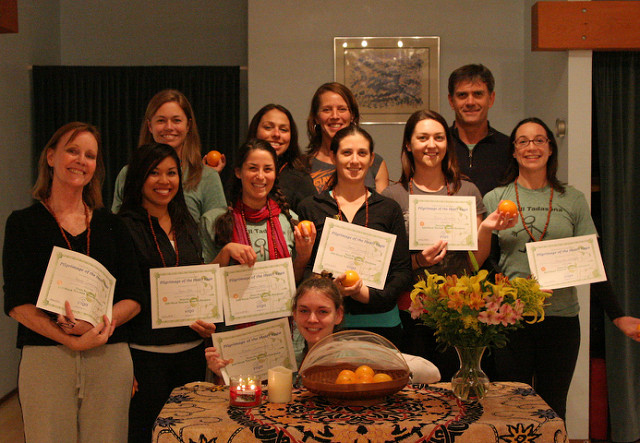 So you've been practicing yoga for a fair amount of time now—perhaps it's even what gets you out of bed in the morning. Is it time to invest in the costly financial endeavor that a certified yoga teacher training entails?
Here are five things to consider before you decide to take the leap:
Decide whether you want to teach yoga.
A $2,000 yoga training is well worth the cost if you've decided without a doubt that you want to be a teacher. Yoga is a growing industry that will most likely continue to evolve within our lifetimes. If you want to share the practice with others—-from the bottom of your heart and soul—you will be paid back the investment in spades if the teacher's path is the one you want to follow. If your goal is simply to deepen your own practice, there may be cheaper ways to do that.
Make sure the training covers everything.
A $2,000 training is worthwhile if the material and curriculum are well-rounded. You want a program with great staff that encompasses everything from Patanjali's Yoga Sutras to meditation to anatomy and alignment to business skills. A teacher training program I lead, for example, covers the ancient scriptures all the way up to modern advice and practice styles. Seek a similar breadth within your chosen school. Ask for a syllabus or curriculum up front. You should know exactly what you're paying for. If the program doesn't have anything to give or send you, that's a bad sign. Once you find a program that covers it all, you can safely invest that hefty payment.
Consider what college tuition costs.
When you compare the cost of a yoga teacher training program with that of an associate's degree or bachelor's degree that may or may not provide you with an actual job, you'll find that the yoga teacher training doesn't really cost that much in the grand scheme of things. Two thousand dollars is pocket change in comparison to university tuition! College, of course, is highly valuable—but so is yoga teacher training for the right person.
Do you want a once-in-a-lifetime experience?
If you haven't treated yourself to a "soul" adventure in years, then it might be time to invest in a yoga teacher training. Most yoga trainings are life changing. They are retreats you will not forget nor regret when it comes to the big picture that is your life. If it's been a while since you took a break from the daily grind, or treated yourself to any kind of vacation, the time might be right and it might be now. Spending money on transformative experiences is usually more worthwhile than spending your cash on material goods.
Get still and decide on the intrinsic worth of teacher training for you.
In the end it's up to you whether or not to invest the $2,000 that a yoga teacher training entails. Don't do it simply because your friends are doing it or because someone else has told you that you'd be a great yoga teacher. Don't do it because you feel like you're in a rut and you don't know what else to do (if that's the case, I recommend a daily yoga practice. Take it from there!).
Spend concentrated time in contemplation, asking your heart what the intrinsic value of a yoga teacher training is for you. Get very real with your heart and your goals. Ask yourself what yoga teacher training is worth to you. There's no rush. And if a potential program acts like there is, it's probably the wrong one. Maybe you need a month or even a year to consider if it's the right move. With time, your heart will give you a solid answer—one that's truly personal to the core of your being. And then you'll know for sure whether it's time to invest the money in it. The choice is yours—and there is no right or wrong answer!
~
Author: Meera Watts
Editor: Travis May
Photo: Flickr/kellinahandbasket