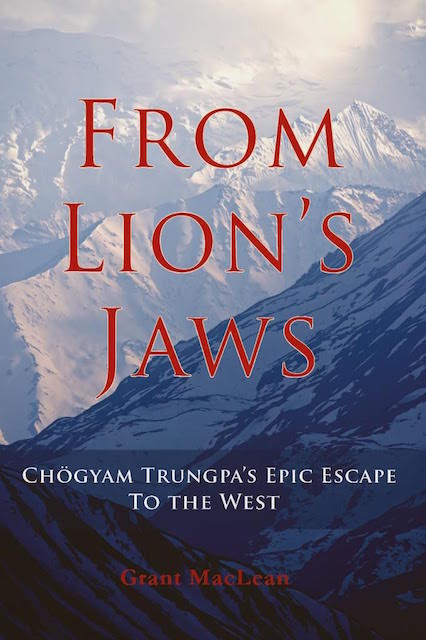 This chapter is an excerpt from "From Lion's Jaws: Chögyam Trungpa's Epic Escape to the West," by Grant MacLean. For more images, background, downloadable maps of the journey and to order the book, click here. 
[Setting: After three months' perilous trek through appalling mountain terrain, the 300  starving and exhausted refugees reached the Brahmaputra, made themselves small coracles and set out to cross the river. Leading the way, Trungpa Rinpoche's coracle with its load of lamas had made it most of the way across the river …]
They arrived on the holly-covered strip of land near the southern shore as planned. Behind them other coracles were coming across or loading up. Just as soon as Rinpoche and his companions were disembarked, the indomitable Urgyan-tendzin set off back to the northern bank for another load of passengers.
As Rinpoche was getting his bearings, he heard a shout from mid-river, a man calling him by name. Paddling his family across, the man was panicking: his coracle may've been taking on water, or he'd found the paddling too much for him, and he was yelling that he wasn't going to be able to make it and that they were all going to drown. Rinpoche called out that he'd be fine if he just kept going, and before long the man and his passengers were safely ashore nearby. By now, three loads of passengers had landed, and Rinpoche walked along the bank making his presence known, talking to each group, giving instructions and a brief sketch of the situation.
Out of the night Rinpoche heard the unmistakable sound of a gunshot. At first he thought that it had been fired by a refugee—then there was a second shot, immediately followed by shrill shouts, which Rinpoche recognized as Chinese, after which the shots quickly swelled into a fusillade. On the strip they could clearly hear the bullets as they whizzed and cracked by close overhead, the firing so shocking, so loud and heavy, that at first it was hard to tell which direction it was coming from. The storm of gunfire went on without pause, growing heavier by the second.
Akong Tulku's younger brother, Jampal, had been in the lamas' coracle, wrapped up in his lambskin coat against the intense cold. He had not heard gunfire before and didn't know what was happening. With no sense of a bullet's deadly power, he was calm until he saw how scared an older lama was—a man with experience of both guns and the Communists—and then became terrified. About halfway across the moonlit river, young Palya was sitting behind her father, who was rowing furiously to get them to shore; listening to the percussive splash of bullets as they hit the water around the coracle she was terror-stricken.
On the strip, as rounds thudded into the ground and ricocheted off rocks nearby, Rinpoche was inspired by the fear of being hit, thinking: "I will never give up…I will go on to teach."
Author: Grant MacLean
Images: Author's Own; Shambhala Archives 
Editor: Emily Bartran