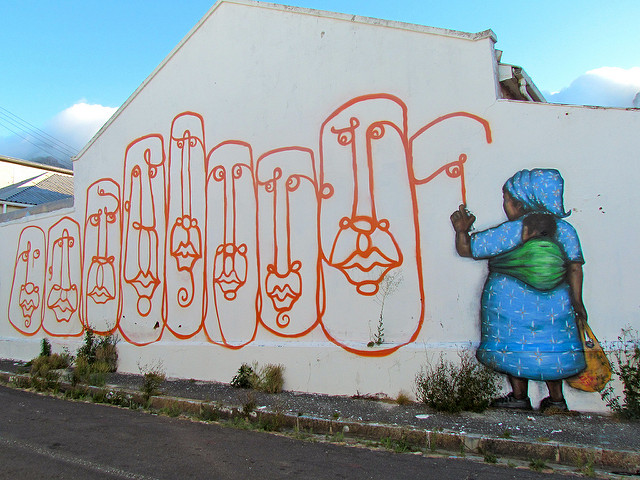 I come from South Africa.
Within the past few years, the rand has tumbled. Prices have doubled, paychecks have not balanced out. For some, cost of living is just too high.
Students and workers from all sectors have gone on strike with a vengeance. Some of us have had our tin shacks gutted, year after year, by fires and floods. This year, the whole of Cape Town was alive with towering flames and clouds of thick smoke.
In more ways than one, we are tired.
There has been rioting in the streets and burning tires melt tar on the highways. We have no faith in our politicians. We are utterly embarrassed, regardless of colour, income or creed, by the shameless corruption that is our president.
I am a firm lover of the light; of building a better future through grassroots movements; of inspiring organic urban food gardens, positive community, self-development, environmental sovereignty and mutual responsibility.
I now live to help create Enlightened Society. In South Africa, we call it "Ubuntu"—a quality that includes the essential human virtues of compassion and humanity. It evokes a sense of community in the same vein of "together, we can."
The day after President Zuma fired our Finance Minister, Nhlanhla Nene, causing the value of the rand to drop significantly, my Facebook feed lit up with anger and despair.
The very future of our country's stability is debatable. And it seems the rest of the world is in the same boat.
Environmental issues and human and animal welfare is falling to the wayside, even for the mindful musicians and philosophers in my circles. This shocks me.
The social milieu that is usually humorous, compassionate and philosophical, has turned to feverish anger and fear. In an already hyper-racialized, economically-divided country, this is not my idea of a worthwhile growth curve.
The time is ripe to commit myself to actively creating a better world, rather than fanning the flames with my own outrage and uncertainty.
In the midst of all this, I spent my time outdoors, doing ornithological research. I watched as birds of prey soared through open expanses of sky, while we fret and fuss over our political economy. What a contrast! This motivated me to focus on the kind of world I do want to live in—and to write this poem.
If I were to write…
I'd write a song of a thousand things
imbued with hearty strength.
A humming vitality,
scorched and bruised by sickness and discontent.
It would be the song of our own mismatched reality,
unhinged by darkness and decay.
Strewn with light and possibility.
All the countries of my heart,
torn in disarray.
Shadowed eyes and medicated smiles
eke their precious lives away.
Too many hearts locked up
with self-preservation, fear and ire.
We're tormented by injustice and the mind's own curse.
Why such a quagmire?
I'd sing of maggots and ashes. Putrefaction and new birth.
The "small johns" of the world, finally appreciating their worth.
I'd write of love, tenderness and tears,
and of the wisdom of children
blessed infinitely beyond their years.
I would write of swollen rivers, filled with fish.
Of forests and mountain slopes, singing with ecological bliss.
There would be passionate dancing, as we light fires against the dark.
Fires to galvanize our hearts.
I'd write of the searing pain of heartbreak, loss and madness.
A world, set on the brink.
Too frenzied to see the gravitas of its own choice.
Too busy to stop and think.
Stop and choose, my brothers…choose, I'd say.
Choose a life of wisdom and grace,
of salvation of the inner space.
Of green leaves, full bellies and fertile soils,
of fears, uncoiled.
Of mothers and lovers and gentleness under the covers.
Where stripped veneers reveal more than just frustration and fears:
Our robust aptitude for creation
lies in espousing kindness, ingenuity and imagination.
Entire cities stop to help
when fire and floods lay siege to countless lives.
Wounded street dogs are given homes and salves
to dress their welts and hives.
Kindness seeps up from our cuts and cracks,
heartache at another's pain, tells us we must give back.
Ripe with boldness and forgiveness,
we have the deepest sort of health.
In a world willing to take itself to task,
we must each lay rest our dying past.
Are we brave enough to balance on this rope?
On one side fear, on the other, hope.
We must be willing to step in, through resentment, pain and fear.
To witness one another, in our nakedness, right here.
Our souls are now the ones on fire.
We'll give the old world thanks and grace
as we stand at its smoking funeral pyre.
Feeling a brand new sun on our face.
Compassion is now our greatest fuel.
Service and awareness bring us each, in full,
to a profound and simple bravery.
The kind that yields profound humility:
Looking into another man's face, another woman, animal or child.
To witness all the magic, pain and madness that sits behind those eyes.
And to offer your attention, unguarded.
To help us all stand tall, in our own lives.
Why walk, when you can fly?
Injustice is rife,
but the eagles soar on above, blessed and unfettered, in an expanse of open sky.
The matter here, defined:
For the salvation of our humanity, we must get to it!
We are blessed with choice, my dear
…but not with time.
Author: Catherine Simmons
Image: tsn92/Flickr
Editors: Nicole Cameron; Emily Bartran