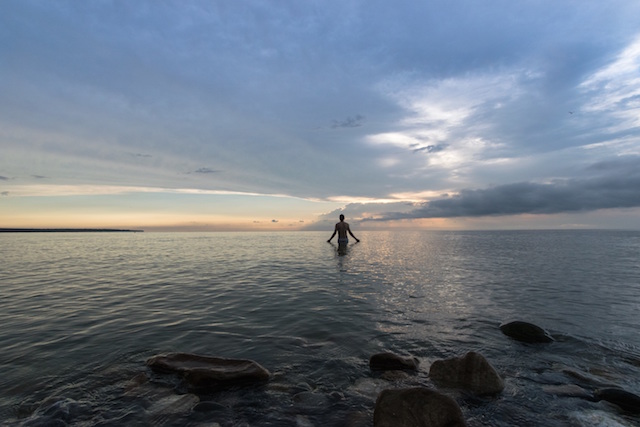 Like everyone else, I've had sh*tty things happen in my life.
Betrayal. Deaths of loved ones. Divorce. Illness.
Basically, this is the result of having lived half a century.
At one point it became clear that I could become bitter about the past, or I could see it as a chance to grow.
I realized I couldn't choose growth if I held onto bitterness—when I held on, it made me feel like I was facing the wrong direction.
Bitterness anchors us in the past and keeps us from moving forward. 
I wanted to hoist my sail and cruise into all the possibilities of my future—but so long as I was bitter, that was impossible.
Letting go of bitterness has led to so many incredible things: a wonderful relationship, amazing job experiences, more creativity and travel. When I really learned to let go, it felt like I had jumped into a fast-moving energy stream where so much happens in such a short time.
It's not a frantic feeling, though; it's a feeling of abundance, of going with the flow.
"Going with the flow" used to conjure up images in my mind of just kicking back—like, perpetually hanging out in a hammock.
Now I know that going with the flow might mean hanging out in a hammock—but it can mean so much more. It doesn't have to mean standing still. It means fostering a disposition of chillin' so that we can relax, even in a fast-moving stream. 
Even when I'm doing all the things I do in my life (writing, editing, coaching, traveling, spending time with friends and family, mentoring), for the most part, I don't feel overwhelmed. It feels like time has stretched out. It's as if I'm learning the knack for living not only in every second, but in the spaces between seconds. 
In fact, it amazes me that in spite of all the activity in my life, I have a lot of "down time." I guess that's because I don't constantly worry about being "productive." Going with the flow allows me to enjoy the moment no matter what I'm doing—or not doing.
And if I ever begin to feel overwhelmed, I tell myself that nothing is an emergency. 
That I don't have to fix anything.
That everything is fine just the way it is.
That worry and fear and anxiety are just thoughts.
That I can have any thoughts I want! 
That there's no one right way to do this life.
So here's the thing: I see now that those dark, dark times created the light. Everything is productive—even, or perhaps especially, life's dramatic events.
I'm not saying I need to go out of my way to find trouble in order to grow.
Since change is constant, life is filled with opportunities to expand our awareness, our compassion, our potential.
But we can't get there weighed down by bitterness. We are better served when we open our eyes to the nature of life and let the stream carry us.
. 
Author: Kate Evans
Editors: Renée Picard; Katarina Tavčar
Image: Alexey Kuzmin/Unsplash