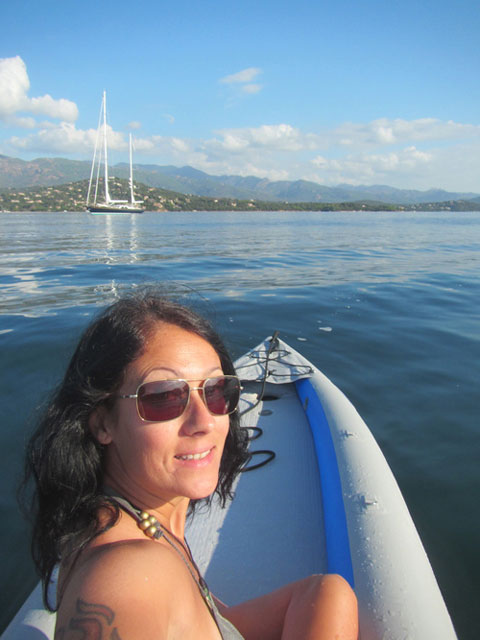 You'll appreciate this read, next: Decluttering Negative People: How I Rediscovered Myself at 40.
I am a chef on a private yacht, I travel a lot.
Single and in my late 30s, I have had an amazing career that has paid me to go adventure around the world and meet amazing and diverse people while doing a job I love. I have sailed across both the Pacific and Atlantic oceans, eaten feasts with locals of small islands and different cultures, sat in silent wonder in nature's remote places.
My friends are always telling me what an extraordinary life I live, and I must admit, I agree. So why is it then, that I still find myself battling guilt and feelings of regret when I see where I am in life?
One of the areas of guilt and regret for me is in the subject of having children.
I have never been sure if I wanted to have children which has made me feel guilty since it seems that most people do. I often wonder what is wrong with me?
Growing up, I was terrified of the idea of having to be the one stuck at home watching a child while missing out on all the exciting adventures I could be on. I idolized characters like Indiana Jones and wanted to see the world! For me, this was the future I knew was calling me. Don't get me wrong, I love children, but the taste of freedom was always so much sweeter to me than motherhood.
There are times when I think about settling down and quitting the traveling and I ask myself if I have made a mistake. Will I turn around one day with regret? Will it be too late? I enter into the world of guilt because I am not sure how to proceed.
Women before me had children. They often had to give up on their educations to raise children. My mother had me when she was 22. The average age for women having children today is 27. Many more women are beginning to wait until their 30s to make this decision so they can nurture their careers first. However the rub in this is that if we wait too long, we may have missed your chance to have a child at all.
How do I know if I have done the right thing? Why is it that I feel selfish for wanting to pursue a life outside of motherhood?  
I think about these questions a lot, and I know I am not alone. Many of my girlfriends do as well.
Several months ago while working in Antigua, I had a conversation with a colleague that has resounded with me ever since. One evening at dinner, we began talking about where we had hoped we would be in our thirties when we were young and related it to where we are now. My colleague expressed that she feels her own version of guilt as well and always questions herself. A mother of two, a wife of a captain, and a yacht crew vet herself, she is traveling with her children to the Caribbean to be near her husband while he works. As a mother who travels with children, she often wonders "Am I doing the right thing? Should my children be back home and studying in a traditional school systems?" She has received her share of criticism from parents and family for her bohemian lifestyle just as many single women such as myself have experienced the same regarding their desire to either wait or even opt to not have children. It is not traditional.
I look at her and I can't imagine why she would listen to such guilt. When I see my colleague and her family, I see two people showing the world to their children and embracing beautiful and new memories. I see opportunities to play with children from different races from all over the world. They are smart and anyone who meets these little girls can see the positive effects of travel and culture on them. She told me that when she looks at me, she sees another strong example for her daughters to look up to—and proof that there are many options in life for a woman if she chooses to reach for it.
I realized how often we judge ourselves and feel guilty for paving our own roads in life and not see them for how amazing and unique they are. When we let our guilt and others' expectations of us rule, we end up with unhappiness and comparison. I realized it was a brave thing to embark on your own journey and to write your own rules.
The world is changing and with it, we contemporary trailblazers, are bound to teeter frightfully into the new territory ahead of us. We are not an anomaly to our age group, but we are an anomaly to the times. Plenty of women I know my age are facing the same struggle: choosing parenthood or careers, formal education for their children or homeschooling (or world-schooling in my friends' case). We are some of the first generations with these opportunities within our reach and we are an example to those who long to break into new territory as well and to fight for their unique and particular version of happiness that they envision.
No one knows what the future holds, but if we sit around looking back and wondering what might have been, then we cannot look forward and see what just might be.
A woman doesn't have to be one thing. Her endeavors and dreams can be as countless as the stars. We need to take pride in our choices and leave the guilt behind.

~
Author: Sarah Gilbert
Image: Author's own
Editors: Katarina Tavčar; Renée Picard