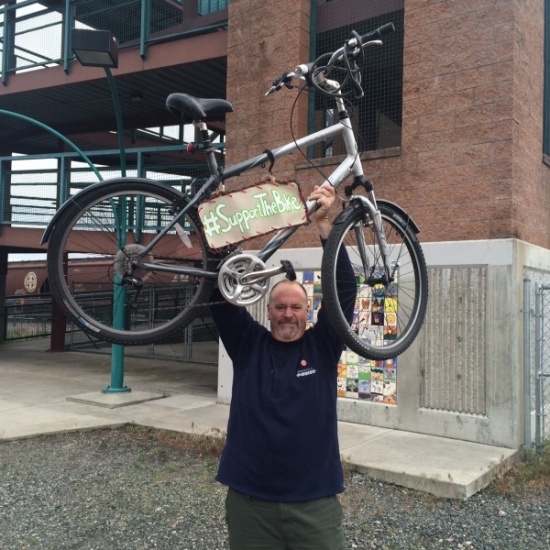 Since fall of 2008, I've had the blessed opportunity to call Missoula, Montana my home.
Having immersed myself in its fast-paced community of bicycle enthusiasts, I've had the pleasure of getting to know just a few of the unsung heroes who've helped inspire and shape this trend.
One man in particular stands out amongst the rest of this two-wheeled tribe. His name is Bob Giordano.
He is the bike curator and connoisseur of our Garden City's counterculture, community bike movement, Free Cycles.
"After learning and teaching about bicycles and healthy city design for the past twenty years, Bob is striving to create a more sustainable way of life for people and our relationships with the Earth."
"It's a long ride. 89 miles from here and the first 18 are uphill. It's going to be a good day."

~ Bob Giordano, Executive Director
Free Cycles formed in 1996 to reduce air pollution by re-purposing unused bicycles.
While their programs are free and available to anyone, much of their time and energy is spent working with vulnerable and at-risk populations.
Over time, three core programs have emerged:
Build-a-Bike is exactly what it sounds like. Using a massive amount of donated parts and frames, a person can build a bike for little to no monetary cost.
Open Shop has brought 200,000 people from diverse backgrounds through the doors to fix and build bicycles. 18,000 free bikes have been earned, built and ridden away by people seeking a pedaling lifestyle.
BikeWell classes have provided 5,000 participants with safety and maintenance skills.
Free Cycle seeks to create a healthy community through a wide range of strategies.
Ultimately its goal is to help Missoula, Montana transition to a more sustainable transportation system while simultaneously setting a strong example for other communities.
"We learn how to build the world while we learn how to build a bicycle."
~ Unknown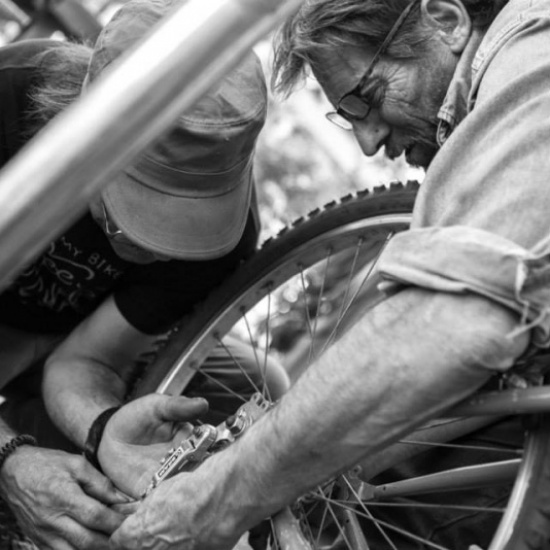 What started out as an environmental justice movement gradually transitioned toward what is now recognized as a unique social justice movement.
Inspired by and modeled after the plethora of "green city designs" that Bob observed while on a two-month cycling tour across Europe, Free Cycle's goal today is to transform Missoula into a sustainable transport demonstration city.
What sets the Free Cycles mission apart from many others is their triad focus to successfully adapt and connect infrastructure, incentives and behavioral change so that together, community-wide developmental transition might take place through this carefully crafted, one-on-one outreach approach.
Their slow-growth initiatives ensure that quality of life is preserved, while each individual is recognized, served and supported—each participant walking (or riding) away with their own, well-earned bicycle.
"Learning to assemble a bicycle is a valuable education and memorable experience in it's own right but the expression on each person's face, post-build, is truly priceless."
Beyond bicycles, Free Cycles is tackling policy change by advocating for the construction of new pedestrian pathways made from clay matter (vs. asphalt) while working to abolish the use of pesticides (like glyphosate) along these popular trailways to someday eliminate harmful exposure to people, pets and wildlife.
Eventually, Free Cycles would like to go off-grid and offer a bike hostel, utilizing tiny homes and continuing to implement green building techniques as an integral signpost of their growing foundation's maturation.
There doesn't seem to be any slowing down, considering the immense vision of this pillar for a community of organic growth and green initiatives.
In order to maintain their cadence, Free Cycles' infrastructure must continue to expand.
To learn more, check out this heartfelt and inspirational video, which captures the essence of a culture growing throughout the northwestern United States:
Lastly, if you happen to be passing through Missoula and would like to meet Free Cycles Bob in person, you'll likely find him nestled away, reading the morning newspaper around five a.m. at Break Espresso on Higgins before the eight o'clock rush hour has officially commenced.
~
Author: Thayne Ulschmid
Editor: Toby Israel
Images: Support the Bike
~