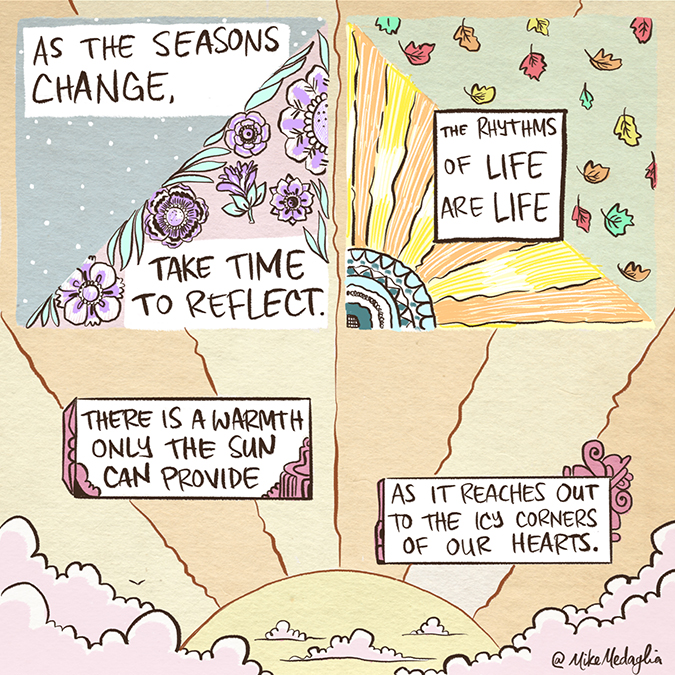 "Even nature has hidden lessons for mankind underneath its silent saga. The trees teach us to give without discrimination, the seasons proclaim that time keeps changing for the better and the vastness of the sky bears the amount of love we should hold in our hearts for everyone we come across throughout the day." ~ Sanchita Pande
~
I write this from London, on an iconically grey, gloomily, drizzly day—also the first day of summer.
Although the weather outside shows no hint of warmth or brightness, I am determined to feel summer—in my spirit, if nowhere else.
I have noticed that there is a certain heat in the air. A perfect balance of temperature and moisture that only the sun can create. It's as if the air comes right up and hugs you.
It has a way of warming me up so thoroughly that it seems to awaken an inner sunshine, in my chest. It's as if the sun has finally reached the river running through the caves and caverns of my innermost being. It is a river that spends far too much time almost frozen.
Through reflection, meditation and as many peaceful moments as I can find, I will try to be a reflection of the warm summer sun within and without and keep my inner rivers flowing.
We move with the world—each season is a cycle we travel through together. 
The seasons can act as rituals. Through them we can synchronise our spirits and focus our energy in the hopes of tightening community and harnessing the magic that is the human spirit.
So, whenever or wherever it is that you're reading this, take a moment to be in your season, find the benefits and really live them, despite what you see through your window.
If it is Winter—make time for reflection and drawing gently inwards.
If it is Spring—stretch, expand, look for flowers ready to blossom in your heart.
If it is Summer—welcome the light, whether from without or within. Let your energy reflect the warming sun.
If it is Autumn—find peace in impermanence and enjoy the beautiful colours of change.
~
Author & artist: Mike Medaglia
Editors: Khara-Jade Warren; Caitlin Oriel
~
~